One of Shlomit Etzion's handcrafted quilts. (photo by Nir Falay)
Despite being generally considered the cradle of ancient civilizations and the source of the world's monotheistic religions, the Middle East region is not known for its quilting. Yet, even in Jerusalem, you will find dedicated quilters.
Quilting is the process of sewing two or more pieces of fabric together to make a thicker padded material. Quilting is done all over the world, from Europe to America, to Southern Asia. While we don't know its origins, we do know that, for many years, people quilted their clothes. Moreover – despite the Middle East not being recognized for its quilting – the earliest piece of quilted garment comes from the figure of a Pharaoh, dating to around 3400 BC, the period of ancient Egypt's First Dynasty.
Shlomit Etzion, a Jerusalem resident since birth, said she has always worked with her hands. Her mother encouraged her to do handcrafts and she recalls that she started with embroidery. For a time, Shlomit considered going to a high school where she could pursue that, but decided not to go that route. In the end, she began quilting after she finished her university degree.
What would compel someone to begin quilting? For Shlomit, it was the beauty of traditional quilts. She likes Amish quilts and has even visited Amish quilters. She also likes the quilts of Native Americans. That is not to say, however, that she does art quilt, which employs both modern and traditional quilting techniques to create art objects. An art quilt is an original exploration of a concept or idea rather than the handing down of a pattern. It experiments with textile manipulation, colour, texture and/or a diversity of mixed media. Since this is not the type of work she creates, Shlomit describes herself as a traditionalist who uses traditional patterns as a jumping off point.
(As an aside, there are a number of quilt patterns based on the Hebrew Bible. They include Jacob's Ladder, the Children of Israel, Joseph's Coat of Many Colours and the Star of Goshen.)
In the beginning, Shlomit worked using scraps from old clothes and sewing by hand, just as was originally done in the United States. But now she buys her material, because it offers her more choices. She only uses cotton, as she likes the feel of it. When she visits the United States, she always goes to fabric stores to shop for material. However, there are now a few stores in Jerusalem that have a good cloth selection.
Shlomit uses a Bernina quilting machine, but there is a lot of picking of materials, measuring, pinning and cutting to do by hand. To secure her pieced top, the insulating fabric and the backing fabric, she brings her materials to a woman with a long-arm machine. Amazing as this may sound, Shlomit pointed out that nowadays, instead of sewing, some people even glue their pieces together.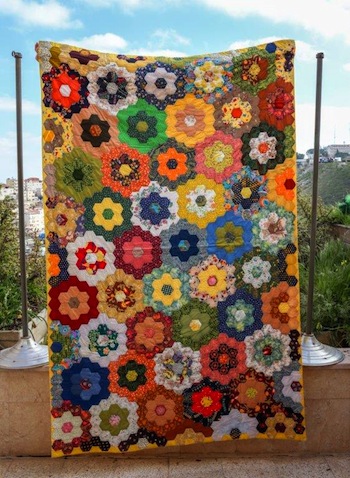 In her work, Shlomit often uses the nine-patch on point (consisting of nine evenly sized blocks stitched together). However, she has also made stunning quilts using the jelly roll pattern – for which the fabric is pre-cut and you can use a simple sewing method to put it together – and the log cabin pattern. In log cabin quilts, there is a repeated single block pattern of light and dark fabric strips that represent the walls of a log cabin; a centre patch, often of red cloth, represents the hearth or fire. Other geometric shapes such as trapezoids or right-angle triangles might appear in her quilts.
Shlomit likes fall colours the best – oranges, tans, brown shades. Because she is a red head, for a period of time she steered away from greens and blues. As a child, she had been pushed to wear those colours.
Life in general inspires her art, and living in Jerusalem plays a role, she said.
She derives tremendous joy from quilting, she added. She can sit for a whole day doing it. She enjoys not just the sewing, but also the technical work. She probably has 50 to 60 completed quilts at home, she said.
In Israel, unfortunately, people are not very interested in paying the price that quilt handwork commands, so her sales have covered the cost of her supplies, but not the hours she has spent making the quilts.
She prefers to work alone, but, when quilting meetings are held in Jerusalem, she joins the group. The Jerusalem quilting group is not formally active, though. Members seem to get together most regularly when they have an exhibit for which to prepare. While some readers may have seen movies or read books – such as Margaret Atwood's Alias Grace or Whitney Otto's How to Make an American Quilt – in which people attend quilting bees, working on the same quilt, this does not happen in Jerusalem. Like many groups, the Jerusalem quilters have met less often because of COVID-19 concerns.
Even though they aren't an active group per se, the Jerusalem quilters have had some lovely exhibits at the International Convention Centre, the Jerusalem Theatre, the YMCA and the Mormon College. (See israelquilt.com/en/quilting-groups for more information.) Shlomit herself has exhibited in the United States and in the United Kingdom.
I suspect this quote about quilts originally targeted the receiver, rather than the giver: "Blankets wrap you in warmth, quilts wrap you in love." In Shlomit's case, however, the physical making of the quilt is a form of love.
Deborah Rubin Fields is an Israel-based features writer. She is also the author of Take a Peek Inside: A Child's Guide to Radiology Exams, published in English, Hebrew and Arabic.