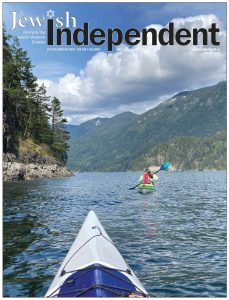 On the cover of this year's Jewish Independent Summer issue is a photo by Ingrid Weisenbach, wife of JIpublisher and editor Cynthia Ramsay, whose back is featured in this image. The photo was taken on a northbound kayaking trip out of Deep Cove. Buntzen Powerhouse 2 can be seen on the opposite side of Indian Arm.
According to Simon Fraser University's Bill Reid Centre, "səl̓ilw̓ət is the hən̓q̓əmin̓əm̓ (Hun'qumyi'num) name for Burrard Inlet and Indian Arm, and is the place from which the səlil̓ilw̓ətaʔɬ (Tsleil-Waututh) people derive their name. The commonly used term Tsleil-Waututh is an anglicized version of səl̓ilw̓ət with a possessive suffix. The literal translation of Tsleil-Waututh is 'The People of the Inlet.'" June is National Indigenous History Month.
More of Weisenbach's photos can be found on Instagram, @ijweisenbach.