Jan Cherniavsky, Elspeth Rogers Cherniavsky and Gaby Bettelheim, Austria, 1922. (photo from Alix Morgan)
The Anschluss, Evian Conference, Munich Agreement and Kristallnacht: 1938 was a watershed year in Holocaust history. These events marked a turning point in the lives of the Jews of Europe and on the international stage, where political decisions made by Western democracies would reverberate for generations to come.
Some have argued that the genocide of European Jewry "started with the washing of the streets" of Vienna in the weeks immediately following Anschluss.[1] They assert a "critical correlation between these events and the genocide that lay ahead."[2] Appreciating what transpired on the streets of Vienna after Anschluss and understanding how those events paved the road to genocide is imperative in the study of the Holocaust.
For Canadian students learning about these events eight decades later, it can be difficult to grasp the horror, fear and disbelief felt by Austrian Jews as they were brought under Nazi rule, overnight. One meaningful way to convey their experience is through primary sources. Personal letters, diaries and photographs from the time can evoke the range of emotions felt by Jewish individuals and families as they struggled to comprehend and respond to the events of 1938.
In 2021, the Vancouver Holocaust Education Centre was privileged to receive a donation of personal letters which do just this. The donation, arranged with assistance from Elspeth Rogers Cherniavsky's grandchildren, Alix Cherniavsky Morgan and Nick Gudewill, comprises 39 pages of correspondence written by Elspeth to her mother, in Vancouver, during Elspeth's visit to Vienna in May and June 1938. With clarity and compassion, the letters give a firsthand account of the circumstances facing dozens of Elspeth's Jewish friends.
Elspeth Rogers Cherniavsky
Elspeth Rogers was born in Vancouver in 1900 and grew up in her family's mansion, Gabriola House, which still stands on Davie Street. She attended Crofton House School, volunteered with Alexandra Orphanage and, in her leisure time, rode her horse in Stanley Park.
Elspeth's father, prominent Vancouver industrialist B.T. Rogers, founded B.C. Sugar Refining Co Ltd. (now known as Rogers Sugar) in 1890. The B.C. Sugar factory remains a Vancouver landmark, its origins and history linked to the completion of the cross-continental Canadian Pacific Railway and the expansion of industry in Vancouver. Elspeth's mother, Mary Isabella Rogers, was born into the Angus family of Victoria. She became a leading patron of music in Vancouver in the first half of the 20th century and is credited as the de facto founder of the Vancouver Symphony Orchestra.[3]
Elspeth's connection to Jewish social circles in Vienna came through her husband, Jan Cherniavsky, whom she wed on June 1, 1922, at St Paul's Anglican Church on Jervis Street, in the high society event of the season.[4] Jan was a classical pianist with the internationally renowned Cherniavsky Trio of musical brothers: Leo, Jan and Mischel Cherniavsky.
Their father, Abraham Cherniavsky, harnessed his young sons' musical talents to secure the family's passage out of Russia, with its antisemitic restrictions, at the turn of the century. The Cherniavskys moved to Vienna in 1904 to study music and gain the support of influential people there. The Bettelheim family of Vienna quickly embraced the Cherniavsky Trio and promoted them in Vienna's music circles. The Bettelheims used their connections in England to facilitate the trio's move to London in 1906, launching their international career.[5]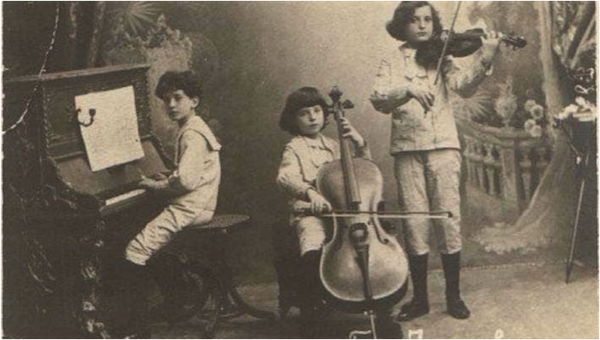 Throughout his life, Jan Cherniavsky returned to Vienna frequently and maintained his boyhood friendship with the Bettelheim family, particularly with Karl Bettelheim, who was closest in age to Jan. After Jan married Elspeth, he immediately took her to Vienna to meet Karl and Karl's wife Gaby.
During the 1920s and '30s, Jan and Elspeth lived alternately in Vancouver, London and Vienna, as dictated by the international performance schedule of the Cherniavsky Trio. Elspeth and Jan rented a flat in Vienna and lived for a time there with their children. With the Cherniavsky connections in the music world and the Rogers family connections in the sugar industry, Jan and Elspeth amassed a large circle of Jewish friends in Vienna, including composers, performers, sugar refinery magnates, timber products manufacturers, academics, art collectors, lawyers, doctors and engineers.
Letters from Vienna
Elspeth and Jan were living in England in the spring of 1938 when Nazi Germany annexed Austria. Disturbing news reports of mob violence and persecution compelled the Cherniavskys to travel to Vienna to check on the well-being of their many Jewish friends there, particularly Karl Bettleheim.
Elspeth, by her own description, had always been "mortally afraid about everything"[6] and was particularly trepidatious about visiting Vienna during this "reign of terror" with a husband who was Jewish by birth. But the couple was determined to see their friends and offer what help they could. As Canadians, the Cherniavskys hoped their citizenship would protect them and possibly allow them to assist their friends in their urgent search for a means to flee the Nazis.
So it was that eight weeks after Anschluss, in May 1938, Elspeth and Jan Cherniavsky arrived in Vienna by car. On May 29, 1938, Elspeth wrote home to her mother in Vancouver describing the scene that met them in Vienna:
"It was a mad-house in Vienna and we began to feel, after a few days, that we were losing our senses too…. Hitler's photograph is everywhere until it stinks and swastikas cover everything. Streicher's paper, Der Sturmer, on sale at every corner and the pictures in it make you sick…. I walk for blocks to look for a shop that is not marked 'Aricshes Geschäfft' [Aryan business]."
Unlike Nazi Germany, where the persecution of Jews evolved over a period of five years, daily life for Austrian Jews changed overnight and their fate was far worse. Anti-Jewish laws rendered Austrian Jews stateless, subjecting them to random arrest and dehumanizing attacks, and denying them protection of the police and the rule of law. The scale of the violence, both planned and spontaneous, and the alarming number of ordinary Austrian citizens who turned against Jews, created an atmosphere of terror in which Austrian Jews, as observed by Elspeth, felt "absolutely trapped and hunted." Elspeth wrote in her letter of June 6, 1938:
"When we got to Germany, everything seemed peaceful in comparison to Austria. People didn't Heil Hitler quite so avidly as in Wien…. After five years the people in Germany must be a little tired & yet I believe they are starting there on another wave of persecution. But think how violent it is in Vienna to do in two-and-a-half months what it took five years to do in Germany."
Upon reaching Vienna, the Cherniavskys went immediately to Karl Bettelheim's flat. Karl could no longer practise law, his car was confiscated and his assets registered with the Nazi authorities in anticipation of expropriation. Though he had lived his entire life in Vienna and fought for Austria-Hungary in the First World War, Karl lived in fear of being visited by the SS, molested in the streets or arrested in a raid. He told Elspeth, "he never thought that he would feel like a criminal and a fugitive."
Karl's despair and hopelessness radiate from the pages of Elspeth's letters, as he spoke frequently of suicide. Understanding that his life in Austria was over, Karl was desperate to get himself and his teenaged daughter out of the German Reich, even though it would mean leaving everything behind. But it was "almost impossible" to find a country that would accept Jewish refugees and unlikely for Karl to muster the financial resources to support himself in a new country, with the crippling flight tax imposed on fleeing Jews.
Elspeth and Jan visited many of their friends in Vienna and found them in a similar state of anguish and panic:
"We can't do anything much, it is true, but we can talk over prospects and perhaps some suggestions…. It was like going from one death bed scene to another, some had lost everything already and felt the worst was over and those that hadn't waited for it to come…. It is like seeing people drowning slowly (only I think that is too human a way to describe it) and not doing much to help them."
Elspeth's letters are filled with stories of their friends' public humiliation and social isolation: taken from their homes and forced to clean the streets, ousted from their professions, arrested and jailed without warrant, robbed of their assets and businesses, prohibited from public spaces and even turned on by their neighbours and employees.
"Lili Bettelheim, for eight hours, had to clean lavatories with her hands, to pick up dirt on the floor and even more unspeakable things – with her teeth and all the time not be allowed to go to the lav herself…."
"Rosa Lemberger was in prison for three weeks with four other women in a one-roomed cell … and was allowed out only when she signed a paper saying she would give all her money and properties to them…."
"We went to see the Strakosches. Their factory has been taken away. At least bought from them at such a small sum it was practically taken and they have lost everything … Georg Strakosch was in prison too…."
"[Dr. Patzau] had been one of the 4,000 rounded up…. Just before we left Vienna we heard that all they know is that he is either at Dachau or Munich – or Bremen. I think that is rather bad – sometimes they come back from there in urns…."
"We went to see poor Mrs. Dub. She had a small pension 800 sch. from the newspaper her husband [Mortiz Dub] worked for all his life. The first month it was cut down to 400. This month she was told she would have none…."
"Poor Pepi [Josef Hupka] broke down completely when we left – he has so little hope. He has some very fine drawings by Schwind which were exhibited in the Albertina.… He wants to sell them – but a new law by Goebbels says a Jew will be imprisoned if he asks too much for an art treasure – so Pepi is frightened to sell."
Although the worst of the mob violence had quelled by the time Elspeth and Jan arrived in Vienna, Elspeth observed an atmosphere where the "terrorizing is more subtle and secret and everyone lives in daily fear." It was dangerous for Jews to go out in public, and equally dangerous to meet in homes, so the Cherniavskys met their friends in back rooms, behind locked doors, using whispers, away from windows where they might be seen or overheard.
During these clandestine reunions, many of the Cherniavskys' friends broke down in tears, speaking of suicide and swallowing sedatives to survive the daily nightmare. They begged Elspeth and Jan for help in leaving the country. Eight weeks after Anschluss, their friends had moved past denial and were resigned to the necessity of flight, accepting that their fate would be complete financial ruin and the permanent dissolution of their families and community.
Who wants them?
Anschluss brought 185,000 Austrian Jews within the German Reich; almost all lived in Vienna. The ensuant refugee crisis was acute, with hundreds of thousands of Jews seeking protection and very few countries willing to offer it. Jan and Elspeth were determined to use their Canadian citizenship and international connections to help their Viennese friends caught in the Nazi regime. At the British consulate in Vienna, they saw "about a hundred people waiting to get permits to go to England." Their meeting with a CPR agent regarding immigration prospects in Canada was unsuccessful. Obtaining official permission to leave was difficult and illicit flight was risky.
"We talked with Karl about his plans – how he is to get out & where to go – as we must get him out…. Jan & I have most pessimistic views of his chances of getting out, but we left promising to do anything we can.… We had the usual dismal talk and discussed the possibilities of every country. Jan is a walking atlas and full of geographical information….
"Of course everyone asks us about Vancouver – if we came from anywhere else it would be the same. It is terribly cruel to say, 'I'm afraid you would have no chance and besides it is almost impossible to get in.' We try to think of other places where living would be cheaper and where there would be more opportunities. But the trouble now – where to go? Who wants them?"
Elspeth's observation was confirmed just five weeks later. In July 1938, the Evian Conference addressed the Jewish refugee crisis, and all but one of the 32 countries in attendance refused to relax their immigration restrictions to admit Jews fleeing Nazi persecution. The Western democracies turned their backs on the Jews of Europe. As if in direct response to Elspeth, the Nazi paper Völkische Beobachters, reporting on the outcome of the Evian Conference, smugly proclaimed on July 15, 1938: "Germany has offered the world its Jews. No one wants them!"
Fate of their friends
The Cherniavskys were able to help Karl and his daughter Trauti reach safety in England in 1938. Trauti secured a permit to study and work as a children's nurse in Northamptonshire, while Karl lived in London. Karl and Trauti stayed in England as registered "enemy aliens" until their immigration to the United States in 1940. The Cherniavskys assisted other Bettelheim family members in building new lives and businesses in Vancouver.
The younger Viennese friends mentioned in Elspeth's letters made it out of Europe before the start of war, immigrating to England, the United States, Canada and Australia. But, tragically, most of their older friends either could not, or would not, leave Vienna.
Karl's brother, retired judge Hofrat Ernst Bettelheim, and his wife Elly, were deported to the Theresienstadt ghetto in 1942. They perished in Theresienstadt within a year.
Mrs. (Gisela) Dub was deported to Theresienstadt and subsequently transferred to Auschwitz concentration camp in May 1944. Mrs. Dub was murdered in Auschwitz.
Following the aryanization of the Strakosch sugar refining factory and seizure of his property, Georg Strakosch committed suicide in Vienna, just weeks after Elspeth and Jan left the city. The remaining family fled to Switzerland and eventually immigrated to the United States.
Pepi (Josef) Hupka, once dean of law at the University of Vienna, fled with his wife Hermine to Amsterdam in 1939, only to be forced into hiding when the Nazis invaded the Netherlands in 1940. The Hupkas were caught by the Nazis in 1944 and deported to Theresienstadt, where Pepi died in April 1944. Hermine was deported to Auschwitz and murdered. Decades later, following a legal battle for restitution of the Moritz von Schwind drawings mentioned in Elspeth's letter, Hupka's grandsons received what remained of their grandfather's looted art.
Legacy
Elspeth Cherniavsky was deeply affected by what she witnessed in Vienna in the spring of 1938:
"I don't think we can ever feel quite the same again … I just wish a few more people could see these things. To read leaves one feeling sorry but still quite cold-blooded about such things – but to see and talk to all these people makes you shudder and think that we should never mind anything, as long as we are free and have enough to eat and exist."
The sense of chaos and urgency she experienced in Vienna is reflected in the feverish pace of her writing – a "jumbled account I have been scribbling in haste." Yet her "screeds," with their vivid details and biting commentary, transport the reader into "the mad-house" that was Vienna in 1938; "that filthy country that is so beautiful," where "everything is so upside down that no one really knows anything."
The public acts of cruelty and dehumanization, the uncontested violence carried out in broad daylight, the disintegration of the rule of law, and the collapse of basic human morals – all these elements described in Elspeth's letter were on full display in Vienna in May 1938 for those who cared to see. But it was the "cold-blooded" indifference of bystanders and the international community that emboldened the perpetrators and demoralized the victims, setting the stage for genocide.
Elspeth's perspective on the history she witnessed is unique. She was removed from the events, protected by her Canadian passport and non-Jewish status, yet also deeply connected through her intimate relationships with the victims. Elspeth's perception was also coloured by her belief that, as a Canadian, she ought to be in a position to help. Her letters resonate with growing frustration that she could not do more. Elspeth's refusal to simply stand by and watch history unfold distinguishes her from other non-Jewish North Americans who witnessed the atrocities in Vienna in 1938.[7] Though she did smuggle some valuables out of the country for Karl Bettelheim and Pepi Hupka, Elspeth never got over the fact that she was too much a "coward" (in her own estimation) to smuggle Mrs. Strakosch's conspicuous diamond necklace past the border guards.
During her life, Elspeth was invariably described in relation to the others: "the sugar king's daughter," wife of the distinguished pianist, or daughter of Vancouver's patron of the arts. When described in her own right, it was often as a "socialite" or "Vancouver society girl."[8] Michael Kluckner writes: "Throughout her life, Elspeth was frustrated by her inability to accomplish anything which she felt to be sufficiently worthwhile – she called herself stupid for her lack of self-confidence."[9]
And yet, 34 years after her death, on the 80th anniversary of Anschluss, Elspeth's letters were published in German by a small press dedicated to the voices of strong and inspiring women. In an anthology entitled 1938: Why We Must Look Closely [10], Elspeth's letters are presented as a summons to moral and civil courage.
Elspeth's wish that more people could witness the dehumanizing cruelty of the Nazi regime and understand the dangers of indifference has not fallen on deaf ears. With the donation of her letters to the VHEC and their presentation in our online collections catalogue, the preservation and accessibility of this historic correspondence is ensured for future generations.
The VHEC is grateful to the Cherniavsky and Gudewill families for entrusting Elspeth's letters to its care and for the opportunity to introduce them to students, researchers and historians around the globe.
Lise Kirchner has worked with the Vancouver Holocaust Education Centre for two decades in the development and delivery of education programs with special focus on the pedagogical use of the VHEC's collection. For this article, which was originally published in Zachor, Spring 2022, she thanks Beth Harrop, Ben Cherniavsky, Nick Gudewill and Alix Morgan for their generous assistance and support.
ENDNOTES
Sculptor Alfred Hrdlicka as quoted in James E. Young, The Texture of Memory (New Haven: Yale University Press, 1993), 110.
Ilana Fritz Offenberger in The Jews of Nazi Vienna, 1938–1945: Rescue and Destruction (London: Palgrave Macmillan, 2017), 43.
David G. Duke, VSO 100: A Century of Memorable Moments (Vancouver: Vancouver Symphony Society, 2018).
Vancouver Daily World, June 2, 1922, page 7.
Felix Cherniavsky, The Cherniavsky Trio ([Edmonton]: Felix Cherniavsky, 2001), 44-46.
All quoted text taken from the letters of Elspeth Cherniavsky unless otherwise noted.
For example, Helen Baker, an American woman in Vienna during Anschluss, wrote in her letters home to family: "My feelings about the Jews are equally mixed. I feel so sorry for them, but would like to boot them out of America." See: Erin Harper, "Accidental Witness," March 31, 2021, 12 Days that Shook the World, podcast, United States Holocaust Museum, accessed April 6, 2021.
Vancouver Daily World, Dec. 16, 1921, page 6.
Michael Kluckner, M.I. Rogers: 1869-1965 (Vancouver: M. Kluckner, 1987), 118.
Barbara Schieb and Jutta Hercher, eds., 1938: Warum wir heute genau hinschauen müssen (Munich: Elisabeth Sandmann Verlag, 2018).