Chaya Mushka Hecht gives her bat mitzvah speech. (photo from Chabad Okanagan)
More than 50 women and girls gathered recently to celebrate a Jewish community milestone in Kelowna. It was the bat mitzvah of Chaya Mushka Hecht, the eldest daughter of Rabbi Shmuly and Fraidy Hecht, who have been serving together as co-directors of Chabad Okanagan for the last 12 years.
Raising their family while serving the Kelowna and outlying communities, the rabbi and his family have made it a priority to try and infuse their next generation with the gift of passion for a life of service and dedication to community, and making the world better for all.
In her bat mitzvah speech, Mushka spoke about her namesake, Chaya Mushka Schneerson, the Lubavitcher Rebbe's wife, of blessed memory (obm). She shared a story about the rebbetzin helping prevent a family – who she did not know – from being evicted from their home. (For the full story, see jewishpress.com/judaism/parsha/a-beautiful-story-about-the-rebbetzin/2021/02/11.)
"I learn from this story to help someone else whenever I can, even when I know I will not get anything in return," said Mushka. "I also learn from this story to help others just for the mitzvah and not to show off to others how great you are that you helped someone."
For her part, Mushka has initiated several programs, including arranging a Monday night class for women that ran for almost a year. The class was about trusting in G-d and the healing it can bring to people. The book they learned from, Gate of Trust, was originally written in Arabic by 11th-century Spanish Torah scholar Rabbeinu Bachya Ibn Pekudah, and they started the last chapter just before Mushka's bat mitzvah.
Mushka also carries with her Shabbat candle sets, which include candles, matches, blessings and a prayer, to give to any Jewish women that she meets while she's out. She does this to encourage Jewish women to appreciate the gift of Shabbat and to celebrate their power in bringing Divine light to the world.
As well, she has stood with her brother on a street corner in downtown Kelowna distributing free cookies that she baked. Many passersby – none of whom were Jewish – expressed their surprise and appreciation.
After seeing Mushka around over the last couple years, and knowing the rabbi and his family and the work they do, Member of Parliament Tracy Gray (Kelowna-Lake Country) said she was "honoured to bestow upon Chaya Mushka a special parliamentary award for young leadership in honour of her bat mitzvah."
The certificate offered congratulations to Mushka on her bat mitzvah and best wishes for her life journey. It read, in part: "This certificate recognizes your life dedicated to the service of others, even at such a young age, and your initiation into the prominent leadership role as a proud Chabad woman."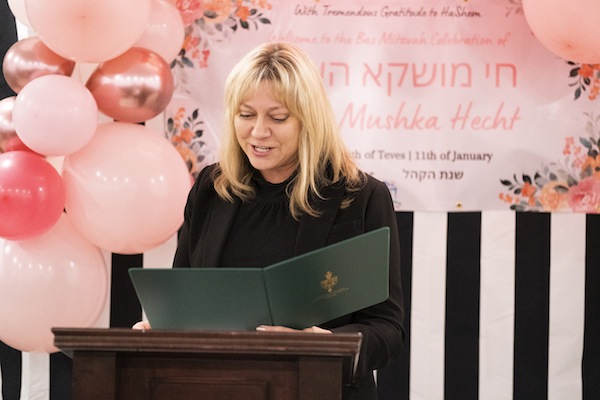 "At the event, the women celebrated the honourable feminine power of leadership," said Rabbi Hecht. "My role model and beloved life teacher was the Lubavitcher Rebbe, obm, who was passionate about establishing women in leadership groups and conventions as early as the '50s."
Fraidy Hecht spoke about the infinite and unconditional value of every human soul, and how precious children ought to be to their parents, first and foremost, for simply being a child of G-d here on earth in their care, and how blessed they are to be their child's Divinely chosen custodian.
Everyone in attendance at the bat mitzvah received a book of Psalms, a mini-biography of Chaya Mushka Schneerson, and a copy of the novelette that Mushka wrote and published in honour of her bat mitzvah. The message of the novelette was how girls her age are being called upon to be a light and positive influence in the world.
Attendees participated in various activities, including beading, singing and dancing, and had dinner together.
Mona Steinberg, a member of the Chabad Okanagan community, shared her reflections of the event.
"Mushka's bas mitzvah was just so wonderful, Mushka's speech was so intelligent and mature," she said. "I can tell she has worked hard to become an important and dedicated future leader and inspiration for Jewish women. [They] should be very proud."
"The world has become a better place," remarked Olya Krasavina, from Yumster Life Photography in Kelowna.
– Courtesy Chabad Okanagan