"Midnight Sun" by Monica Gewurz, who was to show her work at Art Vancouver, which has been postponed. (image from Monica Gewurz)
The Jewish Independent last spoke with Vancouver artist and Jewish community member Monica Gewurz when she participated in Art Vancouver in 2018. She was to be a participant in this year's international art fair, which has been indefinitely postponed because of the coronavirus pandemic.
"As a professional artist," said Gewurz, "it is important to exhibit at high-calibre international art exhibition shows. Art Vancouver provides me with a platform to display my works as well as sell them – this will be my fifth time exhibiting there."
Gewurz was to share a booth with fellow contemporary artist Pam Carr. Previous Art Vancouver fairs have drawn more than 10,000 art appreciators and collectors to the Vancouver Convention Centre. The annual event is billed as "Western Canada's largest contemporary art fair."
"In the past year," Gewurz told the Independent, "I have successfully increased the number of juried exhibitions in B.C. and the U.S., including one in Singapore. My sales and my collector base has increased, as well."
Gewurz's artwork can be found in corporate and private collections throughout Canada, the United States, Europe, Mexico, Peru, Australia, New Zealand, China and Japan.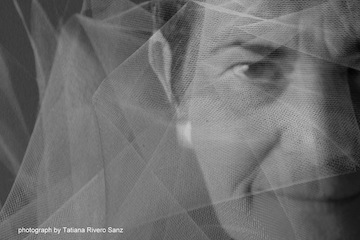 Artistically, she said, for this past year, "the focus of my work has become more introspective and philosophical, with less emphasis being put on the literal depiction of the landscape and more on the feelings evoked by the experience.
"The expansiveness and the quiet energy of coastal British Columbia are strongly evident in the imagery and the palette of my recent paintings, which are meant to be a transformative interpretation rather than a literal rendering of the coastal landscape," she explained. "Using mixed media and metallic paints and foils has allowed me to develop a personalized style that translates and interprets nature and iconography through layers of transparent glazes."
Another new development since the Independent spoke with Gewurz is that her art is featured on both a wine bottle and on a line of skincare products. While she has always created wearable art, such as jewelry, this foray into commercial art is different.
"'Ebbing' was chosen through a juried competition to become the label of Safe Haven fortified wine of the 40 Knots winery," she said. "A portion of the wine sales goes to support the Kus-kus-sum salmon habitat restoration by Project Watershed, an NGO. Because I am a supporter of environmental causes, I donated the artwork."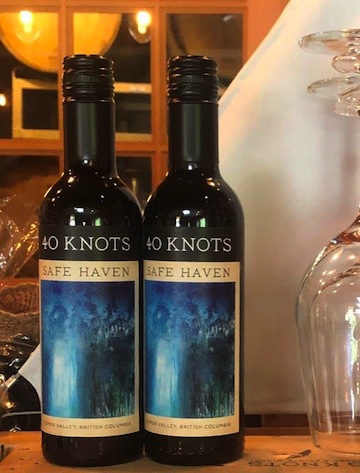 The vineyard also produces its own line of skincare products and, said Gewurz, "The owner of the 40 Knots winery commissioned the artwork 'Waves of Tranquility' to be featured in all VinoSpa product labels, using some of the lees of their red wines. The painting was created to capture the feeling of and tranquility and restfulness provided in all VinoSpa skincare lines and their associated spa."
The winery website explains that Gewurz mixed the lees from the fortified wine with acrylic gels and paints to create the colours of "Waves of Tranquility." It notes, "Influenced by Turner, 'the painter of light,' and Asian traditional painting, Monica's abstract landscapes aim to reflect truthfully the moods of nature. Captured on canvas or in silver, her work draws on the exceptional landscape of the Pacific West Coast."
Gewurz was to bring a new collection of work to this year's Art Vancouver. Her bio noted, "She is excited to share her highly textured, iridescent, colourful acrylic and oil abstract paintings, often worked with a palette knife, unconventional tools and metallic patinas.
"Texture and thin layers of colour are two key elements in her work, as she aims to blur the line between painting and sculpture. She invites you to touch the work, by integrating natural and man-made repurposed materials, including textiles, paper and plastic, each layer of colour and medium allowing you to experience the paintings – perhaps sparking memories, perhaps freeing your mind to wander, imagine and dream. Through materials and her own travels and life experiences, she strives to make work that can be understood across cultures."
For more on Gewurz, see jewishindependent.ca/inspired-by-cultures-nature, and her website is mgdesigns.org. For updates on Art Vancouver, visit artvancouver.net.