In Livingstone, Zambia, visitors on the Jewish tour will see a church that used to be a synagogue. The Jewish population peaked in the late 1950s, to some 1,000 community members. (photo by Rebecca Shapiro)
"This guy came to stay, and asked to see the Jewish parts of town," recounted Peter Jones, owner of the luxury Zambian hotel, the River Club. "I asked him to wait until the next day, then spent all evening swotting up on the area's Jewish history."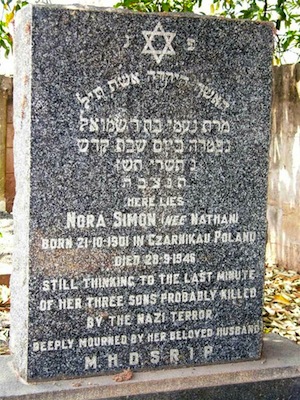 Thus began Jones' first Jewish tour of Livingstone, an historic town close to the mighty Victoria Falls. He led the guest around the country's first synagogue (now a church), a small museum and the Jewish cemetery.
"He really took his time walking round," Jones recalled. "I later found out he was a Holocaust survivor."
That was 13 years ago, and Jones reckons he's led about 100 Jewish tours since.
On a recent trip to the region, I was lucky enough to experience a tour for myself. Knowledgeable about all manner of local signs and monuments, Jones pointed out evidence of the town's rich Jewish heritage that you'd never notice yourself – the faint outline of a Magen David beneath the old synagogue's paintwork, the marks on a doorway where a mezuzah used to hang.
It seems appropriate, therefore, that his stunning riverside lodge is home to the first custom-built kosher kitchen in Livingstone's tourism industry. The newly built facilities offer separate dishes for meat and milk, kosher food and customized meals for Orthodox guests. Jones pointed to an upsurge of Jewish tourists, particularly from North America, to explain why he sought mashgiach-approved status.
He's not alone in noting the increased Jewish interest in the region: companies such as Sikeleli Africa Safaris have responded to it by creating luxury and bespoke "Jewish-friendly" itineraries.
This move made sense for the West Vancouver-based, family-run safari company, thanks to their longstanding Jewish ties to Southern Africa. I had the pleasure of spending time with the daughter, Danni, a Zimbabwean local whose Jewish grandfather held the esteemed position of mayor of Harare, the capital. She now works with many properties that cater to kosher tourists, including Zambia's River Club, South African beachside hotel Prana Lodge and safari camp Makweti. These properties not only offer authentic safari experiences, but truly showcase the luxury available in all parts of Southern Africa.
For those who don't keep kosher, the company's options are, as you'd expect, more varied. This is partly because the safaris are fully customizable, but also because locations on offer include so much more than just South Africa's renowned Kruger National Park.
Safaris in Namibia can be unique. Very much off the beaten track, the arid country is home to two great deserts, the world's tallest sand dunes and a fascinating multicultural character. A whole host of luxe camps have popped up there in recent years, and they're the perfect place to both spot the black rhino on foot, and explore a country to which very few people venture.
So, why the increased Jewish interest in Zambia and Zimbabwe? After all, it's obviously easier to be a Jewish traveler in South Africa than in the surrounding countries. Johannesburg boasts the largest Jewish population in the country, while Cape Town has an impressive range of kosher facilities. There are also Jewish communities to be explored in Durban, East London, Plettenberg Bay and Port Elizabeth. The Chabad presence throughout the area is as useful as it is widespread, but the cultural sights themselves form a real highlight. Don't visit the country without visiting the Jewish Museum in Cape Town (it's close to South Africa's oldest, grandest synagogue), and do leave time for visiting Kleine Draken, the only winery in South Africa dedicated exclusively to kosher and mevushal wines.
From a personal and Jewish perspective, however, I found traveling to lesser-known countries to be infinitely more satisfying. This was thanks to the Jewish scene's intimate feel there. Jews originally settled in Zambia and Zimbabwe from the late 1800s, as a result of pogroms in Russia, and later to flee persecution in Nazi Germany and antisemitism in South Africa. Numbers peaked in the late 1950s in Zambia and Zimbabwe, at 1,000 and 7,000, respectively. Since then, despite mass immigration to Israel and the West, Jewish life hearteningly continues. In Zimbabwe, for instance, Harare contains both a Sephardi and an Ashkenazi synagogue, but because the city now has fewer than 100 congregants, the prayers alternate between the two.
But, traveling in countries such as these is also more feel-good because of tourism's boost to the economy. Many Zimbabwean camps have fantastic initiatives. Staying at a Wilderness Safari camp, for example, helps support nutrition programs for primary school children. At Miombo, a personal favorite, you can visit the Iganyana Arts Centre, where local artisans create gorgeous crafts out of recycled materials. Likewise, a trip to the River Club provides opportunities to contribute to social development projects in the village, including renovating water supplies and building libraries, as well as to take stunning river cruises, with hippo or crocodile sightings likely.
I should stress, however, that visiting Zambia or Zimbabwe doesn't just benefit others – it provides you with the most exclusive, unparalleled safari experience. The game is abundant – Cecil the Lion's pride strolled past my tent in Davison's Camp – the scenery is phenomenal and the drivers are incredibly knowledgeable. There's also a wealth of interesting attractions nearby, such as Great Zimbabwe, a former city that houses the largest collection of ruins in Africa south of the Sahara. Oh, and according to Sikeleli, a safari in Zimbabwe costs just one-sixth of the price of one in neighboring Botswana.
On top of that, the countries offer such sincere hospitality that you can't fail to be impressed – luxurious Linkwasha Camp provides kosher food on request in the middle of the bush, while Vintage, a back-to-basics Zimbabwean camp with no running water, still manages to cater to everything from vegan to gluten-free.
And did I mention that Victoria Falls, the waterfall that separates the two countries, is a UNESCO World Heritage Site and natural wonder of the world? You have to see its beauty and hear its roar to really understand just how magical it is. But, until then, just trust me that, from any perspective, but particularly a Jewish one, venturing to Zimbabwe or Zambia on a safari is unforgettable.
Sikeleli Safaris runs Jewish safaris for families, couples and congregations alike. Though fully customizable, accommodation tends to be in luxury lodges and hotels in Zambia and South Africa. Prices start from approximately $6,000, excluding commercial flights and dependent on season and group size. The itinerary can be amended and can start in either Lusaka, Zambia or Cape Town, South Africa. Danni at Sikeleli Safaris can be contacted at [email protected] or by phone at 26-378-279-9697.
Rebecca Shapiro is associate editor of vivalifestyleandtravel.com, a travel blogger at thethoughtfultraveller.com and a freelance journalist published in Elle Canada, the Guardian, the Huffington Post and more. A Londoner by birth, she's lived in Shanghai and Toronto, but is currently (and happily) settled in Vancouver.