Jewish artists participating in Dancing on the Edge July 7-16 include Tara Cheyenne Friedenberg in Pants. (photo by Wendy D Photography)
Several Jewish community artists are part of the 34th annual Dancing on the Edge lineup, which includes more than 30 productions July 7-16.
Tara Cheyenne Friedenberg will share part of a new solo called Pants, which is a work-in-progress. Tasha Faye Evans will perform in the première of Raven Spirit Dance's Confluence and Vanessa Goodman's Core/Us will see its local debut. Rebecca Margolick will bring the now-complete solo Bunker + Vault to the festival, whose home base is the Firehall Arts Centre.
Of Pants, Cheyenne Friedenberg said, "The full-length show will premiere at the Firehall in the '23/24 season and centres around my experience as a 'mostly' female-identifying person who has been questioning the gender binary in private and in my art practice all my life. The younger generation, including my child, is inspiring the challenging of the gender binary in ways my generation never had the language for. Pants uses personal narrative comedy/stand-up and dance to trace how gender stereotypes and expectations affect a life, an identity, and how poking holes in all of it can bring healing and catharsis."
She noted, "The piece is being created with consultation, interviews and collaboration from a variety of artists working outside the gender binary."
Cheyenne Friedenberg created Pants in collaboration with choreographer Kate Franklin, theatre artist Cameron Mackenzie (ZeeZee Theatre) and dramaturge Joanna Garfinkel (who is also a member of the Jewish community).
Evans is a theatre and dance artist, writer and festival producer, with Coast Salish, Welsh, and European Jewish heritage. She described Raven Spirit Dance's Confluence as "a beautiful weaving of Indigenous women from across these lands. The piece is about the things we carry as women, how we hold each other and how the land holds all of us.
"The piece," she said, "was shared two years ago at the Talking Stick Festival and, days later, we all went into lockdown and our worlds changed."
When theatres began to reopen, Confluence was the first piece that brought Raven Spirit together again – they performed an excerpt of it at Dancing on the Edge. "This year," said Evans, "we are delighted to be brought together again, premièring the work and being able to take a deep breath together as life continues to unfold in these unprecedented times."
Goodman's Core/Us is a new group work that she has been in the process of creating on and off since the fall of 2019. During the piece, which runs about 70 minutes, Goodman said "four dancers transverse our perception of how we hear movement and see sound, with mesmerizing results. The live movement and sound score sculpt an ever-evolving atmosphere that builds gravity for the body. Patiently shifting states and layers of momentum define this piece, marked by its immersive world-building. The work asks for both tenderness and strength from the performing artists."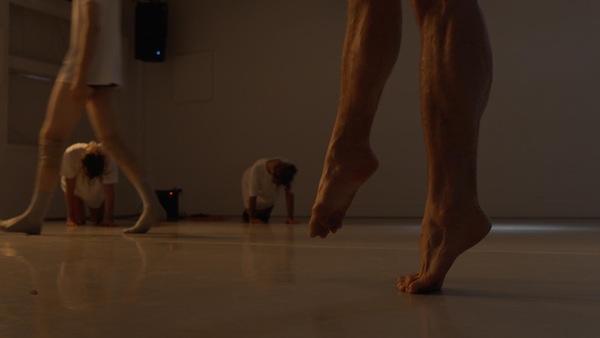 Core/Us will be performed by Anya Saugstad, Eowynn Enquist, Ted Littlemore and Adrian de Leeuw with lighting by James Proudfoot. Shion Skye Carter and Sarah Formosa have also been a part of the creative process, said Goodman.
The group has worked closely with artist Brady Marks on the piece. "Her incredible knowledge of sonic composition has made a deep impact on our process together," said Goodman. "We are looking forward to sharing the work in Seattle with On the Boards and Velocity just before DOTE, then we are excited to première it here in July."
Margolick has performed the first 10 minutes of the solo Bunker + Vault in Vancouver previously and said she is excited to be bringing the full show to DOTE.
"It's now a finished 35-minute solo," she said. "I showed 20 minutes in Montreal, and I showed the full piece in Carcassonne, France, and in San José, Costa Rica, once in November 2021 and just recently in May 2022.
"The work is very much based on personal experience," she continued. "In it, there is a lot of imagery steeped in memory, women, mothers, womb and resilience. Some inspiration and imagery in the solo came from reading through the archives at the 92nd St Y in New York City detailing the lives of immigrant Jewish women, from 1890 to 1950, residing at the Clara de Hirsch Home for Working Girls, and where and how my experience has overlapped with theirs."
Dancing on the Edge takes place at Firehall Arts Centre, Scotiabank Dance Centre and various other locations. It also features online performances, as well as dance films and discussions. Tickets are pay-what-you-wish from $15 to $35, and offsite outdoor performances are free. For tickets and more information, visit dancingontheedge.org.