A singles ad placed in the Bulletin by father-son team Ron and Steve Freedman in 1992 led to the engagement (in 1997) of their son/brother David to Betty-Mae Coblenz, who were married in 1998.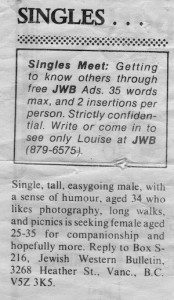 Ron Freedman, who passed away in December 2014, worked for the Jewish Western Bulletin / Jewish Independent for 46 years. As we mourned his loss with his family at a ceremony celebrating his life, his son David shared the story of how his father and his brother Steve, who has worked at the paper for more than 30 years, used the power of community media to change his life.
As Alex Kliner explained in his May 15, 1998, Menschenings column:
"David Freedman was baffled. Three young women had responded to his personals column ad in the Jewish Western Bulletin. But wait! He had never placed an ad. But whatta ya' gonna do? His curiosity was aroused. So he agreed to meet Betty-Mae Coblenz for coffee. They talked for hours. Not long ago, Betty-Mae Coblenz became Betty-Mae Freedman.
"And the mysterious ad? It seems David's dad, Ron, and brother, Steve, (both JWB staffers) had placed it in the personals under David's name. It was a joke! Not a bad joke, eh? And what's more, it obviously pays to advertise in the JWB!"