Artist Paula Mines combines photography and abstract work whenever possible. This image by Mines is part of the current group exhibit now on display at the Peretz Centre until July 22.
The current art show at the Peretz Centre for Secular Jewish Culture is reflective of the centre's nature – it is inclusive and eclectic. The group exhibit encompasses various genres and techniques: oil paintings and watercolour, photography, textile art and even animation. The artists participating in the show are as different as their art, their only point of connection being the Peretz Centre.
Of the eight artists featured in the exhibit, JI readers are already familiar with at least three: Colin Nicol-Smith, Hinda Avery and
Simon Bonettemaker. All three took part in the inaugural Peretz Centre Art Show in 2014. For all three, art has been a hobby: Nicol-Smith was a professional engineer, Bonettemaker was an architectural technologist and Avery taught women's studies at the University of British Columbia before retirement.
Unlike them, Avrom Osipov built his life around creative endeavours. "I grew up at the Peretz Centre," he told the Independent. "Started coming here with my parents when I was 5. It took me 65 years to grow up," he joked.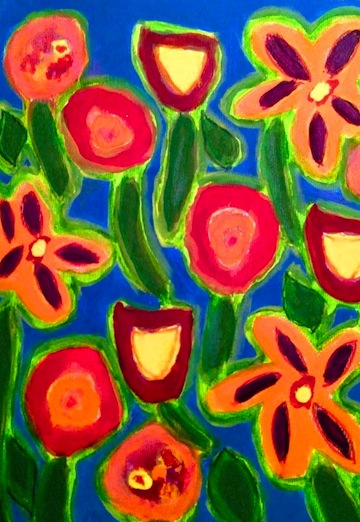 At one time, Osipov made a living as an artist, producing his own line of handpainted clothing and T-shirts and selling them to department stores. "I've made 1,200 original T-shirts, never copied a design once," he said.
Afterwards, he worked as an actor in film and television. "I have always been creative, but, before this show came along, I hadn't painted in awhile," he said. "I did some image manipulation on my computer. The show made me pick up a brush again, and it's fantastic. Now, I paint every day."
Paula Mines is also a regular at the centre. "I'm from Montreal," she said. "My parents and I arrived in Vancouver in 1953 and almost immediately became involved at the Peretz. They felt at home here, and so do I."
She has always been interested in art, even as she worked in social services. She paints and draws but, since her retirement, she has been focusing on photography. "My place is too small for an easel and paintings," she said, laughing. "Photography just takes a computer. I combine my photography and abstract work whenever possible. My images are semi-realistic. I take a photo, clean it, crop it, change things or add things from other photos. Not all photos lend themselves to this kind of transformation. Of every 1,000 photos I take, I might keep about 25. To turn out a good image is so exciting."
Another member of the Peretz community, Natalia Bogolepova, is an immigrant from Russia. She worked as a doctor in Russia for 20 years, specializing in plastic surgery and cosmetology, before coming to Vancouver in 2011. "I always loved art, always painted, even when I practised medicine," she said. "I participated in several amateur art shows in Moscow. My mother was a professional artist and, since childhood, I enjoyed the smell of oil paints."
Even though Bogolepova couldn't work as a doctor in Canada without a licence, she didn't try to pass the exam. Instead, she switched careers and worked in security for several years. Fortunately, serendipity took a hand in her life. Her security post at the Vancouver Art Gallery pushed her back into the arts. "I observed the art and the people who visited the gallery," she said. "I watched children as they drew inside the gallery. I knew I had to get back to my painting."
Another Soviet immigrant, Karl Epstein, is a professional artist and architect. He graduated from Belarus Academy of Arts in 1972 and worked as an architect in his native Belarus before immigrating to Israel in 1990. In Israel, he painted a lot and participated in a number of exhibitions. His paintings can be found in private collections throughout Belarus, Israel, Canada and the United States. He kept on painting after he moved to Canada.
Rounding out the eight artists featured in the Peretz show is Lesley Richmond, the only one not previously connected to the centre. This exhibit will be her first appearance there.
A professional fibre artist, Richmond received her art teaching training in London, England. She taught textile art at Capilano University until 2003, when she dedicated herself full time to art. Private and corporate collections in the United States, Japan, Poland, Korea and Canada have some of her work on display.
The idea to bring eight wildly different artists together in one show was Nicol-Smith's. "I wanted to have another show at the centre after the success of our first one in 2014," he recalled. "I started talking about it at one of the Peretz events with food and music, and suddenly people at the other tables perked up. 'I'm an artist,' sounded all around me. 'I want to be in this show, too.'" Nicol-Smith partnered with Lena Sverdlov, vice-president of the Peretz Centre for the past four years, and, together, they made the current show a reality.
The exhibit opens today, July 13, and will be on display until July 22.
Olga Livshin is a Vancouver freelance writer. She can be reached at [email protected].