Sweet Potato Wedges with Avocado Drizzle, as made by Miriam Pascal, author of More Real Life Kosher Cooking. (photo by Miriam Pascal)
Many people have probably never heard of Miriam Pascal. I was one of them, but now am happily a fan. She describes herself as a 20-something Jewish gal from New York, a self-taught cook. She founded overtimecook.com, a popular kosher recipe blog, and More Real Life Kosher Cooking: Approachable Recipes for Memorable Dishes (Art Scroll, 2019) is her third cookbook.
More Real Life Kosher Cooking has many positive aspects – an introductory remark for each recipe; ingredients in the left column and numbered directions on the right; and a full-page, full-colour photograph for each recipe, including photographs of four dishes before each of the 10 chapters. In the introduction, Pascal recalls memories connected to various recipes and says her goal is to make the recipes in this cookbook "approachable and doable," as the book's subtitle states. She wants to help her readers "create delicious food and special moments."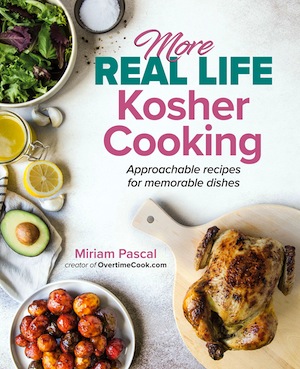 There are some 200 photographs and 139 recipes in this cookbook, plus directions for 22 sauces and dressings, which can be used with other creations. Chapters are Breakfasts and Breads, Appetizers and Snacks, Salads and Spreads, Soups and Stews, Meat and Poultry, Dairy and Meatless, Vegetables and Sides, Desserts and Drinks, Baked Goods and Pastries, and Sauces and Staples. Among the recipes are Puff Pastry Breakfast Pizza, Crispy Onion Strings, Meaty Root Vegetable Soup, Caramelized Onion and Cheese Manicotti, Two-Ingredient Chocolate Mousse and No-Bake S'mores Cheesecake.
Of the 139 basic recipes, 46 are listed in the Pesach guide at the end. Here are four from the book.
SWEET POTATO WEDGES WITH AVOCADO DRIZZLE
(pareve, makes six servings)
3 sweet potatoes
3 tbsp oil
1 tsp kosher salt
1/4 tsp black pepper
* * *
1 avocado
1/2 cup mayonnaise
1/2 tsp kosher salt
1 tsp garlic powder
2 tsp lemon juice
Preheat oven to 425°F. Line two baking sheets with parchment paper; set aside.
Peel sweet potatoes and cut into wedges. Place into a large bowl; add oil, salt and pepper. Toss to coat.
Place wedges in a single layer on prepared baking sheet. Bake for about 50 minutes, until the outsides are starting to brown.
Meanwhile, prepare the avocado drizzle. Place peeled and pitted avocado into a bowl; mash until smooth. Add remaining ingredients; stir to combine.
Remove roasted sweet potato from oven; allow to cool slightly. Just before serving, drizzle avocado mixture over wedges.
The avocado drizzle can be prepared two to three days ahead. Due to the acid in the recipe, it should not turn brown. Sweet potato wedges are best fresh, but can be prepared a day or two ahead and served at room temperature.
MATBUCHA BRISKET
(meat, makes six to eight servings)
1 (about 3 lb) second cut brisket (see Note)
kosher salt, for sprinkling
black pepper, for sprinkling
3 tbsp oil
2 onions, sliced
2 tsp kosher salt, divided
3 bell peppers, sliced, preferably different colours
2 plum tomatoes, diced
5 cloves garlic, minced
1/2 jalapeño pepper, minced
2 tsp cumin
1 tsp chili powder
1 (28-ounce) can diced tomatoes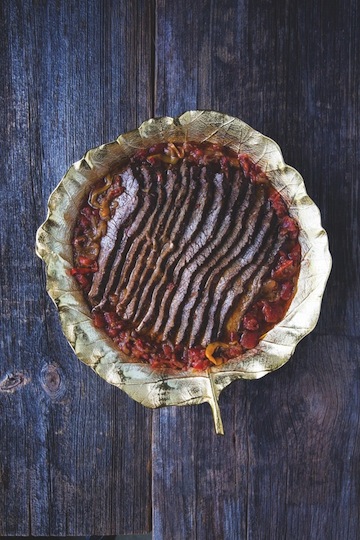 Preheat oven to 325°F.
Sprinkle salt and pepper over both sides of roast. Heat a large, deep frying pan over high heat. Add roast; sear for two to three minutes per side, until browned on the outside. Transfer to a roasting pan; set aside.
Turn heat under the frying pan to medium; add oil, onions and one teaspoon salt. Cook for about five minutes, until softened
Add peppers, tomatoes, garlic, jalapeño and remaining teaspoon salt. Cook for eight to 10 minutes, until softened.
Raise heat to high. Add cumin, chili powder and diced tomatoes with their liquid. Cook until mixture starts to bubble around the edges. Pour vegetable mixture over the meat.
Cover roasting pan tightly; bake for 40-50 minutes per pound, until meat is soft and tender.
Note: Instead of a brisket, you can use any other cut of meat that does well when cooked low and slow.
The meat freezes well in the sauce, wrapped and airtight. Reheat, covered, until warmed through.
ROASTED VEGETABLE SOUP
(pareve, makes six to eight servings)
2 large zucchini, diced
3 medium yellow squash, diced
2 red bell peppers, diced
2 onions, diced
1 lb frozen cauliflower florets, defrosted
1/4 cup oil
1 tbsp kosher salt
1/2 tsp black pepper
* * *
4 cups vegetable broth
about 6 cups water
2 bay leaves
1 tbsp kosher salt
Preheat oven to 400°F. Line two baking sheets with parchment paper.
Place vegetables, oil, salt and pepper into a bowl. Toss to combine. Divide between prepared baking sheets. Roast for 50-60 minutes, until vegetables are starting to brown.
Place roasted vegetables, along with any juices, into a large soup pot. Add soup ingredients; bring to a boil.
Simmer for about one hour. Discard bay leaves. Using an immersion blender, blend soup well, for about three minutes, until fully smooth. Adjust salt and pepper to taste.
This soup can be prepared ahead of time, and frozen in an airtight container.
Sybil Kaplan is a journalist, lecturer, book reviewer and food writer in Jerusalem. She created and leads weekly English-language Shuk Walks in Machane Yehuda, she has compiled and edited nine kosher cookbooks, and is working on a 10th. She also writes restaurant features for janglo.net.