Judith Chertkow-Levy, left, and Karen Kelm co-star in the musical Like a Fly in Amber, which will be at Sheraton Vancouver Wall Centre Hotel Oct. 19. (photo by Victor Dezso Foto)
The Canadian Association on Gerontology Annual Scientific and Educational Meeting (ASEM) is the highlight of the year for those of us who work, conduct research or have an interest in the field of aging," said Dr. Gloria Gutman, event co-chair. And, as far as she is aware, "this is the first time in the 47 years that the Canadian Association on Gerontology has been organizing ASEMs that it has included a social or cultural event quite like Like a Fly in Amber. When the organizing committee became aware of it, they got excited. It's just so topical, given population aging; professional, funny and poignant.
"In today's world," she added, "many of us, especially women, can expect to be caregivers of frail elderly parents and/or, if we married partners older than ourselves, of a spouse whose physical and/or mental capabilities may become compromised. It's the new norm."
Like a Fly in Amber is a two-person musical about aging written by Karen Kelm, and co-starring Kelm and Judith Chertkow-Levy. It sees its Vancouver première at the CAG meeting on Oct. 19. Both the show and the conference are open to the public.
Among other things, Gutman is past president of CAG and professor and director emerita of the department of gerontology and Gerontology Research Centre at Simon Fraser University.
The ASEM, she said, is "where we learn about and present new ideas on how to improve the quality of life of our elderly population. While other organizations may be concerned with a particular age-related disease, CAG is a multidisciplinary organization that is concerned with the health and well-being of the whole person in the context in which they are living."
Since CAG is a national organization, said Gutman, "the ASEM is held in different parts of the country as a way to build capacity as well as take advantage of what the different venues have to offer in the way of natural beauty, unique scientific and educational offerings, and culture."
The conference program includes national and international keynote speakers, she said, noting that, this year, there are two from the United Kingdom, one from the United States and one from Vancouver. Preconference events, she explained, allow for more detailed study of particular topics, such as Reducing Seniors' Social Isolation Through Collective Impact, which is funded in part by the Government of Canada's New Horizons for Seniors Program. More than 600 abstracts "have been accepted for presentation within the eight streams of the scientific program which correspond to CAG's professional membership: behavioural sciences; biological sciences; clinical practice; health sciences; humanities; policy and programs; social sciences; teaching and learning in gerontology."
Like a Fly in Amber was part of the 2016 Toronto Fringe Festival. "The play revolves around Iris's writing of a eulogy for her mother while sitting in the attic of the house in which she grew up," wrote Dr. Carol Herbert, former dean of the school of medicine and dentistry at Western University who now lives in Vancouver, in a review of that production for the Jewish Independent. "She struggles to evoke memories of the person her mother was and to put her personhood into words. The resulting tribute is beautiful." (See jewishindependent.ca/moving-musical.)
According to the synopsis, Iris returns to the family home the night before her mother's funeral and "discovers that fiercely independent Grace may have hastened her own demise – accidentally, through stubborn, irrational decisions. Iris reviews the final chapter of their relationship, to make sense of Grace's kooky self-sufficiency, and find closure."
Kelm plays Iris, while Chertkow-Levy plays Grace. The two performers met doing Fiddler on the Roof at Theatre Under the Stars in 1975.
"Over 40 years later," Kelm told the Independent, "we are both enjoying being back onstage together – although I don't think either of us could have imagined back when she portrayed Tzeitel and I was in the ensemble that she would play my mother one day!"
The two have been close friends since Fiddler. "She would join my family for Jewish holidays and Shabbat dinners and I would sing with her on Christmas Eve at her family gathering," said Chertkow-Levy. "Although we moved to Toronto and shared an apartment and both pursued music careers, we did not have the opportunity to perform together until 2016. Karen is a gifted songwriter and, when she proposed the idea of doing this show in Toronto, I was thrilled to participate even though I was in San Diego and she was in Victoria."
In preparation for the 2016 Fringe shows, Chertkow-Levy – who is one of Herbert and Gutman's sisters – came to Vancouver around Passover for a few days of rehearsal. "Karen joined us for seder at my sister Carol's home and, at the urging of my sisters, we sang a few bars of one of the songs. The theme of aging resonated with my sister Gloria professionally and with all of us emotionally and she had the idea of doing it sometime at a future convention. The seed of that idea grew and, as this CAG convention was being planned, Gloria felt the show was a good fit."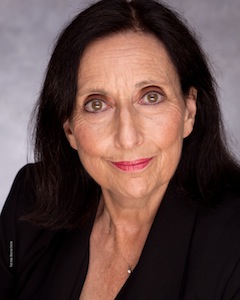 While Kelm and Chertkow-Levy haven't publicly performed the show since its debut in Toronto, they have continued to work with the material and improve it, said Kelm. "For example, the songs are mostly the same but, in the previous production, we performed to recorded tracks. In this production, we will perform with a live pianist.
"The script for the Fringe production emerged from swapping anecdotes with friends about their mothers," she explained. "I knew Judy and Gloria's mother (she ladled a lot of chicken soup down my throat over the years) and we laughed till we cried, remembering some of her best moments and priceless sayings. Judy also knows my mother, who, by the way, tells me it's OK to poke a bit of fun at seniors because 'we old folks are funny.' Whew – she may come to the show this time. But, essentially, the first version of the show aimed to present a series of vignettes with songs attached.
"Of course, some of my mother's idiosyncrasies show up in the script, but my experience performing for seniors in independent living facilities has taught me that many of the things we thought were unique to our moms are absolutely universal. So, after our first production, I took to heart some of the insightful observations of a couple of reviewers and began to write a more compelling script. The result is tighter, clearer dialogue and stronger dramatic structure surrounding the songs, now beautifully supported by a new score.
"I have always had a clear picture of Grace (the mother) because she is such a wonderful composite character, representing many mother figures whom I loved," said Kelm. "Iris (the daughter) gave me more trouble, both as a writer and a performer, because, at first, I didn't want to get too autobiographical. In this version of the script, Iris much more closely represents me than Grace does my mother."
"As Grace," said Chertkow-Levy, "I find myself drawing on the memories of wonderful mothers in my life who are no longer with us: my mother and grandmother and Karen's wonderful Grandma Matthews and Aunt Peggy. And, I picture Karen's mother and my mother-in-law who are modern 'little old ladies' who have embraced technology and surf the Net and are only old by virtue of their age in years. All are and were strong, resilient women who loved life and took aging with a grain of salt – accepted it but didn't give in to it. I feel honoured to be able to draw on them as inspiration and keep them with me in memory. I hope that my portrayal lives up to that memory."
Tickets for Like a Fly in Amber can be purchased from cag2018.eventbrite.ca. The price is $40 for the show only and $65 for the show plus flatbread and a beverage. It plays Oct. 19, 7 p.m., in the Grand Ballroom at Sheraton Vancouver Wall Centre Hotel, 1088 Burrard St. For details about the CAG meeting, visit cag2018.ca. There are one-day as well as student and senior reduced registration fees available.