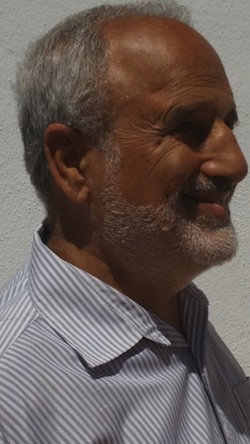 After years of writing poems that blend his Algerian/Arabic background and his Ashkenazi-influenced schooling, Israeli poet Erez Biton, 73, this year received the Israel Prize for Hebrew literature and poetry. Born to Moroccan parents in Oran, Algeria, in 1942, he is the first Israeli of Mizrahi descent to win the country's top literary honor, though he is no stranger to awards for his work.
"Poetry is like a tale of an elusive dream, but one must not give up," Biton told the Independent. "One must, to a certain extent, pursue this elusiveness and try to catch it and change it into the poetic expression. The coping is with the controlling, the conscious, the immediate, which prevents an encounter with the twilight sensation that enables the poem to dawn."
Biton envisions poetry as an independent, physical sense. "The poem is a continuation of you, added to you by the poetic ability," he explained. "Just as it is difficult to catch the tale of a dream, so does the poem impose, sometimes for the good, sometimes for the bad."
By internalizing the poetry of such writers as Hayyim Nahman Bialik, Nathan Alterman, Yehuda Amichai, Zelda Schneurson Mishkovsky, Amir Gilboa, Dahlia Ravikovitch and Avot Yeshurun, Biton said he developed a poetic stance of his own. "If, at first, I wrote love poems of a boy seeking his path to the world of poems, which were defined as universal existential with no description of time and place, then, in my additional poetry, I had become totally concrete, and thus saw myself as different from others."
Biton started on his artistic journey with the help of Elisheva Kaplan, a piano teacher at Biton's school who stopped teaching in order to dedicate her life to translating written books into Braille. This was essential for Biton, as he lost his sight at the age of 10.
Kaplan brought some of Biton's poems to Shimon Halkin, an Israeli poet, novelist, teacher and translator (who passed away in 1987). Upon reading Biton's work, "Halkin suggested that I send my poetry to [the now defunct literary magazine] Keshet," said Biton. "I received an enthusiastic letter from the editor of Keshet, Aharon Amir, in response to reading my poems 'Jaffa Street,' 'Variations on One Subject of Bach,' and more."
When Biton lost his sight and left hand to an explosive device he found while playing, he recalled, "This was a type of loss, a death of an intimate entity, which until the age of 10 and a half, was a part of me. And, to lose that, [it's as though] something dies in you. With this death, I am in negotiation."
Biton decided to become a social worker instead of a writer. "There was no one I could show my poems to," he said. However, he added, "as a result of my encounter with human suffering as a social worker, I acquired compassion, sensitivity to others, which were later absorbed into my poems."
Biton immigrated to Israel in 1948 with his family. The year after he lost his sight, he went to school at Jerusalem's Institute for the Blind. He received his bachelor's in social work from the Hebrew University, his master's in psychology from Bar-Ilan University, then worked as a social worker for many years. He also worked as a journalist and was a columnist for Maariv. His first book, Mincha Marokait (Moroccan Gift), was published in 1976.
Biton's decision to become a social worker stemmed from his identification with the hardships involved with making aliya. His experiences have also contributed to his poetry.
"The process of my growth ripened in me foundations of lyric sensitivity that came to expression in the poetic writing," he said. "A writing of truth can grow through a deep encounter with different life situations and I say that all human suffering is not foreign to me. Therefore, I find in myself a space of accommodation and also of the unusual and the different."
Biton expressed gratitude for the recognition he has attained, saying if he is to be considered part of the chain of poets that includes writers such as Bialik, "a great grace will be done with me. And grace will be done with me also by those who will see me as someone who opened a certain door, because it took time until people started to talk my language."
Biton does not see himself as a man of religion, but said, "Moroccan associations echo in me, biblical associations echo in me. All the materials I treasured, which I internalized – poems of Bialik – all the materials that I absorbed, especially the Moroccan language, it was an immense joy to me to give an echo to something from an entirely different me.
"One of the unique components in the writing of my poems is the use of expressions in Arabic…. During the healing of the internal tears, I found myself writing poems that embed in the Hebrew syntax expressions in Moroccan Arabic, which was my childhood language."
His work has paved the way for others. "I used in my poetry groundbreaking Moroccan expressions and, eventually, other poets used the expression 'Moroccan' as a title to the names of their creations," he said.
"I'm in a battle of two phases. One says blindness is a great lacking, an endless depravation of encountering the world…. On the other hand, when I am a bit more reconciled with myself, there are also the possibilities of hearing, touching and listening to the speaking of people, as a type of melody."
Of course, not only his cultural background has influenced his writing. "On the sensory level," he said, "I'm in a battle of two phases. One says blindness is a great lacking, an endless depravation of encountering the world … emphasized by the recognition of the memory of seeing until the age of 11.
"On the other hand, when I am a bit more reconciled with myself, there are also the possibilities of hearing, touching and listening to the speaking of people, as a type of melody. The sensation, the touch of a woman, the face of a woman, the lips of a woman – all of these are at the other side of the scale of what there is."
Integral to his success has been his wife. "In my attempt to understand the proceeds that happened in my work, I cannot ignore the significance of my marriage to Rachel in the year 1982," he said.
Biton's wife, Rachel Calahorra, is an architect and graduate of the Technion in Haifa. She was born in Israel to parents who emigrated from Athens. The couple met in early 1980.
"What was special in our relationship was we believed in each other, in the intellectual capability and the emotional side of deep love," said Biton. "Our connection as a couple led also to a mutual intellectual cultural search toward an integration … between East and West.
"The marriage, the starting of the family, and its expansion in the birth of our children, Asaf and Shlomit, sharpened in me the question of blindness and my place as a blind person in the family, as a father and a husband."
Biton found himself writing poems like, "The Joy of Your Eyes" and "Arrangement with a Firstborn."
"Without a doubt," he said, "my marriage to Rachel was a very significant turnaround, not only in the course of my life, but also in my writing, with the complexity of her life with me as a blind person, in her endless support of my overall actions."
While Biton has won other awards for his work, with the receipt of the Israel Prize this year, as well as the Bialik Prize for lifetime achievement and the Yehuda Amichai Prize last year, he said he now feels more accepted.
The Israel Prize committee described his poems as, "The epitome of courageous dealings, sensitive and deep with a wide range of personal and collective experiences centred around the pain of migration, planting roots in the country and the reestablishment of the Mizrahi identity as an integral part of the overall Israeli portrait."
In his speech at the prize ceremony, Biton said, "My parents were like an open book to me. My mother was a collection of poetry in Arabic, carrying an ancient Jewish legacy. And, indeed, so I have become an accumulation of childhood experiences, experiences of lively observation, of freedom of movement in spaces, climbing on trees and on fences, and a lot of running.
"I was an accumulation of sounds, of dialects, or poetry, from my father's home. Eleven years of freedom of movement and seeing … sensory treasures were collected in me … of which I make use still today."
Rebeca Kuropatwa is a Winnipeg freelance writer.