Governor General of Canada Mary Simon welcomed Ronen Hoffman as Israel's new ambassador to Canada during a formal presentation ceremony at Rideau Hall in Ottawa, Dec. 7, 2021. (photo from Government of Canada)
Israel's new ambassador to Canada, Ronen Hoffman, is a hockey dad. Plus, he wants to fight terrorism and antisemitism, strengthen research and development projects between the two countries, and forge ties with Canada's Indigenous peoples. He also needs to remember to wear his winter coat when he leaves for work.
Hoffman, 58, arrived in Ottawa in the week of Hanukkah to take up his new duties. The diplomatic post had been vacant for two years, since Nimrod Barkan stepped down in November 2019. With the instability in Israeli politics – until Naftali Bennett's government took office in June 2021 – and the COVID pandemic hampering international travel, Hoffman wasn't able to arrive until just a few weeks ago.
Hoffman was born to a farming family in Afula, in the Jezreel Valley. He hasn't been to Canada since he was in his 20s, when he did some traveling after the army while working as a shaliach (emissary) to a Jewish summer camp in Atlanta, Ga. Hoffman was an aide to former Israeli prime minister Yitzhak Rabin, and was on the team negotiating the unsuccessful peace talks with Syria.
After earning his doctorate in 1999, Hoffman was elected to the Knesset in 2013 as a member of Yair Lapid's Yesh Atid party. He did a stint as co-chair of the Israel-Canada Parliamentary Friendship Group. This is his first posting as an ambassador. He is a father of three; his partner is a scientist at the Weizmann Institute.
On Hoffman's first Christmas in wintry Ottawa, he made a TikTok video showing him walking through Lansdowne Park, trying out his snowball throwing technique and doing some tobogganing. (He didn't wear winter boots, though.)
Hoffman sat down with The CJN Daily to outline his mandate and his hockey dad chops. Readers can listen to his interview in the podcast at thecjn.ca/podcasts/ronen-hoffman-interview.
CJN: Describe what it was like when you presented your credentials to Canada's first Indigenous governor general, Mary Simon, on Dec. 7, 2021.
RH: Well, I have to say that it was a very moving and a wonderful ceremony. I went there with my family, which is here with me, my partner and my 4-year-old son, Tomer, and my team from the embassy. There were three other ambassadors that also presented: the ambassadors of the United States, Spain and Sri Lanka. It was an opportunity for us to get a little bond together and speak to each other. And, of course, meeting the governor general and her spouse and the people. I'm very happy that we had an opportunity to really do it, not through Zoom or through the internet, but really do it there, face to face.
CJN: Did you wear or bring or do anything that meant something meaningful to you?
RH: Yes. Can you see the little lapel pin on my jacket? Can you see these Canadian and Israeli flags here? Around it, we have an orange pin, in solidarity with the Indigenous people, also. It was just a little gesture, and I feel that's part of what I'm going to do here. I would like to educate myself more on the First Nations communities here. I feel that there is a common ground for us to stand on, all of us, as the Jewish people, who for us the state of Israel is, in essence, a return of the Jewish people to our indigenous homeland and traditions and culture. My goal is to build bridges of dialogue, cooperation, collaboration with communities, and we really wanted to show that we care.
CJN: Would you say that you're planning to reach out to the Assembly of First Nations and all the Indigenous groups … to try to meet them?
RH: Absolutely. I'm the Israeli ambassador to Canada, not only to Ottawa and not only to a specific province. It's a big and wonderful and beautiful country with lovely people. And so, of course, I intend to travel throughout the country and meet as many people as I can and community members and heads of communities. It would be an important part of what I'm going to do here.
Fighting antisemitism
CJN: Let's move on a little bit towards your agenda. You're coming to Canada seven months after the war between Hamas and Israel, where Canada's Jewish community experienced an unprecedented level of antisemitism not seen since the Second World War. First of all, were you surprised when you heard about what the Canadian Jewish community was feeling? And what is your mandate to deal with this here in Canada?
RH: I can't say that I was surprised because, before I became an ambassador, I've been a lecturer. And, as a lecturer, I met with many delegations from the Jewish communities of North America, including Canada, who came to Israel. I heard a lot before the conflict in May about challenges and opportunities of the Jewish communities here, vis-à-vis other communities and vis-à-vis other minorities and governments. I'm aware of the antisemitism and I agree with you that the wave around the conflict in May has been a tremendous one, one that has been very significant when you compare it to previous waves.
I think that, as Israeli diplomats, my role as an Israeli ambassador to Canada is to help and to coordinate, to cooperate and to join forces in the combat of antisemitism and anti-Zionism and anti-Israel [sentiments]. They're all connected to each other. Sometimes, some of the people would say, 'Oh, some of these activists just want to show some criticism towards the government of Israel.' It's not that. It's much deeper than that. Maybe now it's not hidden anymore. They're actually against the right of Israel to exist as a Jewish state. This is antisemitism. And I think that the Jewish communities here in Canada are not alone in facing this threat and challenge: the Israelis, your brothers and sisters and families, we all face the same kind of challenge in this respect. So, of course, part of my mandate is to work hand in hand with the leaders of the Jewish communities here, and try to find ways to combat it together.
CJN: It's a big part of your mandate. But it wasn't number one on the list. Your number one priority for your mandate is?
RH: It is to strengthen the relationship between Israel and Canada, which have very close relations, a very close friendship, and we have shared and we still share common values and common interests. And, like Canada, Israel is committed to human rights, to justice, to the rule of law. We are liberal democracies. We also have shared interests, for example, to combat terrorism, global terrorism, to help to create more stability in our areas, in our regions and to work together vis-à-vis opportunities and challenges. That is, I would say, my number one goal here: to continue and to strengthen those bilateral relations and the close friendship that Israel has with Canada.
CJN: What concerns does the Israeli government have about Canada's decision during the May hostilities with Hamas to give money – about $25 million – to agencies such as UNRWA that have had a very problematic history when it comes to anti-Zionist and anti-Israel and Jew-hatred materials? How does Israel feel about that?
RH: We face some organizations, international and Palestinian organizations, that call themselves organizations that care for human rights, and they kind of hide behind that high language and terms that we are all committed to. But, actually, they are terror organizations. Our concern is that our friends around the world, including Canada, would be with us, looking at those organizations, exposing the lies and getting to see exactly what they're doing. This is a concern in our mission and a real objective as part of our diplomatic work.
CJN: OK, so back to your mandate and what you're here for. In a news release when you presented your credentials to the governor general, you said that you want to help with start-ups, and harness Israeli know-how to help Canada solve problems. Is there any area in particular that you want to focus on? We just finished re-upping the Canada-Israel Free Trade Agreement, which was re-signed under a previous Trudeau government. What more is there to do?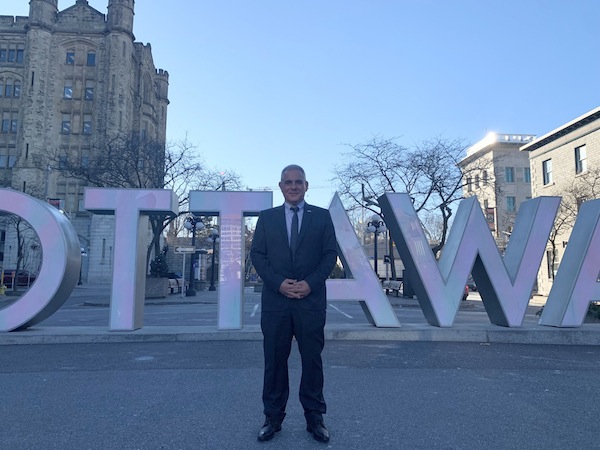 RH: There's a lot to do. Look, Israel and Canada are closely working on finalizing a research and development agreement to mutually invest in know-how in joint research projects, and innovation in several fields, such as food tech, health tech, environment, energy and climate security. And then, of course, letting start-ups and the industrial ecosystem get to know each other and to develop ties and relations. We're working on it. And I'm optimistic here. I think that we could really enlarge our relationship and find and create more joint projects on innovation. This is, again, one of the first high priorities on my agenda.
CJN: Would you say that there's a date when they are expecting to sign it? In 2022 or 2023?
RH: There is no specific date. But, as an ambassador, I'm going to push and I'm going to try to do it as soon as possible. And it's just one specific agreement – I have some ideas for other agreements, as well, to start MOUs [memoranda of understanding]. Every agreement or project starts with dialogue, right?  So, my idea is to create more dialogue between government to government, meaning some of the ministries in Israel that are relevant to innovation, hopefully, would speak in a structured dialogue process to some of the ministries here in Canada – for example, the ministries of energy and ministries of environment, agriculture and others. And so, we'll set a set of several bilateral dialogues that eventually, I hope, would produce new agreements.
CJN: A lot of the research work is done at the university level, though, and that brings us to the problem where a lot of Canadian universities have faced the boycott, divestment and sanctions issue, with clubs or groups of academics trying to have the BDS policies adopted. How can the Israeli ambassador and the Israeli embassy negotiate this minefield to bring about your MOUs and this cooperation?
RH: Well, I think that there are at least two ways to go about it. One is to differentiate between the political talks around campuses and the industry of lies, and cooperate in joint research: start new projects with universities, connect universities here to universities in Israel and work together on tikkun olam, of doing something that the world would be able to benefit from. We have so many other scholars and researchers who we should work with. We should fight and combat against this BDS and all these things, but, at the same time, cooperate with our friends.
CJN: I know you were involved with Canadian parliamentarians before. How does that prepare you for this job?
RH: As a member of Knesset (2013-2015), I then chaired – from the Israeli side, of course – the Inter-Parliamentary Friendship Association with Canada, and it enabled me to meet some members of the Canadian Parliament … and host them in Israel. When they came in a delegation, it helped me to understand the political system here, better, I would say. But now, when I'm here, I have to tell you that I have so much more to learn. I knew a little bit, but I have to say I'm fascinated by the political system here and by the structure and by the Constitution and the history of it. It's different than the political system that we have in Israel. We have a multi-political party system based on coalition. We have small political parties who have been and still are the king-makers. The power of veto in our political system, it's different. We have a prime minister and a president, but we don't belong to any other group of countries like the Commonwealth. It's fascinating.
CJN: Had you ever been to Canada at all before this time?
RH: When I was a student, I was sent by the Jewish Agency to be shaliach to a JCC summer camp here in North America, in Atlanta, Ga. And, every summer after the camp, we still had the visa, that would enable us to travel for a few more weeks. So, for a few summers, I remember that, after finishing the camp, I came here to Canada and I traveled, mainly in the west, I have to say, in the Rockies and in Vancouver and British Columbia, but I remember being in Toronto and Niagara Falls.
When I was a kid, I grew up in kind of an outdoor atmosphere. My father was a farmer and I was educated with a love and appreciation for the environment and for the outdoors. I remember when I first came to Canada as a traveler, the nature, the environment, the outdoors impressed me so much. And now, as an ambassador, again, this is another thing I would like to do, to learn from you in Canada – how to appreciate the environment and the outdoors. I think that Israel can contribute, but also can learn from Canada at many levels and many aspects.
Son plays hockey
CJN: So, let's pivot to some more fun things. I was told to ask you about your son in hockey. That is a door opener to anybody in Canada – just mention that and they'll greet you with open arms! Are you allowed to tell me? Will your son kill you? (He now plays on the Columbia University men's hockey team in New York.)
RH: Well, he will kill me anyway, but I'm going to tell you! I have three children. Eitan is my oldest: he's 26 now, he's a student at Columbia University in New York. My daughter, Tamara, is 24, and she's also a student at Columbia University in New York. And my little son, Tomer, is 4 years old and he is here in Ottawa with me.
When Eitan, my oldest, was in elementary school in Israel, hockey just started to be introduced to Israel by friends who immigrated from Russia. But since, in Israel … there was only one [ice arena at the time,] in Metula, in the north [founded with the financial help of Canadians] … they started with roller hockey. My son started when he was in the first grade, or second, and, at some point, they started to build ice arenas for ice hockey. So, he moved from roller hockey to ice hockey.
By the time when he was 16 or 17, he was the captain of the youth national team and they were part of hockey in the Europe leagues and they competed there. And, at some point, they became number two in Europe – the Israelis who had no hockey in our tradition. I was very proud then.
And now, of course, he's in New York … and, hopefully, he could come here. We will go together to hockey games, and he will explain to me what it's all about, because that's another thing I need to learn, right?
CJN: But if you are a hockey dad, you would know all this stuff, like going to the arenas with your thermos of coffee and being cold. Right? You never did that?
RH: Of course I did it. I went with him to Europe. I accompanied him and, yeah, well, I know how it feels, but I still need some explanation. The teams and who's against who. I still need to learn.
CJN: And the European rinks are different. But what number did he wear in Israel?
RH: Eighty-eight.
CJN: Any particular reason?
RH: I don't know how it started, but it was 88 and his last name, because I'm proud of him saying our last name. Under the number 88, Hoffman.
CJN: OK. So, unfortunately, Israel is not going to be in the hockey part of the Beijing Winter Olympics. They didn't make it, but they're number 34 overall in the IIHF [International Ice Hockey Federation] rankings. Are you a hockey fan at all?
RH: Not a hockey fan, for sure. But now is my opportunity; now it is my opportunity to become a real hockey fan.
CJN: All right. What is the funniest thing that's happened to you since you came to Canada as an ambassador?
RH: OK, look, it's not that funny, but whenever I leave home and get into the car to go somewhere, I'm still forgetting to take my coat…. I'm still used to going out with almost just a T-shirt, but it's taking me longer than I expected to get used to winter.
For more national Jewish news, visit thecjn.ca.