Gilda Radner scrapbooking in Love, Gilda, a Magnolia Pictures release. (photo from Magnolia Pictures)
The late, great sketch comedian Gilda Radner is a Jewish icon. Offstage and out of character, however, she wasn't especially Jewish.
"I think you would have to ask Gilda if she considered herself a Jewish comedienne," mused Laraine Newman, her friend and fellow Jewish cast mate for the first five seasons of Saturday Night Live.
"I'd love to hear the answer," replied Lisa D'Apolito, director of the deeply affectionate and painfully revealing documentary, Love, Gilda.
"Honest to God, I don't know," Newman said. "I couldn't characterize her one way or the other. I would think that would have to come from her."
In Love, Gilda, D'Apolito does the next best thing: she wisely channels her subject's voice through a trove of clips, personal audiotapes and diary entries (read by contemporary comics Amy Poehler, Maya Rudolph, Melissa McCarthy and others).
Love, Gilda, which has screened at numerous Jewish film festivals to rousing applause, is part of this year's Vancouver Jewish Film Festival lineup.
Radner grew up in a well-off Jewish family in Detroit. But her beloved father was diagnosed with a brain tumour when she was 12 and died two years later. Her mother delegated many of the child-raising duties, and the film hints that she was not the most supportive parent.
"Gilda was also raised by her nanny, who happened to be Christian," D'Apolito related hours before Love, Gilda opened the San Francisco Jewish Film Festival in July. "So Gilda observed all kinds of different religions and what she identified with, I wasn't really sure. I wanted to cover where I thought some of her insecurities came from. Losing her father was really important – and her mother putting her on diet pills."
The nanny, Dibby, was the inspiration for one of Radner's most popular SNL characters, Emily Litella. As for the diet pills, Gilda's body image issues as an adolescent led to eating disorders that plagued her into adulthood.
"When I found the audiotapes, it was so different to hear her talking than to see her on an interview or hear people talking about her," D'Apolito said. "It was just mesmerizing, because you get a real sense of Gilda. She's sitting in a café talking to somebody, she's ordering things, she's telling stories and she's extremely intelligent and extremely funny. That was really important to me, that an audience have the same experience I had."
D'Apolito was guided in her interview choices – musician Paul Shaffer, actor Martin Short and writer Alan Zweibel, among others – by whom Gilda spoke about on the tapes. Alas, Gene Wilder, the love of Radner's life according to D'Apolito, and her husband from 1984 until she died in 1989, was too ill to participate. (He died in August 2016.)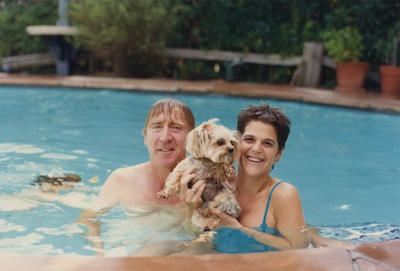 "Gene was everything she was looking for, because he was a Jewish guy from the Midwest," D'Apolito said of the Milwaukee native, born Jerome Silberman. "That's what she always wanted, I've been told."
Radner and Wilder met on the set of the 1980s film Hanky Panky, which originally was going to co-star Richard Pryor and was rewritten for a female lead. Wilder then directed Radner (and himself) in the equally disappointing comedies The Woman in Red and Haunted Honeymoon.
The brashness and vitality of Radner's TV and stage work showed "that she never doubted that she was equal to any man," D'Apolito said. "That's what I take away from Gilda's performances."
Newman lamented that Radner's movie career suffered because casting directors and producers lacked the imagination to cast her correctly.
"The specific nature of her talent was she did characters, and she would probably have been better served if she had taken part in writing the things that she did. But I don't think it occurred to her," Newman said. "If she and Alan Zweibel had collaborated on a feature, it might have been a whole different thing."
D'Apolito's connection to Radner goes back to the first videos she directed eight years ago for Gilda's Club, a cancer support group founded by Wilder in New York after Radner died from ovarian cancer at age 42.
D'Apolito didn't meet Wilder, however, until he invited the filmmaker to his house the year before he died. They spent a memorable day talking, and hanging out with his dogs.
"Somehow, at the end of the day, Gene and I just sat in the garden together," D'Apolito recalled. "I could see why Gilda loved him."
Love, Gilda (86 minutes, unrated) screens Nov. 8, 1 p.m., at Fifth Avenue Cinemas. For the full schedule of the Vancouver Jewish Film Festival, which runs Nov. 7-Dec. 2, visit vjff.org.
Michael Fox is a writer and film critic living in San Francisco.