Attendees at the opening of the Avrom Yanovsky exhibit in Winnipeg in September. (photo by Stan Carbone)
The Jewish Heritage Centre of Western Canada (JHCWC) and the United Jewish People's Order (UJPO) are co-hosts of an exhibit in Winnipeg of the political cartoons of Avrom Yanovsky (1911-1979).
The exhibit opening took place Sept. 17 at the Asper Jewish Community Campus with guest speakers Ester Reiter, associate professor, School of Women's Studies, York University; and Anna Yanovsky, the artist's widow. The evening concluded with a performance by the North End Jewish Folk Choir.
With the event, Stan Carbone, director of programs and exhibits at JHCWC, said, "we attempted to provide a composite picture of Avrom Yanovsky placed within an historical and cultural milieu in which his Winnipeg years were critical in shaping and defining his intellectual development and his passion and commitment for social justice."
According to a 2006 article by David Abramowitz in Outlook Magazine, Yanovsky was born in Ukraine "and came to Canada at the age of 2 with his widowed mother, her parents and his infant brother. They settled in Winnipeg, where Avrom attended the I.L. Peretz Shule. His 1925 graduating class included the late Nechama Gemeril, who later became his wife. The school provided an excellent grounding in the Yiddish classics and revolutionary politics, which stayed with Avrom throughout his life. His mother, a seamstress, and an active Bundist in the Old Country, became a labor Zionist and emigrated to Palestine with Avrom's brother in 1931."
Yanovsky was part of a generation of Jews arriving in Canada in the first decades of this century. He was old enough to remember the 1919 Winnipeg General Strike. He lived through and saw the suffering during the Depression, he witnessed the repressive government of the day in Canada, the rise of Hitler and rampant antisemitism.
Reiter said, "Those who knew him commented that had he just a bit of the capitalist in him, his enormous talents would have made him a very rich man … [he was] a rich man, but not in dollars."
For a time, Yanovsky served as art director for a Yiddish children's magazine, called Yungvarg (Youngsters), published in New York; for each issue, he did a cartoon story of one of the many Yiddish writers of the late 19th and early 20th centuries. In the late 1930s, Yanovsky began exhibiting with the Canadian Society of Graphic Artists, at the Art Gallery of Toronto, and was president of that organization for a number of years. His editorial cartoons appeared in many English and Yiddish publications, including the Vokhnblat, Canadian Tribune and Outlook.
"One of the cartoons you'll see is that of the premier of Quebec, [Maurice] Duplessis [1890-1959], with a big padlock representing the padlock law," said Reiter. "That enabled any person or organization deemed subversive [undefined] to have their house or building padlocked for a year."
At one point, she said, Yanovsky was hired by a pest-control factory to create a mural. Even this, Yanovsky managed to politicize, using the theme to apply not just to the animal but to the human pests.
"He commented through his art on all aspects of the world, from labor to Canada's increasing subservience to the United States, the struggle to make ends meet, and the concern for peace and human rights," said Reiter.
"He targeted not only fat capitalists, but the CIA, the Mounties, antisemites, racists, fascists, fascist sympathizers, and most of Canada's prime ministers."
Reiter said, "Avrom was known to be a man of integrity and principle. He lived his politics, sharing his talents for not very much monetary gain. His art was tied to the life and daily experience of working Canadians. He made us laugh in his drawings and in real life."
The exhibit now on display in Winnipeg was first shown at York University and originally curated by Dr. Anna Hudson of York with the title Free Discussion is the Key to Peace – The Political Cartoons of Avrom Yanovksy. It was remounted at Toronto's Ashkenaz Festival and then at the Varley Art Gallery in Markham, Ont., together with his mural honoring Dr. Norman Bethune (1890-1939). It was hosted in Vancouver by the local UJPO in 2013.
"The exhibit is of his later cartoons, from 1950 to 1972," explained Reiter. "And you can see … for him, his art and his politics were really one in the same. He used his art to express his politics. The cartoons that you'll see, those particular cartoons, don't give a sense of his profound commitment to Yiddish stuff, which he was profoundly committed to. His stuff was related to labor, to politics, to peace, stuff like that."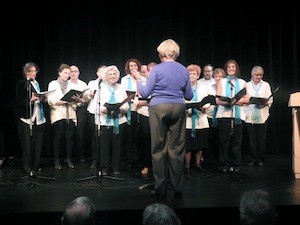 Reiter was asked to speak at the event, as she is writing a book on the history of the Jewish left in Canada, which should be out in the spring. She wanted to be involved in the showings of his art because of her interest in history and the left. "He was so famous, certainly among the left," she said. "People spoke adoringly of his work."
While Hudson went through some of Yanovsky's work with Anna Yanovsky for the exhibits, Reiter provided the context.
"The ink drawings on display here, with their collaged and corrected compositions, are just to give an idea of the range of Avrom's work," said Reiter. Quoting from Hudson's notes from a previous exhibit, she pointed out, "You will recognize 'a cast of easily recognizable characters: the moneybag, the banker, the capitalist and the politician,' with his sidekick, the police or military. 'We can laugh at the tragedy of economic inequity because Avrom speaks to us personally to remind us of our humanity, our common ground, and our collective strength.'"
Said Reiter, "He was a communist and he was a Jew with a deep love and respect for Yiddish language and culture."
Rebeca Kuropatwa is a Winnipeg freelance writer.