Allan Zinyk as Patrice, left, and David Adams as Bryan in Elbow Room Café: The Musical (Phase 1). (photo by Emily Cooper)
Allan Zinyk and David Adams are veritable doppelgangers for Patrice (Patrick) Savoie and Bryan Searle, who started the Elbow Room Café on Jervis Street in 1983. While the restaurant moved to Davie Street in 1996 and the couple has since taken on another business partner, the heart of the café is Savoie and Searle, and, for many people, "home" is wherever they are.
Elbow Room Café: The Musical (Phase 1) really captures the depth and warmth of their relationship with each other, as well as with their staff and customers. It is a fitting and well-deserved homage to two men who have not only built a successful business, but a community, not to mention raising tens of thousands of dollars over the years for the charity A Loving Spoonful.
The Studio 58 and Zee Zee Theatre collaboration is a work in progress, but its Phase 1 opening on March 21 was a pretty polished effort. It will be interesting to see what changes on the path to its final form. Already, the musical – book and lyrics by Dave Deveau, music and lyrics by Anton Lipovetsky, directed by Cameron Mackenzie – arouses a range of emotions, from belly laughter to touching sentimentality. The songs are catchy and singable, the characters are memorable and relatable, the choreography is appropriately silly and sexy.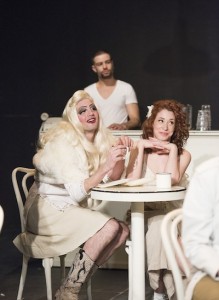 Led by professional actors Zinyk and Adams, the Studio 58 cast was top-notch. The audience gets lost in the life dramas that take place at the café: Tim and Tabby, a tourist couple from Kansas who stop in for a bite to eat on their way to Stanley Park, and are introduced to a whole new world; will Jackie and Jill, broken up for 253 days, get back together, despite all they've said to each other and what has happened since their breakup?; will the shy girl (aka Menu) find love at the café?; and Amanda, who finds out as her bachelorette party comes to an end that her wedding won't take place as planned. Then there's Patrice and Bryan, both getting older and a little slower – what's to become of the café once they are no longer able to run it?
These main storylines are all played out in front of an odd, and endearing, assortment of other customers. One of the many notable aspects of this musical is how the supporting cast reacts to what's going on around them. The full-cast musical numbers are big and bold, and there are some unique roles, such as Autograph, who takes on the personas of various celebrities who have eaten at the café, Tom Selleck and Sharon Stone, for example.
Since the musical is only in the first of a planned three phases, it is likely that the stories, dialogue and/or music will change. Considering who's involved in the production, however, it should only get better. Then maybe afterward they can start on Jewish Independent: The Musical.
Elbow Room Café is at Studio 58 until March 29. As the musical's program notes, there is "coarse language and immature content." For tickets and information, visit studio58.ca.