Pericles is one of the best Bard on the Beach productions this season. (photo by David Blue)
If the thought of being transported to the mystique and exotic locales of the ancient Middle East appeals to you, then you must see Pericles, which is currently playing on the Howard Family Stage at Bard on the Beach, alternating with Othello.
Director Lois Anderson takes this rarely produced play – only once before in Bard on the Beach's 27-year history has it been performed, and scholars believe Shakespeare only wrote the second half of it – and creatively turns it into something magical, with puppets, terra cotta figurines, white-faced ghostly creatures and billowy sheets that morph from crashing waves to animals.
As you enter the tent, your breath is taken away by Jewish community member Amir Ofek's captivating set design: soft desert hues, Corinthian columns, red and gold brocade-tasseled tapestries, woven baskets and blown glass. John Webber's warm lighting pervades the room. The mood is reinforced by Malcolm Dow's exquisite sound design; a melodic fusion of traditional Middle Eastern fare. Before it even begins, the play is a visual and aural treat.
Pericles is the tale of the nautical odyssey of a wandering prince, the eponymous hero Pericles of Tyre (Kamyar Pazandeh), as told through flashbacks by narrator and healer Cerimon (David Warburton) in the temple of the goddess Diana to a young woman he has saved from a brothel. As he tells her, it all began with a trip to Antioch 15 years earlier, when our hero hoped to marry the princess of that city but had to flee for his life when he learned the secret of her incestuous relationship with her father.
Pericles' escape takes him to many ports, culminating with a shipwreck at Pentapolis. There, he wins the hand of the princess Thaisa (Sereana Malani) in a jousting competition and sets sail with his new wife, now pregnant, to reclaim his throne in Tyre. Daughter Marina (Luisa Jojic) is born on the ship and Thaisa dies in childbirth. Pericles throws his wife's body into the sea and heads to the nearest port, Tharsus, where he leaves Marina in the care of his longtime friend, Governor Cleon (Luc Roderique), and his wife, Dionyza (Jeff Gladstone in an interesting gender-role reversal).
Fast-forward 14 years. Marina has grown into a beautiful young woman. Dionyza, jealous for her own daughter's betrothal chances, arranges for a servant, Leonine (Kayvon Kelly), to murder Marina. However, pirates kidnap Marina before the dastardly deed can be done. She is sold to a brothel, but keeps her virtue with eloquent talk, and captures the heart of Governor Lysimachus (also played by Kelly).
In the meantime, Pericles returns to Tharsus to reunite with his daughter but is told that she is dead. I stop here so as not to spoil a very surreal ending – you will have to see it to believe it.
All of the cast, many of whom play multiple roles, are outstanding but special mention must be made of Pazandeh, who runs the gamut of emotions from victorious suitor to grieving husband and father; Jojic, who gives the right touch of innocence to Marina; Warburton, with his wizardly tricks; Gladstone as a very creepy Dionyza; and Kayla Deorksen as Bawd, the flamboyant brothel owner.
Costumer Carmen Alatorre's costumes are spot on with flowing robes of bright, textured fabrics: earth tones to represent the land and shades of blue, the sea; the main characters are contrasted by off-white ghostly spectres.
Pericles was one of Shakespeare's most popular plays in its time and Anderson's rendering makes it easy to understand why. The intimate setting of the Howard Family Stage is perfect for this showcase of hope, perseverance, redemption and ultimate reconciliation. I took my 11-year-old niece to opening night and she loved it. Of the four Bard productions, this one topped the list for me and it is highly recommended.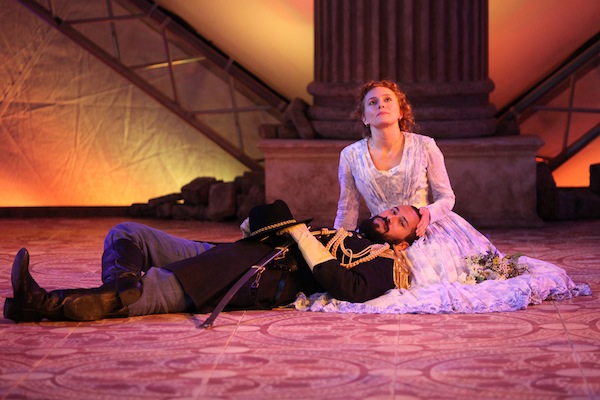 Playing in repertory with Pericles on the Howard Family Stage, and featuring most of the same actors, is Othello, set in 1864 Charleston during the American Civil War.
What does it take to drive an intelligent, successful, respected man into a jealous husband capable of a murderous rage? A manipulative villain named Iago – and Othello really is the story of this vile person, who brings tragedy to all unfortunate enough to cross his path.
Directed by Bob Frazer – who played Iago in Bard's last mounting of this work – this psychosexual drama gives a new perspective to the racism inherent in the testosterone-infused military world in which black Othello (Roderique) lives.
The story revolves around Othello's rise to power in the union army and Iago's (Kelly) planned revenge as he is passed over by General Othello for a senior position that is given to Cassio (Gladstone). To get even, Iago plants the seeds of doubt in Othello's mind as to the fidelity of his new wife, Desdemona (a mixed racial union), accusing her of an intimate tryst with Cassio.
Slowly, Othello is convinced – a handkerchief allegedly found in his good lady's room the final proof – that Desdemona has been untrue and, in a moment of murderous passion, strangles her in her canopied bed. Emilia (Jojic), Iago's wife but also Desdemona's maid and confidante, walks into this deathly scene, tells Othello the truth of the handkerchief and outs her husband for his role in the tragedy. Othello is overcome with grief and remorse and takes his own life.
Iago is a sadistic sociopath who manipulates those around him with his ersatz sycophantic charm. Kelly is sublime in this role – you love to hate him. Tall and slender, Roderique portrays a sympathetic Othello with a quiet sense of dignity and authority that disintegrates as we watch his metamorphosis into uncontrollable and lethal rage. Deorksen is a sweet-tempered but strong-willed Desdemona. Jojic gives a heart-breaking performance as a passionate and loyal servant torn between her duty to her husband and that to her employer. Lesser roles are ably played by Malani (Bianca), Andrew Cownden (Roderigo), Ian Butcher (Gratiano) and Shaker Paleja (Montano).
Costumer Marla Gottler provides crisp navy uniforms for the Union soldiers and gorgeous Scarlett O'Hara-type frocks for the ladies. Music is pure southern comfort with banjos strumming "Dixie." Unfortunately, the set design is a problem. The same Ofek-designed Pericles set is used, and that Middle Eastern look with its columns and arches seems out of place in a moonlight and magnolias milieu. However, the minimalist use of props – a couple of boxes here, a table there – allows the audience to focus on the powerful words that make Othello one of Shakespeare's most eloquent works.
This production is good, but it would have been so much better had it made more use of its Civil War setting, other than just to give a perfunctory nod to the fashion and music of the time.
Othello runs to Sept. 20 and Pericles to Sept. 21. For tickets and more information on these shows – and Romeo and Juliet and The Merry Wives of Windsor – visit bardonthebeach.org.
Tova Kornfeld is a Vancouver freelance writer and lawyer.