Serious topics are at the fore of the books for younger readers reviewed by the Jewish Independent this Chanukah. From the story of a Russian dancer whose life is cut short by pneumonia to Canadian teenagers who must work 13-hour days for little pay to young Danes who take on the Nazis, these recent publications respect the intelligence of their audience and, through the combination of entertaining narratives and compelling images, broaden their understanding and knowledge of the world.
Swan: The Life and Dance of Anna Pavlova (Chronicle Books) is intended for readers ages 6-8. It is truly a work of art that writer Laurel Snyder and illustrator Julie Morstad (who happens to live in Vancouver) have created. The illustrations are stunning and the placement of the text is also artistically done.
As Snyder explains at the end of the book, Anna Pavlova was born in 1881. Her mother was a laundress, "and Russia under the czars was generally a world where the poor stayed poor. Anna's life should have been dismal." But then her mother took her to the ballet. Onstage, "A sleeping beauty opens her eyes … and so does Anna. Her feet wake up! Her skin prickles. There is a song, suddenly, inside her. Now Anna cannot sleep. Or sit still ever. She can only say, dip and spin…."
The story follows Anna as she practises and practises, until finally accepted into ballet school. After which, more practising, "Until one night she takes the stage … Anna becomes a glimmer, a grace." She becomes world famous, traveling the globe, though never forgetting her humble beginnings, and becomes a ballet teacher when she can no longer perform. "Until a chill finds Anna, hunts her down alone, without her boots and mittens. A wind. A cough beside a stopped train. A rattle she can't shake." In the book, as she apparently did in real life, Anna asks for her swan dress from her sick bed. One last performance, if only in her mind. She died in 1931.
For readers interested in knowing more about Anna Pavlova, Swan includes a nine-book bibliography.
* * *
While change may take awhile in coming, it can be achieved. Take, for instance, working conditions in Canada. The title of Anne Dublin's 44 Hours or Strike! (Second Story Press) comes from one of the unmet demands that led to the Toronto Dressmakers' Strike of 1931: a 44-hour work week.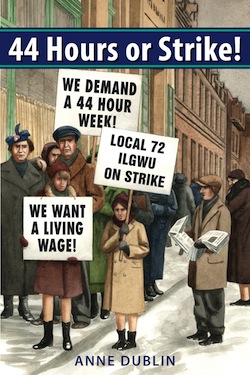 After their father is laid off, Rose must leave school to work in a dress factory. When their father dies from tuberculosis and their mother becomes ill from an unknown ailment (at least at first), 14-year-old Sophie must join her 16-year-old sister at the factory. The working conditions are appalling and they include a lecherous foreman.
When the workers go on strike, there is little empathy. Immigrants (especially Jews) are resented and not trusted, and the Depression has left many people in dire poverty. In an altercation 10 days into the strike, Rose – who did nothing wrong – is arrested with some other strikers and, without due process, is sentenced "to 30 days at the Mercer Reformatory for Women or a $100 fine – as if she had ever seen that much money in her life!"
Sophie must continue her strike duty, as well as care for her mother. She receives some comfort from the friendship of Jake, a paperboy who, unfortunately, is not Jewish.
44 Hours or Strike! – aimed at readers 10 to 14 years old – covers a lot of issues in its 124 pages. The archival photos really help put readers in 1931 Toronto, and brief biographies of some of the labor activists at the time are included at the back of the book. Dublin also lists many options for further reading on the topic.
* * *
The incredible true story of a group of Danish teenagers who, during the Second World War, fought against the Nazis through acts of sabotage is told by Phillip Hoose and Knud Pedersen in The Boys Who Challenged Hitler: Knud Pedersen and the Churchill Club (Farrar, Straus and Giroux).
This book is comprised of Hoose's narrative and excerpts from his nearly 25-hour interview with Pedersen in 2012, as well as photos, illustrations, scans of documents and sidebars. At times, it's hard to know where to look on a page and what to read first. But that shouldn't be a problem for the 12-to-18-year-olds for whom the book is written.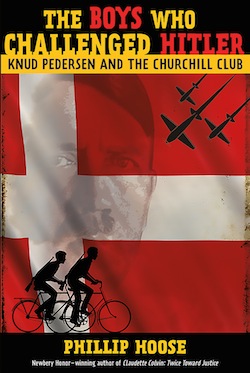 Pedersen was in Grade 8 when, on April 9, 1940, Germany attacked both Norway and Denmark. The Norwegians put up a valiant, if short-lived, resistance. "Jens [Pederson's brother] and I, and our closest friends, were totally ashamed of our government," Pedersen says. "At least the Norwegian victims had gone down in a country they could be proud of. Our small army had surrendered to the German forces within a few hours on April 9…. One thing had become very clear: now any resistance in Denmark would have to come from ordinary citizens, not from trained soldiers."
The brothers with a few others started their rebellion in Odense, where they were living. They called themselves the RAF Club, after the British air force. They would do things like change or damage road signs and cut telephone lines.
When their father was posted to Jutland and the family moved, the brothers organized the Churchill Club; named, of course, after Winston Churchill. They continued their acts of resistance, which came to include blowing up train cars full of material the Nazis needed. Eventually, after about a year, all of the Churchill Club boys were discovered and sent to jail in 1942. The brothers spent two years in prison. Hoose lets readers know what happened to them and their co-saboteurs. There is a selected bibliography and author's notes on each chapter. This book would be great as the basis of a school project.