Michael Klein recently had his first book published. (photo from Michael Klein)
Dr. Michael Klein has published almost 200 scientific articles. Earlier this month, he launched his first book, Dissident Doctor: Catching Babies and Challenging the Medical Status Quo (Douglas & McIntyre).
Klein, who, with his wife Bonnie, splits his time between Robert's Creek and Vancouver, is professor emeritus of family practice at the University of British Columbia, adjunct professor of family practice McGill University in Montreal and senior scientist emeritus at B.C. Children's Hospital Research Institute. He was recognized as a member of the Order of Canada in 2016 for playing "a vital role in placing maternity care at the heart of family medicine."
Klein has had a significant impact on the way the Canadian medical system has come to view midwifery and he played a prominent role in midwives becoming part of the healthcare system, first out east and later in here in British Columbia.
"I'm on the board of Canadian Doctors for Medicare, an organization that is trying to save Medicare from various encroachments from private interests, including U.S. multinationals," Klein told the Independent. "We are about improving and extending Medicare. We are not about justifying things as they are. But, we are very much unhappy with the way privatization is going, which is a solution that is worse than the disease."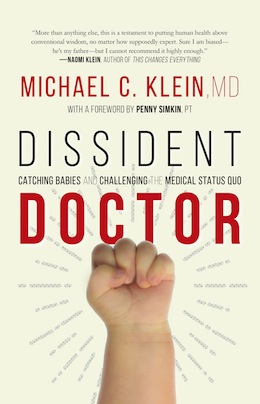 About his new book, Klein said, "It began as something that I was writing as stories for my children and grandchildren … and, it got out of hand."
At it happened, publishers at Douglas & Macintyre heard Klein tell a few of these stories and wanted them made into a book.
Klein set about developing them thematically. "I had to find out what the storyline was," he said. "It's a great deal about birth, but it's not a birth book, per se. In many respects, birth is a metaphor.
"It's about birth, family practice, midwifery, social justice, and about improving our rather challenged healthcare system. At the same time, I've deliberately chosen stories that have a message. For example, there are stories about people who were not supposed to get better but did. Many of the stories are actually detective stories. What I mean by that is that I try to make the stories go beyond the actual patient issue…. In what context does this illness take place? "
Klein feels this approach to storytelling makes the point that, to provide really good care, you need to understand the patient, the full breadth of their situation.
He hopes the book also serves as a primer on how to advocate for yourself and your family in the complex medical system.
"Misunderstandings and mistakes in the healthcare system are actually inevitable," said Klein. "I talk a lot about advocacy and the importance of making sure that, if things don't seem right, they probably aren't right.
"Because of my involvement with Canadian Doctors for Medicare, the whole issue of privatization is explored. For me, I have a special need to express this, because I'm in a unique position. I've practised in Canada before Medicare. I've practised in the States and ran health centres without Medicare – that wasn't a lot of fun. And, I've practised back in Canada with Medicare."
The main point Klein wants to impress upon readers is that humane, holistic care in the context of a person's whole life is the ideal. "I am not putting this out as a dispassionate physician-scientist, but as somebody who really understands the big picture and can situate the patient or the system within a very large context of where we are going as a society," he said.
The book is almost completely free of medical jargon, although it deals with complicated issues. Klein said the book is equally accessible to medical trainees, people in the profession and to the general public.
The stories he chose, the themes he discusses and the politics, he hopes, will be easily understood by anyone who has ever encountered the healthcare system. "Not just pregnant people and their partners, but anybody; also family physicians, midwives, obstetric nurses, dulas," he said.
Klein showed the manuscript to people in all these categories, and, he said, "it seems to work for them."
The feedback Klein has been getting is that people love the book's advocacy stories. He even includes his wife's experiences following a series of strokes, when she was told she was inoperable and would die. A surgeon in London, Ont., saved her life.
"There are a series of stories of my patients and other peoples' patients who defied the odds, and where patient advocacy has been absolutely essential," said Klein. "Whether they are physicians or laypeople, they became engaged in the right way with the health providers and improved their outcome.
"People relate to that very strongly, regardless of whether they are patients. The experiences they've had when their children, spouse or parents were sick and, either they were sidelined by the system or they embraced by the system. It varies enormously with who is providing the care and what their attitudes are. I cover that in the book."
Other stories in the book tell of how Klein battled with the U.S. army and avoided going to the Vietnam War.
He also delves into his strong support for midwives. "People wondering if home birth is safe are very interested in that section," said Klein. "Home birth is clearly safe. However, safe in the right kind of system, with the right kind of supports and back up. In other words, an integrated system like we have in British Columbia, as opposed to the chaos of the U.S."
The launch event for Dissident Doctor took place in Toronto on Oct. 9.
Rebeca Kuropatwa is a Winnipeg freelance writer.