Heart of the City festival participants. (photo by David Cooper)
Community is at the heart of what Ruth Howard, Maggie Winston and Sharon Kravitz do, so it is no wonder they are participating in the Heart of the City Festival, which features more than 100 events at more than 40 locations throughout the Downtown Eastside Oct. 26-Nov. 6.
One of the projects is Realms of Refuge, which Howard (of Toronto's Jumblies Theatre) describes as "an episode of Jumblies' Four Lands national tour, which itself grew out of our 2015 west-to-east-coast tour, Train of Thought, for which Vancouver Moving Theatre was a key partner." VMT is the main presenter of Heart of the City, and Howard has known VMT's co-founder and artistic director Savannah Walling since 2003.
Realms of Refuge's "four lands" concern senses, memory, history and dreams, explained Howard. "Over the course of the [two-week] residency, artists and community members create and bring to life these lands, through drawing, miniature models, words, music, movement and conversation. There will be drop-in art-making sessions at the Interurban Gallery (the project's home-base), as well as some workshops in other locations with community groups and partners…. An open-ended number of people of all ages, backgrounds and abilities can take part in the activities and come to enjoy the evolving artwork."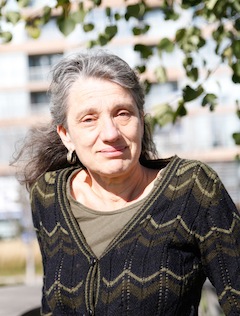 The intent of the project, said Howard, is "to spark thought and conversation and promote curiosity and understanding about the lives and experiences of people living on the same land.
"The 'evolving gallery' form, which I first invented and started to play with at Jumblies in 2009, involves setting up the framework for artistic creation in a gallery, studio or other suitable public venue, launching the starting point and facilitating its growth over a period of time. Generally, it starts with visual arts activities and then moves on to include words and simple performance. The idea is, rather than opening a gallery exhibition to be viewed in its finished state … we set the context for something that can't happen unless diverse people come and take part; the nature and specifics are determined by those participating people, and we celebrate its closing state."
Howard founded Jumblies in 2001. "I was always seeking ways to combine esthetic and social values and impact, and to blur distinctions between process and product; audience and participant; story and history; ritual and theatre; art and life," she said.
"In 1990, I encountered the British 'community play' form, brought to Canada by writer Dale Hamilton, in a production in the Guelph area called The Spirit of Shivaree. This was for me a life-changing experience: I found a form of art-making that combined epic-scale theatre with wholehearted social inclusion and an astonishing capacity for social change."
Howard wants to make art in ways "that don't fit into standard disciplinary delineations," to collaborate with others who have skills and perspectives she doesn't, to learn "from people, places and stories that have tended to be left out of our cultural mainstream" and to "bring people together across real and perceived differences and remove restrictive delineations," such as "youth" or "marginalized people." She wants to "create an exciting, accepting and nourishing home and creative/social worlds in which my children – and also my friends, family, neighbors, colleagues and co-inhabitors of the land – can grow up and live," as well as "have quirky ideas large and small and have the freedom to explore, develop and realize them." She would like for art to be "at the heart of life."
When asked if Judaism or Jewish culture has influenced her, Howard said, "My mother was a German Jewish refugee, whose immediate family escaped to England in 1938, just after Kristallnacht. Her father was a businessman and excellent amateur violinist, and her mother was a painter, well established in the Hamburg avant-garde arts scene before the war. I was brought up with a strong non-religious Jewish identity. As an adult, I joined a Toronto secular leftist Jewish organization (the United Jewish People's Order and their summer community, Camp Naivelt), in which community I brought up my three children.
"Altogether my Jewish sensibility is hugely relevant to my life and work," she said. "I was brought up with art as an essential part of life – both doing it … and witnessing it…. I was also brought up absorbing that it is important never to leave anyone out; not to support, tolerate or ignore separation of people into exclusive groups; always to have space at the table for unexpected guests; to welcome everyone; that 'never again' means 'never for anyone.'"
Through her association with UJPO, Howard "learned to interpret and celebrate Jewish holidays for their social and cultural relevance to struggles of all humanity for survival, freedom and dignity." She has created an oral history/theatre project with Camp Naivelt and, more recently, adapted a series of Passover seders to include the telling of other vital stories, such as Toronto's indigenous history.
"When I first heard the word genocide used in relation to the treatment by European settlers of Canada's indigenous people, I was stopped in my tracks; it was something that I couldn't put aside…. Since then, I have made it a priority to learn and form relationships so that the work of Jumblies could support First Nations recovery, justice, equity, and new awareness for all of us who live here…. My ongoing artistic preoccupations include inherited memories of and present relationships with eradicated places, and the interplay and relative merits of remembering and forgetting. These themes are woven into the Four Lands/Realms of Refuge project. It isn't particularly a Jewish project, but it springs from my particular Jewish mind … and the Vancouver iteration, with its focus on places of refuge, happens aptly to take place during Sukkot."
Jewish culture has also influenced Winston, who grew up in a secular family.
"My upbringing in a family that is very engaged in politics, culture and the arts has definitely influenced who I am and how I approach the world," said Winston. "I do believe that being culturally Jewish has contributed to my sense of being an advocate for others, of being confident in my ability to ask questions and explore ideas, and in feeling as though I am part of a greater community. Growing up in the United States in a suburb of Baltimore that was pretty white and Christian, I did feel different from my peers even though Baltimore has a huge Jewish population. Enjoying that feeling of differentness has led me to being a creative professional.
"Jewish folklore is a great source of inspiration and I would love to learn more," she added. "My solo puppet and clown show Just Enough is based on the Yiddish folktale Joseph's Overcoat, in which something is made from nothing and then passed down through family. In my version, it features a grandmother (a puppet) and her granddaughter (me, as a clown). The grandmother makes a quilt out of her old clothes for her baby granddaughter and, as she grows up, the grandmother cuts and sews it into other things for her until all that is left is a button.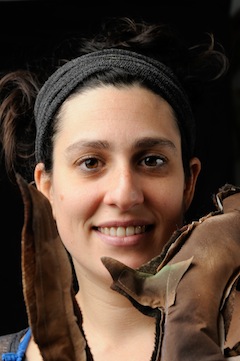 "As a theatre artist," she said, "I am drawn to ritual and tradition in many forms. I have always found support for my work in the Jewish community, not only in Vancouver (through the JCC and the Chutzpah! Festival), but in other places around the world. I have started to make a few connections in the Jewish community in Montreal and am excited to see what evolves there."
Winston only recently moved to Montreal, where her mother and grandparents grew up there. "Every summer of my life has been spent at our family cottage in Morin Heights, Que., just one hour from Montreal," said Winston.
When she graduated in 2005 with a BA in puppetry performance from Sarah Lawrence College in New York, she wanted to move to Canada and, in the end, chose Vancouver "because I knew I could get to know people in the arts community easily through my relatives. Actually, it was through my aunt that I was originally connected to Terry [Hunter] and Savannah [Walling] of VMT back in 2008 when I got to be involved in We're All in This Together, a shadow project in the DTES."
However, "the pang of Montreal called me more and more," so, this past January, she made the move. "The reason why I'm back in Vancouver right now is because of some other projects I had already planned last year…. Right now, in addition to working for Heart of the City, I'm collaborating on a music and puppetry project with Laura Barron (Instruments of Change), facilitating students in a Vancouver elementary school and then repeating the same project with students at a school in India. We did a similar program two years ago, and had already decided it would happen again this year."
With Heart of the City, Winston is both an artist liaison, as well as a performer. She'll be in It's a Joke! – which has the theme "'Stand-up for mental health" – with the Assembly, a group she's been with about four years. "We are a playful and lofty collective of process-oriented, performance-driven, self-identifying women clowns, producing shows two to three times a year," she said.
"Our performances at Gallery Gachet [on Oct. 28] will feature a few of the regular members of the Assembly doing short solo or duo acts from some of our previous shows," she said. "In terms of the theme of the event … I can't speak for stand-up comedy, as I've never done that before, but I can say that my mental health has been significantly affected for the better by my experience with clown. I know many other people who are similarly influenced. I hope the audience who attends this evening will get a taste of the deep psychological and spiritual power this art form has."
Winston was in the festival last year with her solo show Just Enough and she has participated for several years – and will again this year – with Healthy Aging for the Arts, a program at Strathcona Community Centre. The group started in 2005, and it "consists of Cantonese-speaking women between the ages of 70 and 95. Every year, we explore a different style of puppetry with a theme that resonates with the members of the group. Sharon Bayly and myself have been the lead facilitators for the last five years."
Winston noted that most of the seniors have been together since the beginning. "We all have aged together," she said, "and I've been able to see the direct positive effect that art-making has on the well-being of these women."
Despite the obvious importance of community in her work, Winston said, "I didn't know that I was a community-engaged artist until other people started to identify me as such and until I started understanding the language of and paradigms of the art form."
She said, "I always just did the kind of work that interested me and I got involved in whatever projects I could. I came to Vancouver with the intention of being a professional puppeteer and quickly discovered that, if I wanted to make puppet shows, I had to educate everyone around me, collaborate with artists of other disciplines and be as inclusive as possible…. Community engagement to me is simply sharing what I love to do with others. It's about creating something together from scratch – from the ideas of those involved in the project…. I was never interested in being a traditional theatre artist, going to auditions, headshots, taking directions without having a say in them; I just wanted to tell stories and perform them creatively. Community engagement became an avenue for doing that."
Community, in particular the DTES, is a focal point for Kravitz.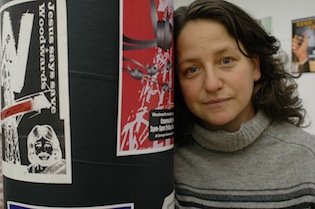 "I felt a connection to the Downtown Eastside and particularly the Carnegie Centre almost immediately upon moving to Vancouver. I volunteered at Carnegie and then, the following year, I proposed a community public art project on the corner of Main and Hastings. My first night in the Carnegie in the winter of 1993 and my first summer on the corner are moments I will never forget. Coming there helped me become more of the person I wanted to be and so it will always have a very special place in my heart."
Kravitz will come to Heart of the City with We Can't Afford Poverty, "a participatory project that highlights the widening gap between rich and poor through community-driven art."
"We will be making several appearances throughout the festival," she said. "We'll be co-hosting a print-making workshop with WePress, we'll be taking part in the documentary night, we're having an exhibit of kids' art in the third floor gallery and we'll be popping up throughout the festival with our mobile video soapbox."
The arts play countless roles in individual and community health, she said. "The act of making art together and the bonding that happens through that process, the ability individually to respond to external and internal issues creatively helps us feel less powerless. It changes how we think, and it can change how others think."
For Kravitz, in Judaism, "like all faiths, there is the common belief in how we treat others, and the knowledge that there is something in the world greater than all of us, who and whatever that is to someone. I grew up knowing that we needed to help each other, and it's why were all here – to make things better for each other."
Most Heart of the City events are free or by donation: visit heartofthecityfestival.com.