"I was in the right place at the right time with the right preparation," said Linda Lando about her new position: director of the Sidney and Gertrude Zack Gallery.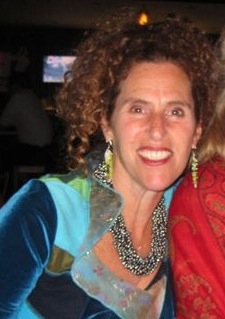 Lando has unique qualifications for the job, having been an art dealer, with her own gallery, for 30 years. Now, she wants to share her knowledge of the arts with the Jewish Community Centre of Greater Vancouver and its gallery.
Lando didn't dream of becoming a gallery owner when she was young. "It just happened," she told the Independent. "After getting my degree in art history from UBC, I did some work for the UBC art gallery and worked for a local auction house. When Alex Fraser Gallery had an opening, I applied and got the job. I liked gallery work so much that I ended up buying the gallery. It was unintentional. It was never a goal of mine to run a gallery, but I loved it."
Although her gallery has changed its name twice since – it is now Granville Fine Art on the corner of Granville and Broadway – Lando remains the owner. She intends to retain her client and artist lists, both of which she's established over the years, but she is eager to explore the new venue, to dedicate half of her time to the Zack.
"I can't see myself doing anything else but running a gallery, but I'm ready for something new, for community-minded work, away from the commercial art world…. Sometimes we have to rise above the monetary values and do something for the community."
She had been searching for a new direction for awhile when she received a phone call from Reisa Smiley Schneider, the gallery's recently retired gallery director. Schneider told the Independent: "We started talking about the recent changes in our lives, and she said she wasn't sure what she was going to be doing in the next while and had to make some decisions about her gallery. We chatted for awhile, and then she said someone had suggested she apply for my position. I asked her how she responded to them, and she sounded like it was something she might consider. I proceeded to tell her how much I had loved my job over the 15 years I had worked there. I included some of the things that frustrated me as well, just to be realistic, but basically I encouraged her to apply and to do so soon, as the deadline for applications was in two days. I was delighted to hear that she was interested in the position, as it seemed a 'win-win-win' for everyone and every organization involved. What a gift to me to have Linda, a gallery owner for 30 years, take over as gallery director! I am excited to see how the gallery will soar under her direction."
Lando elaborated, "I've known Reisa for some time, and she was always happy here at the Zack. She had a connection with people. When I learned about her retirement, I decided to apply for this job. Sitting all day at my commercial gallery could get lonely. Nobody comes there just to chat. But here, interacting is easy. Children come to the gallery. Someone offered me a chocolate. Nobody's offered me chocolate at my gallery. Here, Reisa had created a warm, friendly place, and I'll try to keep it [that way]."
She is already keeping that promise, maintaining a link between the past and the future of the gallery. Whoever comes through the door – an art lover to look at the current exhibition, a toddler to play hide and seek or a senior on the way from a class – Lando engages everyone with a smile and a friendly word.
"Running a gallery requires huge people skills," she noted about her approach. "I have to keep my artists happy. The best part of the job is phoning the artists and saying that their painting is sold. I love it. It could be very disheartening, when you put up a beautiful show, and it doesn't sell. But it's not only about selling." Her job is also about educating people, she said. She considers the educational aspect essential, both for a commercial gallery and for the Zack.
Keeping her clients happy is also paramount. "Anybody walking into the gallery with the intention to buy is in a good space with me. I have to build on that. Sometimes, people start by liking art and then they become collectors, passionate and knowledgeable about the art they collect. I have to keep up my research to be worthy of their trust. It's all about trust. For the clients to trust my taste and my artists, I have to know what's going on in the marketplace, what is a good investment, especially in regards to historical works. Before [the] internet, I often went to auctions and shows in Toronto. Now it's easier – everything is online."
Unlike sales of historical masterpieces, where the dealer's personal taste counts for much less than marketplace demands and cultural traditions, in the modern arts, the dealer's taste is utterly important.
"That's why I like the Zack," Lando added. "It's not exactly a commercial gallery, no pressure to sell. But, of course, if paintings sell, it's good for everyone, for the artists and for the JCC. I see it as my biggest challenge: finding good, quality art and making sure a certain calibre of artists wants to exhibit here. Plus, attracting serious buyers. Now, when collectors want to buy a painting, the Zack is not on their usual route. I'd like to change that, so they would consider the Zack when they are ready to make a purchase."
Olga Livshin is a Vancouver freelance writer. She can be reached at [email protected].