The Jewish Family Service Agency's community garden was halved by CPR. (photos by Cynthia Ramsay)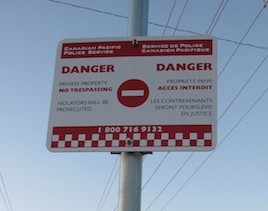 As many residents have witnessed, the legal dispute between the City of Vancouver and Canadian Pacific Railway (CPR) has reached a point of no return, with many community gardens along the Arbutus corridor destroyed by CPR in the past few months.
The dispute between the city and CPR is about the future of the 11-kilometre railway line that was in use from 1905 until 2000, when the line was shut down. Since then, there have been ongoing discussions about the future of the line and its surrounding land. In asserting their ownership, CPR insists that it is still an active rail line.
In the past 15 years, several community gardens have flourished along the old railway line; one of them is the Jewish Family Service Agency community garden that provides produce to the Jewish Food Bank.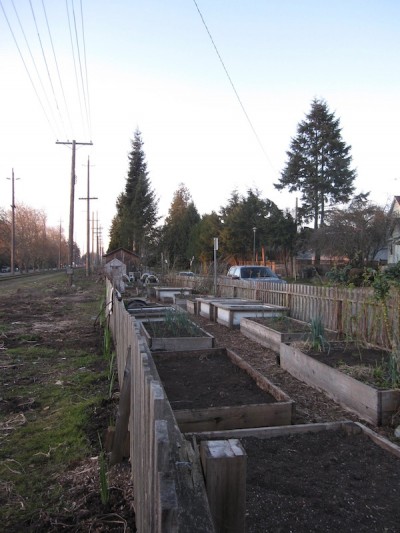 Guy Askadsky is a JFSA volunteer who has been working with the garden for the past two years. His team of volunteers meets at the garden twice a week to work together and foster the two plots that provide pears, figs, plums, almonds, raspberries, blackberries, currants, strawberries, zucchini, winter squash, kale, collards, cucumbers, tomatoes, lettuce, parsley, chard, peas, beans and arugula. All the crops are organic and go directly to the Jewish Food Bank and its customers.
"Our food bank clients are extremely happy to get this fresh organic products in their baskets, it's healthy food that is usually very expensive in the grocery store," said Askadsky over the phone. "Our production volume was cut to half because of the dispute between the city and CPR, we had to clear half of our garden, and now the volunteers see [that part of the land] standing there without any use, it's kind of frustrating, but we have to adjust to the reality. Our reward is being able to provide an important need for many in our community that are unable to enjoy that kind of variety without a garden."
The JFSA community garden is always looking for volunteers. Anyone interested in joining the gardening team can email Askadsky at [email protected].
Shahar Ben Halevi is a writer and filmmaker living in Vancouver.