The YMCA Jerusalem Youth Chorus prior to their 10-day tour of Japan in August 2014. (photo from Micah Hendler)
There are many creative ways to bring about a peaceful dialogue between Israelis and Palestinians. In one particular case, an American Jew by the name of Micah Hendler combined choral singing and dialogue to help bring Palestinian and Israeli teens to a place of trust in Jerusalem.
Hendler, originally from Bethesda, Md., has been singing for as long as he can remember.
"For me, singing is a very powerful way of connecting to other people and creating communities, a sense of common identities, all the things that make people feel close to one another," he said.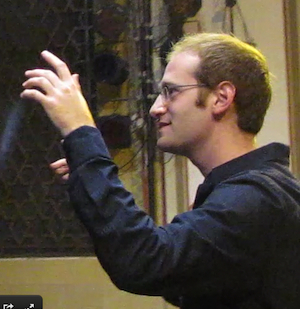 In his high school years, Hendler participated in Seeds of Peace, a program for teens from conflict regions around the world. For the first time, he had the opportunity to hear the stories of both Palestinians and Israelis.
"It made me realize the power of talking to others who are different, the power of showing people there are other ways to see things, more complete ways to see things," he said of Seeds of Peace. "That's what really got me interested in the Israeli-Palestinian conflict. In many ways, this was in contrast to the education I'd received."
Over the years that followed, as Hendler continued his involvement with Seeds of Peace, he thought about ways in which he could create a new community, and decided on a singing group.
"I thought that would be really cool," said Hendler, now in his 30s. "I could empower people and show them that they could sing and be part of something like this. For me, I thought … this is a way I can do things I really love to do in the context of needing ways for people to come together."
When Hendler was ready to kick things off, he had just graduated from Yale. "I thought, if I'm ever going to do this, now's the time."
With degrees in music and international studies, and a host of other experience, both in music and in conflict transformation, Hendler moved to Jerusalem. He spent the first couple of months having coffee with anyone and everyone. He also spent a lot of time at high schools, sharing information about the choir, the YMCA Jerusalem Youth Chorus. Eighty youth auditioned, with the majority coming from East Jerusalem.
"There were so few extracurricular options in East Jerusalem at all, let alone singing options," said Hendler. "For kids that liked to sing, I was one of the very few possibilities around."
Hendler accepted 30 kids (ages 14-18), an even split of Israelis and Palestinians.
A friend connected Hendler with Israeli singer/songwriter David Broza, who was working on the album East Jerusalem/West Jerusalem at the time. Broza invited the chorus to be part of it. "It's pretty amazing – that was three months into the choir, and we were recording with David Broza in the studio," said Hendler.
The YMCA Jerusalem Youth Chorus program begins and ends with singing, with dialogue embedded in the middle. It does not take long for the kids to mingle. "They were in a completely unstructured context, already hanging out across linguistic and national lines," said Hendler. "A lot of girls were singing pop songs on the piano and the guys were doing their thing, and different people were talking."
The cost for the program is covered by the Jerusalem Foundation and private donors in and outside of Israel; the kids pay a symbolic fee to attend, as long as they are able.
Hendler's main focus now is on ensuring that the kids feel part of a group, which is a moving target as the chorus grows. Currently, there are 44 kids divided into three dialogue groups, but Hendler is looking at other options. "There's a limit of how big the choir could be in terms of what is manageable," he said. "But, it would be possible to have multiple ensembles at different levels."
When selecting kids for the chorus, Hendler looked for kids who wanted to meet new people and experience new things. As well, potential members needed both to be able to express any opinions they may have, as well as listen to those of others. "We also, of course, wanted people suited for singing," he added.
Rehearsals are 3.5 hours and take place once a week. From as early as the second rehearsal, he said, "it was amazing that the kids were so open to one another. Obviously, with the linguistic and social challenges, the group had gone through a lot, but fundamentally there's this openness and a joy that's pretty inspiring."
The dialogue is run by professional facilitators, "but I still have a good sense of what goes on," said Hendler. "And, it's actually really beyond inspiring, the way they listen to each other and create a space. The kids are real with each other, sharing their fears and hopes … but what's really been amazing is that even outside the choir, the kids have started to speak up in their communities."
Israeli high schooler Avital said of the program, "You get to know the other side, you get to be together, to see what it's like being with kids different than you." Shifra, another Israeli participant, said, "[Before] I only knew Israelis, I had never met any Arabs before I came here. I didn't know what I was going to see … I wasn't sure what I expected, but what I realized was that we're all the same."
Palestinian high schooler Alaa commented, "I learned from the sessions how not to stay silent, to express myself." And Ameer, another Palestinian participant, said, "The choir is beautiful and we enjoy it, because we are Arabs and Jews, together at the same time."
Rebeca Kuropatwa is a Winnipeg freelance writer.