Left to right, Harry, Joseph, Benjamin and Rachel Seidelman, in approximately 1906. (photo from JMABC L.25670)
The following is an edited version of remarks presented at the Jewish Museum and Archives of British Columbia (JMABC) Intersections speakers series on Dec. 15 about the museum's online exhibit Letters Home.
Recently, my wife Shelley and I were on a tour of Italy that stopped at the Cassino War Cemetery for soldiers killed during the Battle of Monte Cassino, a battle which resulted in 55,000 Allied casualties. In the 15 minutes we were there, we found two headstones with a Magen David, for soldiers from British Columbia who were killed in this Second World War battle. These headstones commemorate just two of many soldiers who have died in the fight for democracy but whose bodies are interred far away from family. My Uncle Joe was even less fortunate. Since his body was never found, there is no grave and, therefore, no headstone.
The First World War claimed the lives of 38 million civilians and soldiers alike. Approximately 2,700 Canadian Jews served in the Canadian Expeditionary Force, with about 1,200 seeing combat. Of those, an estimated 123 died in battle.
In late 1917, Gen. Douglas Haig, commander of the British Expeditionary Force, insisted that the key to victory on the Western Front was capturing the area around the village of Passchendaele, near Ypres in Belgium. Even though bad weather had turned the battlefield into a quagmire, Haig was determined to proceed.
At Passchendaele, on Oct. 26, 1917, 15,654 Canadian soldiers were killed. Among those who paid the terrible price for this hopeless decision was Pte. (Edward) Joseph Seidelman, 20, of Vancouver. His father, William, was a Hungarian Jewish immigrant who, after living in Kansas and Seattle, had settled in Vancouver in the 1890s. There, he met Esther Pearlman from Winnipeg. The two were married in 1896. Joseph was born a year later, followed by four more children during the next decade. Their father unfortunately died in 1907, leaving Joseph, Rachel, Harry and Ben; William was born after his father died and was named after him.
In 1916, Joseph was a student at the University of British Columbia. He would have graduated in 1918, the final year of the university's transition from being an annex of McGill University to being a fully independent UBC.
Yearbooks are meant to celebrate successes at the institution but the 1918 edition also records the experiences of students who went to fight in the war and returned home, and it laments those students who went to war and did not return. One section is entitled "Military" and includes a copy of the Roll of Honour in Memoriam plaque that hangs in the foyer of the UBC War Memorial Gymnasium. It also contains brief biographies of those who were killed in action, including Joseph. Seventy-eight UBC students lost their lives during the war, and are commemorated on plaques in the War Memorial Gymnasium.
Compelled to do his patriotic duty, Joseph enlisted in the Western Universities 196th Battalion, which was made up of more than 150 students from universities in Manitoba, Saskatchewan, Alberta and British Columbia. Joseph was in England by November 1916. Early in 1917, he was sent to northern France and found himself in the muddy trenches of the Western Front.
So, how much do we know about someone who lived and died so long ago? Well, because of the letters featured in the JMABC online exhibit Letters Home, we have come to know Edward Joseph Seidelman better. In addition, in the 1918 yearbook, there is also a short mention of Joseph in a message from Prof. Lemuel Robertson, the first chair of the classics department at UBC. "Do you remember those little talks on socialism with Coughlan, or when Norman Hughes came into class the day after a dance, in the hope that he wouldn't be asked anything? And Seidelman, too?" There are only three words but they give us a clue into his personality, that perhaps he liked to party.
In the letters Joseph wrote to his sister Rachel over nine months, he discussed family business and Vancouver affairs – in one letter, he expressed surprise at being a candidate for a Rhodes scholarship – and stated his hope that the war might end soon, though his optimism about the war varied. Even though he was in the centre of the action, he seems, in retrospect, to have been somewhat ignorant of how the war was actually proceeding.
The following letters are only examples drawn from the 87 he wrote. The letters from May 7, 1917, and are part of the JMABC online exhibit.
Camp Hughes, Man., Oct. 2, 1916: "I am going to Brandon again on Thursday afternoon and will stay over Friday, the 6th of October and also Saturday. I stayed with a Jewish family named Kisner and they were glad indeed to have me. Five or six decent-looking Jewish families wanted me to stay with them but Kisners had me first. Mrs. Kisner is only about 30 years old and she comes from the same city in Russia where mamma comes from, Novgorod. Mrs. Kisner introduced me to her 18-year-old sister…."
Dec. 24, 1916: "I knew Mr. Gibson's son who was reported killed. Mamma has no reason to worry about me. It looks as though Germany will surrender to the Entente Allies…. I read in a London newspaper to-day called Lloyd's Weekly News that a very high official of the German government … has confessed that Germany is starving and will give to England all that England demands even surrendering the Kaiser himself if necessary. It is quite possible, therefore, that the war may stop within a month or two by Germany's sudden and complete surrender."
Joseph stated that he applied for a transfer to the Royal Flying Corps but they were not taking any more applicants at that time. Instead, he was taking a lieutenant's course and would perhaps go to a military training school later.
Feb. 17, 1917: "Two large Trans Atlantic liners carrying about 12,000 sacks of mail were reported torpedoed and sunk by German submarines and so let me tell you once again not to send anything valuable, for a German submarine might put an end to it."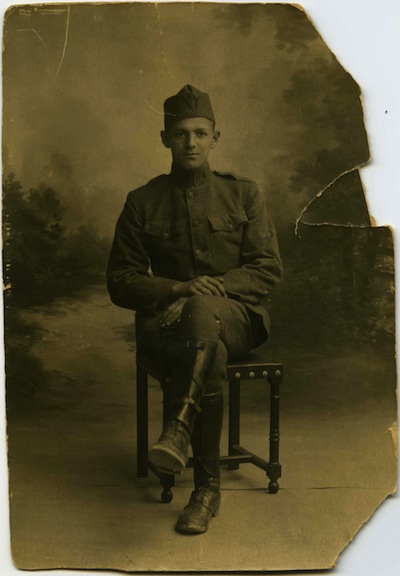 Feb. 27, 1917: "No doubt there are still many fellows hanging around in Vancouver who should be in the Army. I cannot understand their state of mind unless they have no self-respect or sense of honour. Let them go their ways while there is no conscription but I certainly am glad I am not in those times in civilian clothes. The B.C. University will have to wait until the end of the war for me at least."
March 4, 1917: "France is certainly a muddy place. You ought to hear our artillery guns hurl death and destruction into the rank of the Huns [Germans]. The artillery makes most of the noise at night and then, when you wake up, you hear the terrific reports of each shot as quickly as the pat-pat-pat of a typewriter."
March 11, 1917: "Things are somewhat interesting around this part of the world. British aeroplanes fly over us about as thickly as birds. To-day the Huns were firing at our aeroplanes and the puffs of smoke from the enemy's shells bursting around the aeroplanes could easily be seen. It is very regrettable though that one of the enemy's shells must have pierced the petrol tank of one of our aeroplanes, for it came down a mass of flames with a thick black column of smoke shooting out behind it. I never saw a single German aeroplane since I came to France. No doubt they have their wits scared out of them."
April 7, 1917: "The chances of peace do not … look as rosy as I thought but the Huns will be defeated ultimately."
April 17, 1917: "To-day after returning with a party from a certain part of France where the Germans were once expelled from and the ground all cut and plowed up with trenches, I found waiting for me a parcel containing a broken biscuit tin with some of mamma's home-made confectionary (including many crumbs) and a tin of strawberries and coffee."
May 7, 1917, datelined "some other place in France this time": "I suppose it must have been reported to you that I was very slightly wounded by two very small pieces of shrapnel and, as I feel that you folks at home are very anxious to hear particulars, I want to assure you that there is absolutely nothing whatever for you to worry about. The two wounds I got are on the outer side of my right leg, one above the knee about the centre and the other below the knee about the centre. Although each wound has the appearance of nothing more than a [scratch?] on the skin, nevertheless I had to come to the hospital, where it is a pleasure to be for a change. One of the attendants told me that the leg will be alright again in about 5 days. So tell mamma to be happy and cheerful at home.
"I received three letters from you while I was in the firing line. I was much surprised to hear of the murder of Chief of Police McLennan. I guess Vancouver was shocked at the time almost as badly as a war event."
On May 22, 1917, from "somewhere in France," Joseph writes that he still has not rejoined his battalion after his leg injury, as another shrapnel piece was found in his leg, and required more medical attention at the hospital. Joseph tells Rachel that the shrapnel was found with the aid of an X-ray, and the doctor let him keep the shrapnel as a souvenir.
On July 3, 1917, again from "somewhere in France," Joseph has returned to his battalion. In this letter, he tells Rachel that, on the night of May 5, 1917, when he received his leg wound, he still made the effort to help out a wounded officer. A telegram indicating Joseph's return to the battalion from the hospital was sent to Joseph's mother, Esther, on July 5, 1917.
On Oct. 14, 1917, still "somewhere in France," Joseph reports "nothing to write about." It is the last letter he writes home.
Joseph fought and survived the Battle for Vimy Ridge, was wounded in the leg in another battle and spent several weeks in an army hospital before being sent back to the front. On Oct. 26, the first day Canadian soldiers fought at Passchendaele, he was killed. Joseph was the first Canadian Jewish soldier from Vancouver to die fighting in the war.
UBC Remembrance Day Ceremonies have been held since 1951, when the War Memorial Gymnasium was opened. Since that time, I have attended nearly every ceremony. At first, I went with my brother and our father, Harry, who was too young to be part of the First World War and too old to be part of the Second World War. In the early years, my father would speak with veterans who knew Joseph. Over time, they all have passed away, but I have continued to attend the memorial ceremony with various members of my family as a way to remember my Uncle Joe, who is lying somewhere in France with no grave or headstone; our own kever avot (tradition of visiting the graves of our fathers).
Perry Seidelman is, among other things, president of the board of the Jewish Museum and Archives of British Columbia.