Artist Lauren Morris at the opening of her solo show, Dressed in Colour, at the Zack Gallery Jan. 25. (photo from Lauren Morris)
Dressed in Colour, Lauren Morris's new solo exhibition at the Zack Gallery, perfectly reflects the artist's relationship with the world. "Everything about me is colour," she said in an interview with the Independent. "Colours bring this show together."
This is Morris's second solo show at the gallery, the first having been in 2015. She is known for her vivid flowers and colour-infused compositions.
"I always explore new colours, always learn, always take new photos. Living in Vancouver makes me want to paint even more colours," she said.
Inspiration has not always come easily, though.
"About five years ago, I took a sabbatical. I didn't paint for more than a year, didn't know what to paint. I was stuck," she said. "Before that period, I always used someone else's vision as a starting point: photographs I found online, other artists' pieces. But it stopped working for me. Then, I realized that it doesn't matter what I paint. I began taking my own photographs. Now, I base everything I paint on my own experiences. I love nature, I enjoy flowers, and it all comes out in my art."
Influenced by nature, Morris creates large canvases where colours, shapes and light intertwine into unique flowery abstractions, beautiful but never photographic or even realistic. Her flowers come from her imagination, with depth and texture adding meaning. "There is always something mystical in my paintings, something unknown," she said. "A lot is going on in every picture, and the multiple layers create reflections."
Morris paints with acrylics, but this medium, despite its growing popularity, has its quirks. "Acrylics dry fast, and they often become dull when dry," she explained. "To brighten the images, I use varnish on top of acrylics. Varnish makes the magic come out. People even ask me if I paint in oils."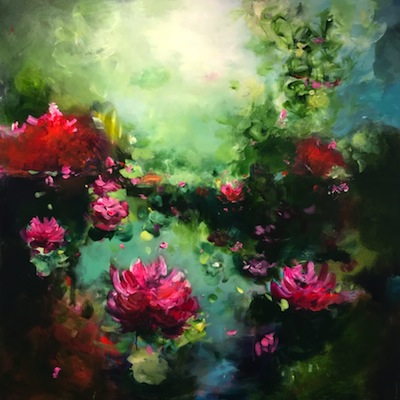 Her flowers are larger than life. One can't even see the overall image until one is at a distance from the work. "When I paint, I often stand back a lot," Morris said of her creative process.
For her, a painting is never finished until it is no longer in her possession. "Yesterday, I saw something wrong in one painting in this show," she said the day before the exhibit's opening night. "Something bothered me, so I brought my paints and touched it up."
Sometimes, she starts a painting with a preconceived image, but, like living things, her pieces frequently have a mind of their own. "My paintings often surprise me, and I always allow them to happen," she said. "If I planned something else, but the image evolved somehow, I find it fascinating. If something doesn't work, I fix it. I don't have an anxiety. I don't fear the canvas."
Morris trusts her intuition, and it makes her paintings vibrant. It also makes her an excellent teacher. Lately, she has been teaching adult art workshops at the Designers Collective. "Most of my students are beginners," she said. "They come to the workshop and they're unsure. They think they can't paint. I teach them not to be afraid. I bring art to people. I tell them: there are no mistakes in art. It's not about technique. Art is a self-exploration. If you don't like something you already painted, we'll cover it up with something new. Maybe the old image will peek through, like a reflection of something different…. I try to make people believe in themselves. It's almost a therapy class."
She applies the same approach of playful exploration to her own work, fearlessly searching for beauty in her art. "I'm never bored when I paint. My art excites me. I get absorbed by my paintings," she said happily.
Morris's canvases seem to thrum with the strands of silent music, a quiet serenade of water lilies in a deep-green pond or a loud trumpeting from the white, extravagant bouquet exploding with elation.
"Before, I always listened to classical music when I painted, but, a few years ago, I stopped," she said. "Now, I paint in silence. I still love music, but not when I paint. Maybe, it happened because there is so much noise around us, with the internet and the city life." She doesn't want the ambient noise of the urban sprawl to interfere with her paintings. "I want to create a mood," she said. "I want to make people happy."
Not surprisingly, people find delight in her paintings. In the past five years, she has been participating in the Eastside Culture Crawl, and sales – a challenge for any artist – have been encouraging. She has donated several of her paintings to various medical establishments around Vancouver, and her website also gets lots of traffic.
Her commissions have become almost a business, and she treats them as such. She starts practically every day with a few hours in her studio. "Each painting becomes a project to complete," she said. "When clients come to me with a commission, my interior designer's background kicks in. They have a vision of what they want: a size, a shape, a place on a wall in their home. I understand someone's vision. It doesn't make me feel constricted. If I'm able to get their vision right – the size, the colour scheme, the overall impression – I'm glad."
Dressed in Colour is on display until Feb. 24. For more information about Morris and her work, visit lmdesignsstudio.com.
Olga Livshin is a Vancouver freelance writer. She can be reached at [email protected].