The goal of the Richmond Jewish Day School student council committee this year was to help purchase a Sunshine Coach for Variety Club. From left to right are Rachel Marliss, Shai Rubin, teacher Reesa Pawer and Nate Brown. (photo from RJDS)
The Richmond Jewish Day School student council started three years ago. While there used to be elections, as of this year, any Grade 6 or 7 student can join, and we're now called the student council committee. From its very beginning, the committee has done fundraisers for charities, such as the Richmond Animal Protection Society, the Jewish Food Bank and Variety – The Children's Charity.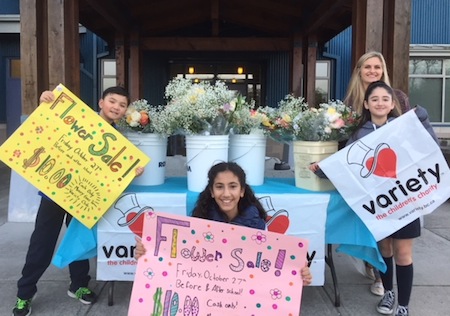 Many of the students at RJDS agree that giving and helping means the world to us, and a lot of students at our school, including members of our committee, have given to various causes.
In past years, we have done bake sales, non-uniform days and flower sales in support of charities. Most recently, we did a highly successful flower sale in front of our school – we sold every single bouquet, and we were interviewed by Global TV. Our goal was to raise $1,049 in support of Variety to help purchase a Sunshine Coach, and the goal was surpassed fairly quickly.
We wanted to raise money for Variety because of what they do for children who are less fortunate and need medical attention. Our fundraising will hopefully make a difference to these kids, and put smiles on the faces of some of those in need.
Shai Rubin is a Grade 7 student at Richmond Jewish Day School. Because of their efforts, RJDS students will appear on the Variety telethon Feb. 11, between 1:30 and 2:30 p.m. The telethon is a daylong broadcast on Global BC.