Milk and Honey Distillery was established in 2012. (photo by Dave Gordon)
The Milk and Honey Distillery's first three-year-old batch of whisky is about to be officially tapped, to appear in 150 locations across Israel, as well as the Netherlands, Belgium and Luxembourg. And plans are in the works to bring the product to North America. Current output is estimated at about a million bottles.
Milk and Honey's founders sought to piggyback on what appears to be a trend of people wanting to try certain drinks from places that are not typically known for making them.
"Whisky consumption is seeing a big shift happening all over the world now," Milk and Honey chief executive officer Eitan Attir told the Independent.
For decades, four countries have ruled the whisky industry – Ireland, Scotland, United States and Canada. But many customers are seeking uniqueness.
"It's what we call a 'new world' whisky," said Attir. "So, now you can find more and more countries, that never had a history of whisky, doing it."
Proof of Israel's new world whisky popularity was evident even before the first ounce of Milk and Honey's product was officially available. In 2017, the distillery filled 391 bottles with its initial three-year-old whisky single malt. Head distiller Tomer Goren created the batch in his workshop, and it was aged in the distillery.
Bottles numbered 1 through 100 were sold on the Whisky Auctioneer website and more than 30,000 people bid on the bottles. The "number one" bottle was bought for $3,000 US and number two, about $2,500 US. The rest were sold for about $750 US each. Stock sold out in three months.
"That was a huge surprise, not only business-wise, but also the attention it got," Attir said. Several media took notice: the New York Times, Boston Herald, CNBC and NBC, among others.
Fast forward a year to 2018, and the company's "triple cask" – a combination of previously red wine, bourbon and Islay barreled whisky – won best in show and second place at Whisky Life Tel Aviv. Its competitors were 15-, 18- and 20-year-old beverages from many different popular brands.
How Milk and Honey got there was as much a blend of perfect ingredients as a premier blended whisky.
In 2012, the company was started by Gal Kalkshtein, Milk and Honey's owner, and five friends, all previously in the Israeli tech and startup industry. With their million-dollar investment, the friends turned a former bakery into a distillery in 2014. (For more on the distillery, see jewishindependent.ca/israels-first-whisky-distillery.)
"We were the first ones here, so there really was no one to ask about how to build a distillery. So, they traveled all around Scotland and studied a lot," said Gal Levin, manager of the visitor centre, who oversees business development.
Then came the parts: a tailor-made whisky pot still and a vintage still, each constructed in accordance with Scottish coppersmith tradition. The wash drum was found online, on a German website – it was sitting in a barn in Romania (Transylvania, to be exact).
"The guys traveled all the way there to see it and buy it," said Levin. "They weren't sure it was going to work. They bought it, brought it here, and fixed it. We still don't know who made it and for what. It's mysterious. It's working, and that's the most important thing."
During renovations, they began tinkering with what recipes to use. In 2013, they hired two professionals. One was Scottish master distiller Dr. James Swan, who guided the company on research and development. His experience included advising distilleries and brands all over the world, from Jim Beam to Chivas. As well, he had expertise in aging and distilling in other hot climates, like Taiwan and India.
The second person hired was Goren, who was studying for his master's distiller degree in Scotland. (He is also a judge at international whisky competitions.)
"We chose to adopt very strict regulations of the Scottish method, that allows us to connect with the Scottish tradition, and also so our whisky will be considered 'whisky' in many places around the world," said Levin.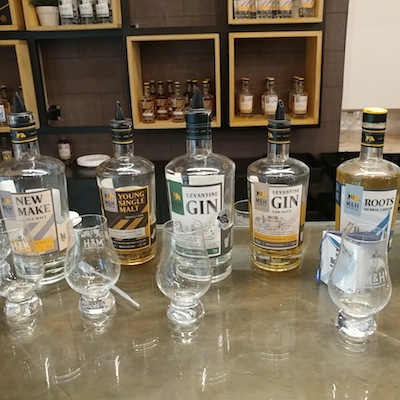 Whisky, by definition, is made with four ingredients: malted barley, yeast, water and the barrel. Milk and Honey maintains the tradition, with no added ingredients. Barrel selection included casks previously used for bourbon, a collection of new oak barrels, and former wine barrels (all kosher).
"We are aging for a minimum of three years before we call the product 'whisky.' That's an important rule. Of course, in Scotland, the whisky is called 'scotch.' We don't do that," said Levin.
As an added plus, Israel's climate allows for relatively quicker fermentation, up to two and a half times faster than that of Scotland, according to Milk and Honey. That means an Israeli three-year bottle might taste like a six-year bottle from the Highlands.
And Milk and Honey doesn't only make whisky – they also produce gin and a liqueur.
The gin is spiced with and inspired by Israeli ingredients. The Levantine gin, for example, contains za'atar, orange slices, lemon peels, black pepper, cinnamon, chamomile and lemon verbena. The Roots liqueur has typical Holy Land flavourings: almond, savory, coriander, jasmine, tarragon, thyme and cardamom.
With all of this deliciousness, that's something to say "l'chaim" to!
Dave Gordon is a Toronto-based freelance writer whose work has appeared in more than 100 publications around the world.