Zander Meisner is a swing in the touring production of Once that will be in Vancouver Nov. 17-22. (photo by Once Tour Company © Joan Marcus)
Most of us can only dream about what it would be like to have a role in a Broadway production. Illinois-born Jewish community member Zander Meisner has four in the touring production of Once: The Musical, being presented in Vancouver by Broadway Across Canada Nov. 17-22 at Queen Elizabeth Theatre.
Meisner is a swing for the roles of Andrej, a Czech immigrant working in a fast-food joint; Svec, Andrej's brother; Eamon, the manager of a recording studio; and Emcee, the host of a bar's open mic night. This means that he has to be prepared to step into any one of these parts ("tracks") on any given night – he has to know all of their music (including the playing of multiple instruments), choreography, dialogue, blocking onstage, manoeuvring backstage, and has to be able to pull off convincing Czech and Irish accents.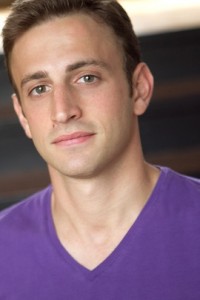 "My method was a three- to five-month freak-out period in rehearsals in the first few months of tour in 2013, where I practised my face off," explained Meisner in an email interview with the Independent. This was "followed by my first performances, which gave me the confidence to continue honing my musical skills and polish each character – and getting more and more excited (and less and less nervous) for my future performances. I go on a lot more frequently than I did on the beginning of tour, and these shows keep me sharp."
In his early 30s, Meisner has been a musician and actor since his youth. He was born and raised in Deerfield, about an hour's drive north of Chicago. His first role was a part in his high school's production of Gypsy.
"Gypsy was more a transition from music to theatre than just my first show. I had played clarinet for six years at that point, and the small role I was cast in had me playing the clarinet onstage. Then I simply fell in love with theatre. High school gave me the opportunity to do musicals without any 'nerdy' choir prerequisites (which I ended up doing anyways). I pursued vocal performance and theatre at the Jacobs School of Music at Indiana University."
A singer/songwriter, Meisner still performs on occasion despite being on tour with Once. "I book evenings called Zander and Friends," wherein he and a "handful of super-talented friends" take over a bar for the night. "I'm the goofball emcee and headliner," he said. "It's beyond fun, and a great opportunity to do some music outside of Once. I have one scheduled in Raleigh, N.C., and I hope to have one in Boston."
Meisner also tries to maintain a level of religious observance while on the road. "I do follow Judaism," he said, "as I was raised Conservative, and try and follow tradition as best as possible with my crazy schedule (though not as well as my mother would like)."
This tour of Once closes on Dec. 27 in Boston. "It will have been 2.5 years!" noted Meisner, who will be doing Peter and the Starcatcher in January/February in Ithaca, N.Y., before heading back to New York City.
Once: The Musical is loosely based on the Academy Award-winning film about the whirlwind romance of an Irish musician and a Czech immigrant, "drawn together by their shared love of music." It is award-winning in its own right, garnering eight Tonys, including best musical, for which it was also honored by the New York Drama Critics' Circle, Drama Desk and Drama League, among others.
Tickets for Once at Queen E. start at $25 (plus service charges), and are available from ticketmaster.ca or 1-855-985-5000.