Habonim Dror Camp Miriam madrichim (counselors) partnered with Temple Sholom during the recent teacher's strike, with the formation of a Habonim Day Camp.
Lior Bar-El, a madrich at Camp Miriam and Habonim Day Camp, and a University of British Columbia student, explained, "We thought it was important to support both the parents and the teachers during the strike by providing affordable child care to whoever needs it."
Camp Miriam and Habonim Day Camp madricha Carmel Laniado, also a UBC student, explained, "The purpose of Habonim Day Camp is to create a space where children can be supervised and enjoy activities of experiential education [by donation]. We are not replacing teachers or school, but rather offering an alternative while the strike [is on]."
Talking to the JI while the camp was still ongoing, Laniado said that the day camp was open to all children, "regardless of association with Camp Miriam or religious background."
"At different times of the day, different age groups do sports, music, arts and crafts, and experiential education on a topic of the counselor's choice," Bar-El said. "There is also an hour for lunch and half an hour for recess." He added that the camp was "available to anyone grades K-11" and that more than 30 children had registered.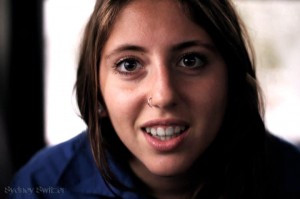 Yossi Argov, Habonim Dror Camp Miriam shaliach, shared that his "favorite part has been seeing how … so many people mobilized for the mission. The madrichim came with the idea, the camp committee [supported them] and we start[ed the ball rolling], and [we received] more help and support from the Jewish community. Temple Sholom gave us their building every day, while parents sent supplies and items like books and board games with their kids."
Starting this initiative "was exciting and nerve-racking," said Bar-El. "I've never had as much support in starting a project from so many dedicated people…. There was a lot to do – emails, advertising, lesson plans, registration, schedules – and everyone took on what they could, and made it all happen."
Habonim Day Camp included the involvement of "a little over 20 counselors that came in at different times of the day," Bar-El shared. "Everything was structured in hour blocks to allow us to coordinate times" because many of the madrichim "are full-time university students with varying schedules, when one of us [needed] to go to class, someone [would come and take] your place."
Melody Robens-Paradise, a member of the Camp Miriam personnel committee and mother of four Camp Miriam campers, shared, "I think it is amazing how Temple Sholom offered its space for this idea. What a collaboration. It is a sign of true community, and it is so inspiring to see the mutual support of the parents, the kids, the counselors, the Temple, the youth movement."
She added that Habonim Day Camp "has been such a relief." Speaking to the Independent when her kids were still attending the camp, she said, "My kids are safe and happy, engaged, and the level of stress caused by the strike is greatly reduced. My colleagues who have school-aged children were completely blown away by the innovation and generosity and [support] of the Habonim Dror counselors. They kept asking me, 'What camp is that?' No one could believe that Grade 12 and university-age counselors would volunteer their time to support their community in that way. It is so admirable."
The students responsible for starting this initiative are all members of Habonim Dror, which, Bar-El explained, is "a worldwide Jewish socialist labor Zionist youth movement whose main focus is youth empowerment and collective responsibility and decision-making…. We believe that equality and social justice are intrinsic values of Judaism, and we strive to do tikkun olam (repairing the world) wherever we see a need."
During the year, Habonim Dror and Camp Miriam are involved in both the local Jewish and social justice communities. Bar-El elaborated, "We run something called the Ken ('nest' in Hebrew), where we run activities twice a month for different age groups throughout the year. It's a great opportunity for kids who are nervous about jumping straight into a three-week session in the summer to try out Camp Miriam, and to make friends with other kids who will also be there.
"We also run free tutoring at the JCC [Waldman Library] on Tuesdays and Wednesdays from 4:30-6 p.m., and three weekend-long seminars during the school year, and we are members of the Metro Vancouver Alliance (MVA). If you want your child to get involved in Camp Miriam and the Vancouver Ken, please contact Yossi Argov at [email protected]."
Zach Sagorin is a Vancouver freelance writer. He is involved with Habonim Dror in various capacities.