Some of Tara Pawson's Human Beams. (photo from Tara Pawson)
Tara Pawson's fascination with glass began when she was in high school.
"My dad was a welder," she said. "He would bring home some metal pieces, and I would fabricate some garden art in our garage. Then, I got a birthday present – a weeklong class of glass-blowing – and I knew that was what I wanted to do with my life. Before that class, I was planning to go to a culinary school after graduation. After it, nothing else but glass."
Pawson's solo show, Human Beams, opened on March 22 at the Zack Gallery.
"Glass is a fascinating medium," Pawson told the Independent. "It combines all the elements: air, fire, wood, metal, water. It is labour-intensive and demanding, and the results are beautiful and fragile. There is a contradiction there."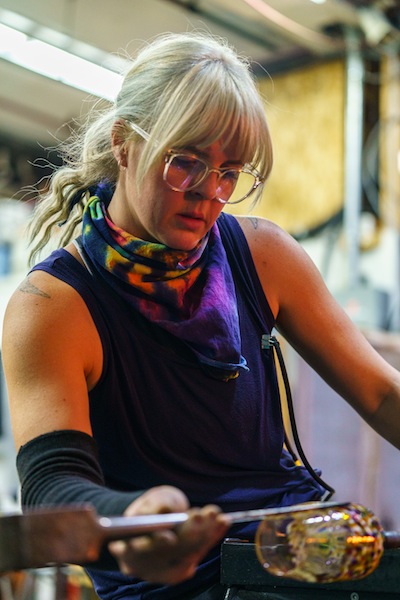 Pawson enjoys the process of glass-blowing – despite its inherent danger. "It's like a game to me," she said. "I'm not afraid of getting hurt. I have been once or twice, but I love doing it all the same…. When a piece is finished, I always want to do it again, in a different way."
She loves the functionality of glass, its accessibility to everyone in the forms of glassware or candelabras. "I'm not drawn to huge installations. I want to make art for the people," she said, "for their homes and their hearts."
Pawson doesn't have a classical art education, but she has taken many workshops in a wide variety of glass-blowing techniques over the years. "I apprenticed and I learned," she said.
At 21, she found a job with Robert Held Art Glass.
"The company created giftware and home decor," she said. "I learned a great deal there. It was a full-time job, and I did everything: glass-blowing, sales, cleaning. I stayed with them for about eight years. During the week, I worked for the company, but on the weekends, they allowed me to use their glass-blowing equipment, and I started making things for myself."
Then she moved to a company that created glass light fixtures. "There, I learned to work with a different type of glass, different styles, different process," she said.
About six years ago, Pawson decided to become an independent glass artist. "After my youngest son was born, it was time," she said. "I wanted to make my own hours and [have] no commute to work, so I could spend more time with my family."
For the equipment, she joined Terminal City Glass Coop and rents time when it suits her schedule. She makes some unique artworks.
"I make glass gifts and I make memorial pieces that are very popular," she said. "Those memorial keepsakes are small glass baubles – hearts or orbs or coins – which incorporate tiny amounts of cremains within the glass matrix. The result is a treasured heirloom. I can make them for several family members, so they will always have a keepsake to remember their loved ones. People love them. One client of mine said she always wanted to travel with her father. After he died, she took the glass marble with his ashes on her travels, so he was with her everywhere. This way, she had no problems with customs – an urn with his ashes might be much harder to pass through customs."
Pawson's giftware includes vases and glasses, paperweights and funky little "monsters," candleholders and Christmas ornaments. She sells her glass in several stores in British Columbia, Alberta and Ontario, as well as online, through her website and her Etsy shop. She is also an active participant in many seasonal markets. Recently, she created a new collection of glass beams, which are included in her current show at the Zack.
"My mother passed away shortly before the COVID lockdown started," Pawson explained. "I was dealing with my grief and I felt alone in the pandemic. Everything was closed. So I started working on these glass pieces. They helped me process my grief. I thought, maybe I could share it, help others. I never had an art show before. I started asking around how to go about it, whom to approach. I know Hope [Forstenzer] through the Terminal City Glass Coop. I asked for her advice, and she said: 'Why don't you apply at the JCC? We have a gallery there.' I did. This is my first show."
The show at the Zack, where Forstenzer is director, displays three distinct lines: Human Beams glassware, Thought Towers sculptures and Pearls of Light wall decorations. The Human Beams series works are tall cylindrical glasses of different colours, decorated with mandalas.
"The cylinders start as dark shadowy forms and flow into the bright beams of light," Pawson said. "They reflect the timeline of the dark days, when the trauma begins, and grow organically towards the light days, when you find peace."
She explained the symbolism of a mandala, which "represents the universe in Hinduism and Buddhism," she said. "Their circular design without beginnings or ends is a symbol of a spiritual journey. They illustrate the events, memories and thoughts we have when the emotion of grief consumes us. Some days are darker than others, but, with time, work and support, we learn to ride those waves…. I hand-carved every mandala on every glass. It took me about four hours for each mandala. I think I'm done with them for awhile."
The Thought Towers are sculptural compositions, orbs of various sizes and colours growing like a tree out of each other. The lighter, bigger orbs echo lighter emotions, like hope or joy, but they are always interspaced with small dark orbs of desperation, guilt or anger. "The Thought Towers convey a spectrum of emotions," said Pawson. "As we deal with grief, we have good days and bad days. Anything could trigger a crippling emotional response – a song, an image, a TV episode. But we have to remember that good days always follow the bad ones."
And then, there are the Pearls, each one hand-formed, each a complex and beautiful glass tablet. "Each one is a person or an event we encounter in our daily lives," Pawson said. "Pearls of Light, or Baily's Beads, are a phenomenon seen during a sun eclipse. These spots of light encircle the moon. They resemble a string of luminous beads, visible immediately before and after a total eclipse. They are the people around us, our family and friends."
Pawson's exhibit is on display until April 28. For more information about her and her work, visit her website, tarapawson.com.
Olga Livshin is a Vancouver freelance writer. She can be reached at [email protected].