Chatting surf, water refill stations and plastic pollution at Ocean Heroes Bootcamp, left to right: Enzo Ackermann (Ocean Hero), Rob Machado (professional surfer/environmentalist) and Sondra Weiss (art educator). (photo from Sondra Weiss, Founder, Lost Art of Love Letters)
Organized and led by Captain Planet Foundation and Lonely Whale, Vancouver's Ocean Heroes Bootcamp has a singular purpose – finding ways to save our oceans from plastic pollution.
One of the bootcamp presenters is Sondra Weiss. She offers participants a unique way to inspire action.
Having grown up in Connecticut, close enough to the ocean to fall in love with it, Weiss then went to the University of California. After graduating, she took an art museum educator position, a role she maintained for about two decades. Eventually, however, her love for the ocean drew her to start up the Lost Art of Love Letters.
"I launched this project about four years ago, thinking the world needs more love," Weiss told the Independent. "As I listen to the news, or my students, or people in the world committing suicide, I just thought that love is a great antidote for everything happening in the world."
Weiss lives in Santa Barbara, Calif., and was asked to come to Vancouver last year to help with the Ocean Heroes Bootcamp.
"Last year was the second year that they did Ocean Heroes, when I was in Vancouver," said Weiss. "It brings together 250 local and international youth activists between the ages of 11 and 18, from 20 countries and 24 U.S. states, and the idea is to collaborate worldwide to fight plastic pollution."
Based out of the University of British Columbia dorms and hosted by Ocean Wise and the Vancouver Aquarium, the next bootcamp is scheduled for June 26-29, though that may change depending on the progress made dealing with the COVID-19 pandemic. Weiss is to lead a part of it called Love Letters to the Sea.
"It is an art-integrative letter-writing project that promotes positive changes for the ocean," said Weiss. "So, rather than feeling overwhelmed by environmental issues, community members can take action and promote innovation by using their voices to drive policy solutions.
"Participants take pen to paper and brush to paint to express their sentiments, their solutions, for ocean love. And, a lot of the letters are sent out to local businesses, council members and political figures to say either thank you for the work they do for the ocean environment, or to ask them to make changes."
Last year's focus was on eliminating single-use plastic bottles. Participants were tasked with developing ideas to help the community achieve this goal.
"As mentors in bootcamp, in general, we come up with ideas and have the youth collaborate, come up with campaigns and talk to experts in different fields, figuring out how to create the most change, being creative and positive the whole time," said Weiss.
Each Ocean Heroes Bootcamp draws many different people from all around the world, she said, including youth who have created changes in their community or on a wider scale.
"There are experts leading panels, workshops and group activities … and Love Letters to the Sea, my personal activity, is more artistic-based," she said. "So, there are writing prompts for writing, but there are also images to inspire art. There are watercolours, crayons and coloured pencils for campers to express themselves in various ways."
While there are age gaps, some of the younger kids have inspired more change than some of the older ones. Regardless of age, all are passionate about the issues and put any age-related ego aside to learn from and with one another, said Weiss.
"One of the beautiful things is that youth from all around the world are working together toward the one topic – and the topic is plastic pollution, what plastic pollution and consumerism is doing to affect the planet as a whole," she said.
Weiss hopes that the letters "help motivate the people doing good work and also helps the community to remain civically engaged … and be part of society, knowing we can make change and, as an educator, working with youth shows them to use their voice for change.
"We can use that same thing – the letter writing, it has been tried and true throughout the years. When someone wants to try and make a decree, the people will use a letter. Or, to really express something to a friend going through a hard time, or a family member, a lot of times, we'll take pen to paper and write it down. It's a great way to slow down. We live in such a fast-paced society. We need to slow down and really think about what's in our hearts."
Still, Weiss is well aware of the power of technology when well-used. She has worked with Jack Johnson's band to create a song written by middle school kids who wrote love letters to the sea.
"They took lines from the letters, which became lyrics for a song," said Weiss. "Letters are personal, but the way to reach the masses is through music and video. And, we created it into love letters, which are strong and powerful."
Some of the lyrics produced include: "Water can't be broken, but we can make her cry / Going to write a love letter to the ocean, let her know we are always going to try."
"It was phenomenal that the students got to express themselves and sing it out," said Weiss. "They wrote the notes and the music, and then we went into a recording studio and recorded a different version.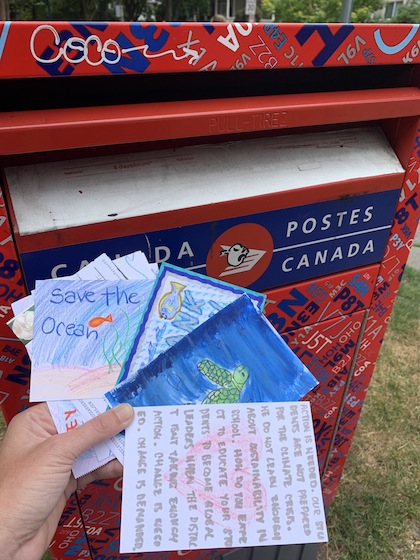 "Letter writing is such a great way to get ideas onto paper and out of your mind and heart. The next stage is to bring music and video to a larger global audience."
Weiss sees artistic letters as a gateway to reaching people on a different level, touching people's minds in a different way to promote change.
"Images or music definitely help ignite that," said Weiss. "For me, when you are talking to them and you see the light in their eyes go up, you see them drawn into the conversation.
"So, what does it takes to ignite someone to care? That's what I ask at the bootcamp. I ask the youth if they are going to write an organization and ask them to limit their plastic packaging. And I ask them what they think would get them to consider the financial cost … and think more about the overall cost, the environmental cost. We learn so much from the kids and they inspire us as much as we inspire them – and the relationships maintain year-round."
While Ocean Heroes Bootcamp is free to attend for accepted youth and their chaperones, including room and board, there is a $100 reservation fee and travel costs that may be waived via scholarship. All applications to attend the bootcamp are reviewed by Captain Planet Foundation and Lonely Whale. Qualified candidates are contacted by the Ocean Heroes headquarters team to complete registration.
The Ocean Heroes HQ team accepts a maximum of 300 youth leaders each bootcamp. Each attendee is paired up with a team of squad leaders, peers who guide them through the program and ensure they have the tools, support and information they need to graduate from the camp with a successful campaign plan to eliminate plastic pollution. For more information, visit oceanheroes.blue.
Rebeca Kuropatwa is a Winnipeg freelance writer.