Left to right are artists Robin Adams, Jan Smith and Julie Kemble. (photo by Olga Livshin)
In common perception, the word "manufacture" is associated with industrial production and machinery, but it wasn't always so. The word's origins are found in manu factus, Latin for "made by hand," and the new show at the Zack Gallery, Manufacture: From the Hand, takes visitors back to these roots.
The show presents beautiful handmade jewelry and wall hangings by 33 artists and craftspeople, members of the Vancouver Metal Arts Association (VMAA). Crafts are not a regular sight at the Zack, but gallery director Linda Lando explained, "The Vancouver Metal Arts Association has been welcomed to the Zack Gallery, as they … approach metal in a unique way. They use metal as one would use paint and canvas, so their creations bridge the gap between art and craft."
The exhibition is eclectic in both imagery and materials, with each piece reflecting its creator's personality. The entire show emphasizes the participants' diversity in cultural backgrounds and artistic interests. The only common factor is metal – gold, silver, copper, brass and others – as the basis for their art.
The Independent talked to several of the featured artists. One of them, Julie Kemble, is a recently retired communications teacher from a local university, although she always enjoyed various artistic hobbies. "I started working with metal around year 2000," she said. "I used to work with fibres. I guess I love body adornment, so it was a natural transition for me from fabrics to jewelry. They both adorn the body." A Kemble sculpture could be used as a desk decoration or worn as a pendant. In both incarnations, they are charming.
Robin Adams has been a jeweler for more than 20 years. "I owned a jewelry shop before," said the professional craftsman. "I sold my own jewelry there, but for a shop, you produce several copies of the same pieces. Now, everything I make is one of a kind. I'm an artist."
Another jeweler in the show, Jana Kucera, currently manages a pub. "Art, making jewelry, is a hobby for me, but I hope it could become more," she said. "I've always been an artist at heart. I graduated from the VCC [Vancouver Community College] Jewelry Art and Design program in 2005 and I enjoy making jewelry. I sell through shows like this one." Her original copper necklaces are delightfully graceful.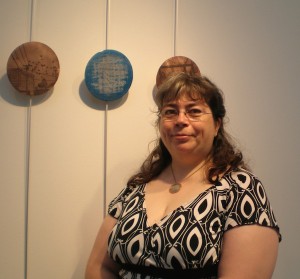 The exhibition showcases not only jewelry but other metal art, as well. One full gallery wall is dedicated to Dana Reed's series of hanging disks. Each about the size of a hand, the disks combine copper etching, enamel and photography.
Reed has been working with metal for a few years. "My day job is in administration and tech support," she said, but "I've always made stuff; my whole family made beautiful things." Her brother is a metalworker, too, and although Reed doesn't have a formal artistic education, she has been taking classes in different artistic media. "I find metal to be pleasing to work with. It stays in place," she joked before turning serious. "I can achieve precision with metal, while enamel allows more of a free-fashion imagery."
Among the other wall pieces in the show is a selection of life-sized garden tools, made of Damascene by Karin Jones – a decidedly unexpected item – and a small but picturesque installation called "Changing Values," made of pennies by Peggy Logan.
Logan has been a professional artist for 30 years. Currently, she is teaching jewelry art at Langara. "I started collecting old pennies when they went out of circulation," she said. "Before 1993, all pennies were made of copper, and I used them for this piece." The pennies, strung together and covered with multicolored enamel, glint on the wall, defying the government's decision to stop producing them.
Another professional artist in the show is Jan Smith, VMAA founder and past president. Her elegant enamel and silver jewelry is represented by galleries in Montreal, San Francisco and Seattle.
"I've been an artist for over 20 years," she said. "It's not easy to make a living as an artist, especially not here in B.C. I've often had to supplement my income by teaching art or working as an art therapist. I'm a member of the International Enamel Association. It's a small world and we all know and talk to each other. I must tell you that other countries support their artists much better than Canada. Britain, even America, offers better conditions to artists. Their art donations are larger. I'd love to have my art better known here but, so far, collectors in the U.S. know my art better. Even the East Coast is better for artists; I have representation in Montreal but not here. Maybe it is because Vancouver is such a young city."
Three years ago, Smith founded VMAA to improve the situation. Current VMAA president Louise Perrone told the Independent a little more about the association. "The VMAA was founded by Jan Smith in 2012. Before moving to Salt Spring Island, she lived in Seattle, where there is a thriving metal arts guild. Jan felt Vancouver needed something similar. Unlike Seattle, there are no specific jewelry galleries and no jewelry and metal BFA programs. There is no community of artistic jewelry collectors in Vancouver supporting us either. That is why we started VMAA – to give art jewelry a platform and educate the public, to build a community of jewelry and metal artists."
Manufacture: From the Hand opened on June 25 and will continue until July 26. To see a selection of the jewelry on display, visit jccgv.com/content/metalart.
Olga Livshin is a Vancouver freelance writer. She can be reached at [email protected].