From the left: Zack Gallery's Linda Lando and jewelry artists Julie Kemble and Barbara Cohen. (photo from Zack Gallery)
Just as our clothing defines us to some degree, so does the jewelry we wear. Our choices often reflect not only our likes or dislikes, but how brave we are and how adventurous. The current group show at the Zack Gallery, called Light, features a range of unusual jewelry, from stylish and graceful, to whimsical, to outrageous. Practically everything on display, with the exception of a couple of metal sculptures, could be worn, and the gallery supplies a mirror for those intrepid souls who dare to try the pieces on.
Presented by the Vancouver Metal Arts Association, the exhibit introduces jewelry made not only of traditional materials, like silver, but of many unorthodox materials and objects, some of which have never been considered for adornment, until recently.
"These pieces remind me of far-away places, of mystery and romance. Some of them – you need a large personality to wear," said Julie Kemble, the association's liaison for the show.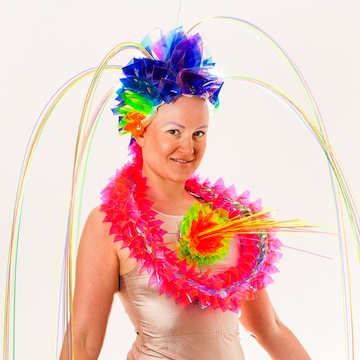 According to Kemble, the show's title, Light, invokes different interpretations. "We want to bring light into our works, into the lives of our artists and the people who wear our creations," she said, adding that the association encourages artists to use alternative materials as well, like plastic or fabrics.
As did several other participants in the exhibit, Kemble started out as an amateur artist. She was a university teacher for many years.
"I always liked art," she told the Independent. "At first, it was a hobby, but it is much more now. I began with textiles and gravitated towards metal and jewelry about 20 years ago. Metal allows a certain immediacy. You see right away what's coming out of your hands."
She explained that this show is the association's fifth annual one and the second at the Zack. "We want to increase the profile of art jewelry in Vancouver," she said. "That's why this is a juried show. We invited the judges and jewelry artists from across Canada."
Some of those artists are professionals, while others are taking their first steps on the artistic road. One of the beginners is Raymond Schwartz, but nobody would guess that by looking at his sterling silver necklaces. Elegant, sophisticated and relatively smaller than some other pieces on display, they represent a more traditional approach to jewelry.
"I'm brand new to jewelry," he said. "I started two years ago. I've always been artistic, always liked doing things with my hands, but my business was construction. Now, I'm getting older, so I began making jewelry. It's like construction, but making mini things. I also paint oils, but jewelry allows both creativity and working with my hands; it fills the void."
This show is Schwartz's first, although he has already sold some of his pieces.
Barbara Cohen, meanwhile, is a professional jewelry-maker with years of experience. "My background was in textile before I switched to metal. Now, I'm moving away from metal, too, using more of other materials," she said. "I like the scale of jewelry. It is portable art.
"It's also the most understated form of communication. When you wear a piece of original jewelry, it often starts conversations. I curated several jewelry exhibitions. Sometimes, I would wear a piece from the show, and people would admire it and ask me where it came from. They didn't notice it in a display case but they noticed it around my neck. Jewelry should be worn. That's why we have a mirror in the gallery, so people could see themselves wearing our art."
Her necklaces, asymmetrical and quirky, draw the eye. Their patterns and textures make people wonder and try to decipher the artist's ideas. They definitely start conversations.
Zula, also a professional artist, represents an extreme trend in jewelry-making. Her pieces, part of her new Neon Love collection, are a bright acrylic extravaganza, playful and flashy and fairly large. They use geometric shapes and are not for the faint of heart. It is a new development for the young artist, an experimental departure from her more traditional plant-patterned collection in silver and copper.
"I had a health crisis recently," Zula explained. "I lost my hair to alopecia. Now I'm bald, but I chose not to wear a wig. I asked myself, what is my identity now? If I was a brunette before, am I still a brunette? I had this colourful plastic in my studio and I started playing with it. I needed to be edgy, and my new pieces provide that. They interact with light."
Many other artists are part of the Light exhibit, which runs until Nov. 12.
Olga Livshin is a Vancouver freelance writer. She can be reached at [email protected].