Helsinki Synagogue, in the heart of the city, was built in 1906. (photo by Dave Gordon)
Helsinki's a city where you can experience high adventure, or simply chill, by taking in the sites on an easygoing walking tour. Elements of bustling metropolis meld with the laxity of a rural town, depending on which turn you take.
Home to some 1,400 Jews of Finland's approximately 1,800-strong Jewish community, it is not a particularly large city, enabling a tourist to take in much of the core in a very short period of time. And it's a treat for the eyes – modernity meets medieval, where whole city blocks are infused with colonial Swedish or Russian architecture, rich with history and stunning detail.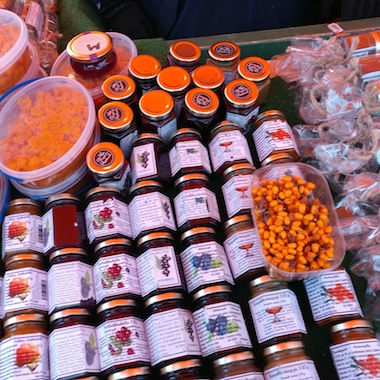 So, take it slowly. Walk along Norra Esplanade from the waterfront for a couple of kilometres and enjoy a wide array of boutique shops, dining options, cafés and the general feel of the city.
Stroll along Market Square, next to city hall, to get snapshot of local crafts and fare. It's brimming with booths and kiosks – merchants peddling their wares. Drink fresh squeezed cloudberry or sea buckthorn juice (high in protein, vitamins C and E, and organic acids). Bring home an array of tchotchkes, like handmade knitted slippers, hats and sweaters. Nosh on reindeer jerky. Check out the bookmarks made with reindeer hide, and keychains made with reindeer antlers.
For investors and business, Helsinki is the latest start-up hub.
The city leapt from 43rd place in 2017 to 28th in 2018 in high-tech start-up successes among European and Scandinavian nations. The mega-conference for tech start-ups, Slush, takes place here, gathering 20,000 people. And, one of Europe's biggest start-up campuses is about to be built, at 70,000 square metres.
Among the disruptors attracting global attention are Leadfeeder (analytics), ContractZen (one-click-cloud contracts), Smarp (shareable content hub), Utopia Analytics (artificial-intelligence monitoring of online discussion) and Hoxhunt (corporate security).
***
Finland is home to three Jewish institutions. Helsinki Synagogue, in the heart of the city, was built in 1906, and now serves about 1,200 congregants. Turku Synagogue was built in Turku in 1912, and has a few hundred members between the city and its surrounding areas. Both shuls are Ashkenazi Orthodox.
Helsinki Synagogue, with its bronze-coloured Byzantine-style dome, also houses a mikvah, a Talmud Torah and a playground. The congregation uses, not surprisingly, bilingual prayer books, in Hebrew and Finnish.
Meanwhile, Chabad Lubavitch of Finland is building a centre next to the city's Presidential Palace, where they will offer classes, a daycare, a summer day camp and other services. Kosher meals are available through a handful of stores and organizations. Fazer, a local company that makes chocolate and cheeses, doesn't have a hechsher (kosher certification), but is accepted by the community's rabbinical authorities as kosher to consume.
The first Jew to officially plant roots in the country is recorded as Jacob Weikman, in 1782, despite the government ban on Jewish residence at that time. By the 1830s, there were enough Jewish soldiers to fill a makeshift chapel at the military base Suomenlinna Fortress, reports Hadassah magazine.
Many of today's Finnish Jews are believed to be descendents of Russian infantrymen stationed there about 150 years ago.
During the Second World War, it was a complicated relationship for the Jews, many of whom fought with the Finnish army against the Soviets and, later, against the Nazis.
Finland openly defied the Nazi order to deport its 2,300 Jews, according to Yad Vashem. There was, however, a small exception: officials in 1942 allowed the Nazis to apprehend eight Jewish refugees. In 2000, a stone monument to memorialize the seven who died was erected by the government, at the park on Tähtitorninmäki (Observatory Hill).
But new evidence suggests that at least six soldiers of Finland's army partook in the Final Solution. In January 2018, it was reported by JTA that an investigation had been launched by the Finnish government after the Finnish Society of Church History apparently found written testimony from one of the soldiers of his complicity. More than a year later, it seems that no results from the probe have been announced.
***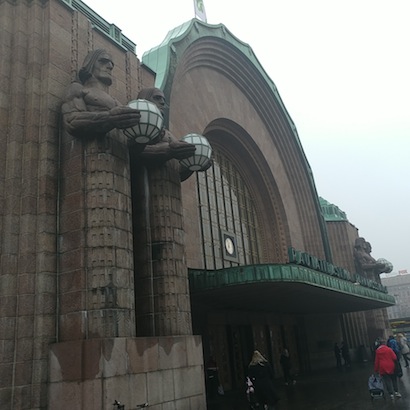 More history and culture can be found at the National Museum of Finland. Until Sept. 1, the temporary exhibition Inherit the Dust – Photographs by Nick Brandt is on display, offering an idea of the damage human beings are doing to the environment. Permanent exhibitions at the museum include Prehistory, a multisensory experience that allows visitors to "[t]ouch a genuine reindeer axe, bring a cave painting to life and see a mammoth move. The digital exhibits bring history to the present day."
The museum of contemporary art, Kiasma, at just 20 years old, has some 8,000 works in its collection, and about 100 are added annually. Here, you can get a great feel for Finnish architecture from the building itself and, with renovations starting this year, the fence blocking off the area under repair has been covered with poster art.
***
There are many other places to visit, of course.
Allas Sea Pool, next to Market Square, is where locals go after work to exercise or relax. The Olympic-size outdoor pool is heated, having a calming effect on the body, while visually, the mist hovers at eye level as it collides with the cool air. Meanwhile, the "sea water pool" – filtered and treated with UV rays – is water straight from the ocean, chilly and punchy. Think of it like the famed "polar dive."
Want to tap the inner child in you? The grown-up playground (the name of which is too difficult to spell, let alone pronounce) is a "sports acrobatics" centre with trampolines, bouncy airtrack, foam pits, sprung floor and more.
Arkadia International bookshop is a cultural icon in the city, featuring nightly concerts of every kind of music, as well as a venue simply to enjoy a cuppa joe, play a board game or shmooze with friends.
Takeoff Simulation is where you can "fly" a commercial airliner in a flight simulator the size of a real Airbus A320. It includes high-definition visual screens, real sounds and a highly detailed cockpit.
Dave Gordon is a Toronto-based freelance writer whose work has appeared in more than 100 publications around the world.