Caroline Cave appears in a Shakespeare double feature, May 5-17. (image from escapeartists.ca)
Shakespeare's plays are favorites with both actors and audiences. In Vancouver, the Shakespeare annual summer festival Bard on the Beach is a sold-out affair. This year, local actress Caroline Cave appears in a Shakespeare double feature here in May. Both are world premières created by Tracey Power's theatre company, the Escape Artists, reimagining Shakespeare for an all-female cast.
"Tracey thought that there are too few roles for women actors in theatre. She set out to change that," Cave told the Jewish Independent.
Power's original musical Miss Shakespeare centres on an imaginary underground all-female theatre group in Shakespearean times, when women were forbidden to tread the stage. In tandem with Miss Shakespeare comes J. Caesar. This re-worked tragedy about Julius Caesar and Brutus is set in a dystopian future, where women rule. Like the original version, it deals with honor, friendship and patriotism.
"It's Shakespeare's play," Cave said. "All the words are by Shakespeare, but all the roles are played by seven female actors, the same ones that participate in the musical."
The roles Cave plays in each show are nearly opposite in personality. "In J. Caesar, I play Brutus. Brutus is a strong character, both physically and mentally, a rebel. Unlike Brutus, my character in Miss Shakespeare, Susanna, is a prim and proper woman, very religious and conforming to the society rules. Not a rebel at all."
Cave is not a novice in playing complex characters. Her repertoire includes several award-winning theatre and screen roles. Twice, in 2010 and 2011, she won a Gemini Award for lead actress for her portrayal of Catherine Scott in the Showcase original series Cra$h & Burn. She also won awards for her theatrical performance in The Syringa Tree by Pamela Gien – a play about South African apartheid.
Cave grew up in West Vancouver. She studied piano and ballet as a girl and then received her training as a classical actress at the University of Alberta. She also apprenticed at the Royal National Theatre Studio in London.
Despite her much more lucrative work for the screen, she loves theatre. "Theatre feeds my soul. It keeps me humble," she said, contemplating the differences between mediums. "Theatre is inspiring and challenging. You have to find the connection with the audience. On the other hand, camera allows much more intimacy. You don't have to tell the whole story, just pieces. You can concentrate on one scene and forget all else for awhile. Not so in theatre. Here you tell the whole story in one evening, and it's a different story every night."
According to Cave, theatre depends on the actors as well as the public, the audience. "Theatre brings people together, and the actors feel it. We play with our public, as well as with our fellows on stage. The reaction of the audience is very important."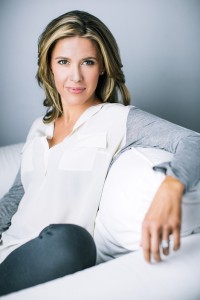 Cave admitted that she loves British audiences the best. "In England, the public is much more honest, much freer than here, in Canada. Canadians are more repressed in the theatre, as if theatre is for some sort of elite. But it is not. It is for all of us."
The most difficult audiences she's encountered have been in Montreal. "The audience there is hard: stiff, unresponsive, very quiet."
Theatre shouldn't be quiet, she continued. "It should be visceral, brave, daring. It shouldn't be a clone of reality, like a movie. It should be like magic. That's why Cirque du Soleil is so popular," she suggested.
To instigate a visceral experience for audiences, an actress needs all the tools in her creative arsenal. Among those tools are two types of acting. One is when an actor plays herself in the given circumstances. Another – when an actor transforms into her character. "I can do both," said Cave. "When I played The Syringa Tree, I had to be 24 different characters. In one evening, I had to switch between men and women, young and old, black and white. It was demanding and wonderful and very physical. I couldn't be myself there. Other roles don't need this kind of transformation. They might be closer to me physically, too, so the approach is different."
Being an established, sought-after actor in Canada, Cave is lucky to be able to consider roles with different theatre companies. "I don't audition for theatre in Canada anymore," she said. "But, for the screen, I audition for every role, big or small. In movies and TV, there are so many factors out of my control, luck among them. I might do the best audition work ever, and they wouldn't cast me. Or I might be dissatisfied with my audition, but I would be cast. Theatre is different. In theatre, it's mostly on merit. If you do your job well, if you are professional, have a strong work ethic and respect for the craft, you can make it."
When she was invited to participate in Miss Shakespeare and J. Caesar, she gladly accepted. "A chance to play Shakespeare doesn't come often," she said with a happy smile.
Both plays run at Performance Works on Granville Island from May 5-17, and at the Kay Meek Centre for the Performing Arts in West Vancouver, May 21-29. For more information and for tickets, visit escapeartists.ca.
Olga Livshin is a Vancouver freelance writer. She can be reached at [email protected].