The Jewish Seniors Alliance Spring Forum featured Dr. Saul Isserow, left, and Dr. Larry Goldenberg. (photos by Binny Goldman)
"If I had known I was going to live so long, I'd have taken better care of myself" – Eubie Blake
Approximately 120 people attended the Jewish Seniors Alliance Spring Forum on May 7 at the Peretz Centre for Secular Jewish Culture. Called Ask the Doctors, it featured Dr. Saul Isserow and Dr. Larry Goldenberg, who were ready to answer the audience's many questions.
JSA president Ken Levitt welcomed the crowd, thanked them for giving up a sunny gardening day to attend the workshop and support the JSA, whose new motto is "Seniors, Stronger Together." He explained that, in joining together and striving for common causes, we are stronger.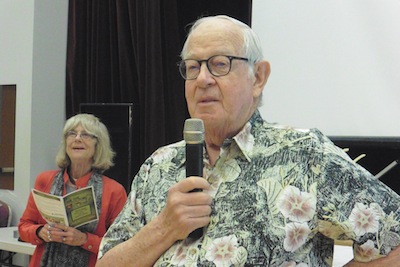 Gyda Chud, first vice-president of JSA, introduced Isserow, who is the director of cardiovascular health at Vancouver General Hospital and of cardiology services at the University of British Columbia Hospital, as well as the medical director of Vancouver Coastal Health's Healthy Heart Program, among other things. She also introduced Goldenberg, whose many credentials include the founding of several programs, such as the Vancouver Prostate Centre, where he is director of development and supportive care, and the Canadian Men's Health Foundation; he is also a professor in the department of urologic sciences at UBC. Goldenberg was inducted into the Order of British Columbia in 2006, awarded the Order of Canada in 2009 and received the Queen's Diamond Jubilee Medal in 2012.
Isserow's topic was How to Stay Away from the Chevra Kadisha (the Jewish Burial Society). He started his talk with humour – saying that the man who asks the best question will win a finger up his tuches (bum) by Goldenberg, referring to a prostate exam – and used humour throughout to make the sad facts of aging more palatable.
Using slides to illustrate his points, Isserow stated that hardening of the arteries starts when we are young. He likened the process to a bagel, which begins to harden on the perimeter. When the blockage reaches the centre of the "bagel," that is when the heart attack occurs. To keep things in perspective, he described life as "a sexually transmitted disease with 100% mortality."
He discussed many risk factors: age, obesity, genetics, hypertension and smoking. He strongly suggested that diet and exercise could halt or reverse immediate risks but, unfortunately, there are no reliable warnings and heart attacks come out of the blue.
Movement is strongly encouraged, said Isserow. Just walking 10 minutes a day is a start to reducing the risk of diabetes and obesity. Walking one hour a day can reduce the risk of heart disease by 35%, he said, and the Mediterranean diet of fresh vegetables and fruit, healthy fats and whole grains, can improve health by 27%.
Isserow presented studies showing that aspirin reduces heart disease significantly. Although statins may be necessary, there are possible side effects, such as aches and pains, he said. He ended his talk by saying that health is up to the individual: walk once a day, eat well and take medications as required, when the risk is high.
Goldenberg said that one reason men die 4.4 years younger than women is the "I will not, cannot, Sam I am" syndrome, paraphrasing lines from the children's book Green Eggs and Ham by Dr. Seuss. Many men are unwilling to reduce their drinking, smoking and/or poor eating habits, he said.
The government is trying to develop expertise in communicating effectively with men about their health, connecting with them in a way that creates the space, freedom and encouragement for positive changes in their health awareness, attitude and behaviours, said Goldenberg.
Doctors are increasing awareness with the slogan of "precision, prevention and preemptive," he said, recommending precision and personalized communication in telling men what you want them to hear. Get males to engage in their health discussions, he suggested.
In an effort to increase engagement, Goldenberg initiated the website dontchangemuch.ca. He gave a few examples of small changes that would help: ordering half a salad and half fries, parking the car further away from your destination and walking an extra block or two.
He also referred to the Canadian Men's Health Foundation's youcheck.ca, "a health awareness tool built specifically for men," according to its homepage, and he spoke of "manopause" – aging and a lower level of testosterone lead to a lower libido, crankiness, fatigue and the onset of heart and bone disease. Low testosterone has an impact on the body but there is no consensus as to solutions, said Goldenberg. Doctors need to monitor any symptoms that seem worrying, he said, adding that men need women to guide them and to emphasize that their behaviour can be changed.
An active question period followed. In no particular order, some of the responses included the following.
Aspirin can reduce blood clotting, as can diet and exercise. If you are doing all things right but your CT scan shows calcified plaque, then focus on diet, exercise and statins. People should have a base line for everything – having a colonoscopy or, for men, a test for PSA (prostate-specific antigen) levels, for example – and be aware of family history.
Tiredness could be the result of sleep disturbance, low mood or loneliness, but heart health should be checked. Beta blockers can cause fatigue because of a reduction of blood flow.
Stress management is critically important and stress levels can be related to many things: mental and physical well-being and reduction of cholesterol. Sex is healthy for overall well-being.
After the session ended, Larry Shapiro, second vice-president of JSA, presented the doctors with tokens of appreciation. Continuing with the humour that had been present all afternoon, he said, "Vive la différence!" referring to the many differences between men and women and their approaches to health.
Chud said she had seen a sign in the Weinberg Residence saying, "Never live in a community where there are no doctors," and she wanted to add "a community without Drs. Isserow and Goldenberg."
Stan Shear videotaped the forum, and JSA staff and volunteers deserve kudos for putting it all together.
Binny Goldman is a member of the Jewish Seniors Alliance of Greater Vancouver board.