For anyone who is close to someone with Alzheimer's disease or another form of dementia, Dr. David Kirkpatrick's Neither Married Nor Single: When Your Partner Has Alzheimer's or Other Dementia (Brush Education, 2018) is a must-read. There is so much in it that is critical to know, learn or come to understand about living, loving and letting go of one's spouse, partner or friend with Alzheimer's.
Kirkpatrick, a recently retired psychiatrist, has written a rare gem of a book and its message is needed by so many spouses of patients with these dreaded diseases. Kirkpatrick is a widower; his wife, Dr. Clair Hawes, a proponent, educator and practitioner of Adlerian therapy, died only last year from Alzheimer's. His warm, wise and wonderful book is a map to help family members make it through what is normally uncharted, terrifying and anxiety-filled territory.
Besides the great clarity and pathos with which this book is written, it is a rare book because it is written from the dual perspectives of a psychiatrist and a loving husband in the process of watching his beloved disappear. Kirkpatrick, the psychiatrist, brings much-needed information to help the care-taking spouse understand the complicated medical condition, from getting the right diagnosis to clear descriptions of how dementia manifests, and even understandable explanations of the brain. As a loving husband, he shares the insights gained from others, as well as from his own years of confusion, anxiety, pain and suffering.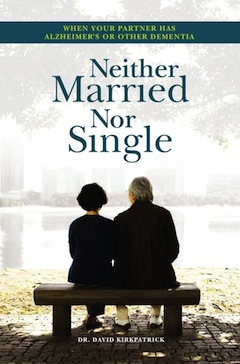 The fact of the matter is that the vast majority of the information in this book is also needed by the children of parents suffering from Alzheimer's or other dementia. If there is no spouse to read it, then children, nephews or nieces, grandchildren or even close friends should read this book.
There are eight chapters – "The Diagnosis," "Alzheimer's Disease: A History and an Update," "Finding Help and Comfort for your AD Partner," "Care Homes," "Improving Your AD Partner's Quality of Life," "Taking Care of the Caregiver," "Sexuality and Intimacy" and "Into the Future" – followed by notes and the bibliography.
This small but powerful book takes the reader from the first stages when a spouse or other family member realizes something cognitive is happening to one's loved one; when a family member begins to know that their loved one's life is changing for the worse.
With humour, honesty, pathos and the strong voice of man who deeply loved his wife, Kirkpatrick takes the reader on his journey, from before, during and after the diagnosis, to a care home, and all the way to her death.
There are so many quotes that I could share, but space doesn't allow it. In addition to Kirkpatrick's words of insight are many important transcripts from other spouses talking with great honesty about their experiences. Every person's experience in such a situation is partly unique, but it is also fair to say that all of the spouses in the book are on the same road, just getting off at different exits before returning yet again to the main highway leading to the same destination. Kirkpatrick's special personal and professional voice shines a light to assist readers to see their way.
In Chapter 4, "Care Homes," after talking about many of the heartbreaking yet life-saving choices a spouse must make on where the Alzheimer's spouse should live, Kirkpatrick encourages the reader this way: "These are questions that are not always answered quickly or easily, but they must be asked, and the earlier in your shared experience that you do this, the better." Yet, near the end of the chapter, he writes, "Think it through carefully. Perhaps write down pros and cons. Other than your decision to become partners in the first place, this is the most important decision in all your years together, so take all the time you need."
One of my favourite quotes from the book is at the beginning of Chapter 6. It is a toast: "Here's to Aloneness and her second cousin, Loneliness. May we continue to especially savour and enjoy the former without being absorbed by the latter." And isn't this yet another way to describe the holy and tragic dance of loving and losing?
While Kirkpatrick writes beautifully as a psychiatrist and as a husband throughout the book, in Chapter 7, "Sex and Intimacy," he reveals to the reader even greater depths and poignancy. But, every chapter is filled with meaningful advice, guidance and hope.
Finally, a personal note that I'd like to share with you, the reader of this review, and hopefully a future reader of David Kirkpatrick's book. Besides being a past congregant of mine, David also has been a dear friend for the past 17 years. In addition, before the onset of Alzheimer's, my wife and I used to go out with David and Clair to dinners and plays. They were one of our favourite couples to see. Watching their dynamic relationship, their sense of humour, their deep shared mutuality and enjoyment was truly an honour. It is, of course, all the more sad knowing what they had and what they lost.
David, already an accomplished psychiatrist and therapist, certainly never wanted to experience such a loss, but he has translated that tragedy into this book. Neither Married Nor Single is a gift to anyone related or close to people with Alzheimer's, but it is an especially meaningful and helpful gift to spouses suffering on their own.
Rabbi Shmuel Birnham was the rabbi and spiritual leader at Congregation Har El on the North Shore for 16 years. He retired two years ago. Rabbi Shmuel thoroughly loved being Har El's rabbi and he also completely loves being retired.