Ezralow Dance's Open comprises many themes. (photo by Angelo Redaelli)
Los Angeles-based Ezralow Dance kicks off this year's Chutzpah! Festival at the Rothstein Theatre Feb. 15 with, appropriately enough, a work called Open, for its embodiment of myriad ideas and ways in which to express them.
Chutzpah! also features a range of creative expression every year, with performers from around the world in dance, comedy and theatre. As has become tradition, the Jewish Independent will highlight several of the performances prior to the month-long festival. This week, we focus on dance, speaking with Daniel Ezralow, as well as Israel's Roy Assaf.
* * *
"Open is a testament to what I believe," Daniel Ezralow told the Independent in an email interview. "When my wife (who collaborated with me) and I were thinking of a title for the show, we played around with a lot of options, but when we came up with the one word Open, it expressed everything that I wanted to say. Be open, open yourself, open to others, open your eyes, open your mind, open your heart and stay open to the world in many senses.
"It was a way of saying, leave your judgments at the door and try, just try, to be open-minded. I find that we are so full of judgment, many times we fail to see the beauty of what is so simple and directly in front of us. I am constantly attempting to open my mind and receive what comes to me. There is a wonderful concept, 'to want what you get, not get what you want.' I think Open has something to do with this."
In his work, Ezralow is certainly open to new ideas and a wide variety of media. In his 40-some years in dance, he has performed with several companies, co-founded others and choreographed for numerous groups around the world, including Batsheva Dance Company, Paris Opera Ballet, Maggio Musicale Fiorentino and the Atlanta Ballet. He choreographed the opening ceremony of the 2014 Winter Olympics and Cirque du Soleil's Love. He has created for dance festivals, Broadway shows, gymnastics competitions, television, film, commercials and other corporate projects, awards programs, pop star performances and music videos. The award-winning choreographer, director and multimedia artist has a vast and eclectic resumé, to say the least.
"I remember as a child always asking my father 'why?' I asked him why about just about everything. There is no question I am naturally curious," said Ezralow. "I was once working with Chaim Topol on a project in New York City and we were in a taxi together. I asked him why – why does he work, why does he do the things he does? I'll never forget the response he gave me. He said, 'Curiosity.' At that point, I understood that was the same thing that made me do the things I do. My mother always encouraged me to ask questions and to do what I believed in. I do lose myself in creations, but usually it is not an escape. In my best moments, I also try to live life like a creation and lose myself in it."
In looking at his body of work, it's hard to believe that Ezralow didn't take a formal dance lesson until he was in his late teens, when he was a biology student at University of California, Berkeley.
"Dancing chose me so strong, I had little choice to shy away from it," he said of his change in career direction.
"At the time, I was deeply disappointed with the American medical system. I felt it had nothing to do with helping people and was mostly about a hierarchy to achieve a status of life. The system was very closed to acupuncture, Eastern ideas and anything alternative. At the time, this made me feel that it was really askew and not for healing and helping people but rather for diagnosing, medicating with pills and cutting in surgery.
"Hopefully, this has changed and we are now entering a period of truer possibilities," he said. "I just saw a wonderful documentary titled Heal, which delves into the human possibilities to heal ourselves. This is the kind of medicine I would like to get involved with. I also feel that the work I do is healing – dance is healing!"
About his goal as an artist, he said, "As I have grown, I have shed some of my desire to be a performer/exhibitionist and have been humbled with age, which has allowed me to dig deeper to understand that all I ever really wanted was to make people happy. Happy can mean crying, happy can mean laughing, happy can mean many things to me. I really just want to help people to be inspired to live another day of their lives on this planet."
Ezralow's father's family came to Los Angeles via Winnipeg, of all places.
"My grandfather ran from the Russian revolution to Canada and settled in Winnipeg, where my father was born, who was one of a family of five. My grandfather was a carpenter," he explained. The family moved to Los Angeles, he said, "probably because my grandfather saw there was opportunity. They settled in Boyle Heights, the poor Jewish area of L.A., and he began building houses. One by one, he would build a house, sell the one they lived in and move to the new house. I took a tour of Boyle Heights with my father before he passed away and he pointed out all of the homes my grandfather built and the family had lived in."
According to the Jewish Journal, Ezralow's parents met in Los Angeles; his mother was born in Poland, but the family emigrated when she was quite young.
"My mother grew up a Sabra in Palestine, before the declaration of the state of Israel," he said. "All of my family on her side are still in Israel and I would travel every other summer with my family to Israel, so I am connected by heritage to a people I know intimately from my entire childhood. This has given me a sense of Jewishness as natural and surrounding me.
"In Los Angeles, as well," he continued, "there is a very strong and permeated Jewish community, which I grew up in and was a bar mitzvah. But, after that, I felt that there was too much dogma in religion. I have worked many times with Batsheva in Israel and still have a deep connection to everyone. I am sometimes sad to see what is happening with the conflict there. But I feel a strong sense of Jewish humanity in my soul. It is something that is universal and not selective to one religion."
* * *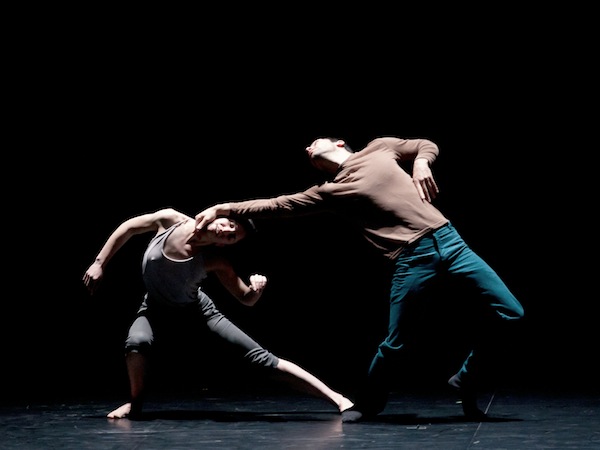 Roy Assaf is both creator of and a performer in the two award-winning pieces he is bringing to the Chutzpah! Festival, starting Feb. 22.
"I dance in both works, the duet Six Years Later and the trio The Hill," he said in an email. "Back in 2011 and 2012, when these works were created, it felt perfectly natural for me to choreograph and to dance the work at the same time. Nowadays when I create, it is not at all the obvious choice."
Assaf was born in Israel, and dance has been a part of his life for as long as he can remember. About 15 years ago, he started working with Emanuel Gat, initially as a dancer, then as an assistant choreographer. Assaf's first choreographed work, in 2005, won two awards at the Shades in Dance competition in Tel Aviv. In 2010, he worked with the Noord Nederlandse Dans company in Groningen, Holland, creating for them a work called Rock.
"I was invited by their artistic director, Stephen Shropshire," said Assaf about that commission. "The amount of trust that Stephen gave me while working with his company strengthened my belief in myself that I could and should keep making pieces."
Since then, Assaf has created or co-created works for many other companies, including two full-length pieces supported by the Intima Dance Festival, a work for L.A. Dance Project for the Biennale de Lyon, a collaborative piece for the Royal Swedish Ballet, and a piece for the Gothenburg Ballet. This past fall, he began creating 25 People, working with third-year Juilliard students in New York City, where he was on faculty for a semester, which he is resetting with dancers in Israel.
For Assaf, dance is not simply art for art's sake.
"I would like to give people room to imagine," he said. "It's certainly not about distracting people – I really hope we are in the business of encouraging or facilitating engagement in one's own life. What a pity it would be if dance principally served to distract or disconnect someone from his or her experience. Please do come to a performance and be fully yourself there – see what you see, recognize what you recognize, run with your fantasies, meet your uncomfortable places."
The duet Six Years Later explores the relationship between two people who have come together after having been separated for a long time, while The Hill is a commentary on war, based on the Hebrew song "Givat Hatachmoshet," about a particularly devastating battle that took place during the Six Day War in 1967, a battle that Israel won but with great losses.
Despite the different subject matter, Assaf has described both pieces as having a lot in common.
"They share a spine, in terms of physical material," he explained. "If you look closely, you may discover that they are both dealing with much of the same movement – but that the same movement has undergone a very different treatment in each work. You might say they share a point of origin, but parted ways in their process. Each work followed a path to its logical conclusion. Both, however, deal with the story of human touch: its effect, its consequence."
For all of the Chutzpah! dance offerings and the full festival schedule, visit chutzpahfestival.com.