In a recently published memoir, A Childhood on the Move: Memoirs of a Child Survivor of the Holocaust, René Goldman, professor emeritus of Chinese history at the University of British Columbia, pieces together a fragmented and tragic childhood and adolescence.
Having migrated to Luxembourg from Poland, Goldman's parents then fled the advance of the Nazis into the Benelux countries. The family made their way through occupied France hoping to sail from a Mediterranean port to South America. While their passage was interrupted, the family at least found themselves in France's "free zone," the southern area governed by the German-puppet Vichy regime, but not directly administered by the Nazis. While granted a period of comparative normalcy – unlike, Goldman notes, Jews in the north like Anne Frank and her family – eventually there was a roundup.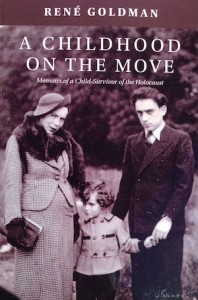 Goldman was awakened by his mother and told that police were demanding they go to the train station. Why his father was not with them at that time Goldman does not know. Nor does he know why he was spared the fate of his mother.
"The entire station was a scene of bedlam, with men, women and children being pulled, shoved and hurled into the train," writes Goldman. "Just as the commissar was about to throw me into the train as well, two gendarmes in khaki uniforms appeared in the nick of time to stop him. Without a word he let go of me…. That was the last time I saw my Mama."
An aunt arranged for Goldman to be hidden in a rural village, which would become the first of countless temporary shelters for him. In an excruciating series of hasty moves, Goldman was transferred from the protection of one adult or institution to another. In some instances, the adults and his fellow children were amiable, in others far less so. Despite the instability and constant uprooting, he usually managed to attain some education in almost every one of his hiding places. At a Catholic institution, he and other Jewish children were assigned new identities and warned never to let anyone see their private parts, "since in France only Jews were circumcised."
When finally the allies reached the village where Goldman was hidden, and he reconnected with his aunt, she told him that his father had joined the Free French forces and would return after the war. It's not clear if she believed this. "Alas, even as Paris was about to be liberated, [Klaus] Barbie [the Nazi known as the 'Butcher of Lyon'] hurriedly filled up one last train with victims destined for the death camps, a train which the Resistance vainly sought to derail, or otherwise prevent from reaching Germany," writes Goldman. "Decades later I learned that my beloved Papa was among them."
Though now liberated, things did not, of course, return to normal for Goldman. The winter of 1944-45 was a harsh one and food was scarce. Meanwhile, the war continued and the allies suffered setbacks in the Battle of the Bulge. "That unanticipated delay caused the Allies heavy losses, while thousands more victims, among them my father, perished in the Nazi death camps," he writes.
Moreover, Goldman's surviving aunt and uncle in France, with three children of their own, found they could not care for him. They sent him to a colony run by a Zionist organization, where he received a Zionist education, including a bit of Hebrew, to prepare the young people for aliyah. When the war finally ended, the children at the colony waited for news of their parents. "Daily I hung around the little railway station after school hours, sometimes alone, sometimes with others, scrutinizing the passengers who came off the afternoon train from Grenoble in the vain hope that Papa might turn up among them," he writes.
The Jewish community in Grenoble hosted a photographic exhibition of the Shoah. "I felt my head spinning with shock and disbelief as I stared at the photos of emaciated, skeletal looking 'déportés' in striped uniforms; of heaps of corpses stacked like cord wood; and of the gas chambers and crematoria, in which millions were burnt to ashes."
Goldman was entrusted to the Commission Centrale de l'Enfance (CCE), a product of the underground groups that had hidden Jewish children and that was now attempting to reunite them with surviving relatives or adopt them if they were orphaned. At the CCE homes, the children were indoctrinated with communist ideals. Some did not take to them, but Goldman emphatically did. He was enraptured with the idea of the socialist experiment taking place in Poland, the land of his parents' ancestry. He opted against joining his maternal aunt and uncle in migrating to Canada, instead moving to Poland, where his huge extended family on both sides, save one paternal uncle, had all been killed in the Shoah.
He worked at the Polish national radio station, reading news and commentary and translating material for broadcast to France and Belgium, while struggling to master the notoriously complex Polish language. Disenchantment with communism began when he was chosen to participate in a summer program for boys at a beautiful resort town at the southern end of Poland in the Karkonosze mountains. The program was primarily aimed at the children of Polish émigrés in the West. While Goldman was excited to speak French again with some of the campers, the "counselors" were warned not to let on that they understood the languages the youngsters spoke. The director of the colony demanded of the boys who knew French to translate into Polish the letters the children were writing home to ensure the news from the old country met the standards of propaganda. Goldman refused to be a spy, however, and the other French-speakers followed suit. The protest was effective, and the boys could again enjoy the camaraderie of their guests.
Goldman was also aware of the antisemitic purges in Czechoslovakia and Moscow at the time, in which Jewish party activists were convicted as "agents of American imperialism and Zionism."
In 1953, a delegation visited Goldman's school, inviting students to apply to study abroad, primarily in the Soviet Union. Being an excellent student, he applied and was accepted to a program to study in China, where he would spend five years, during which time his enchantment with communism would come to an end. He was there during the period when Mao Zedong declared that China would "let 100 flowers bloom, let 100 schools of thought contend." This was a trap, luring people into expressing their true beliefs and then dragging them into "struggle meetings" in which they were denounced, beaten, humiliated and forced to incriminate others. Then, in 1958 began the Great Leap Forward, the collectivization and forced industrialization of rural Chinese society, which resulted in a famine that claimed between 30 and 40 million lives.
Abandoning China, Poland and communism, Goldman received a scholarship to Columbia University, and reconnected with what was left of his family, in Canada, and eventually spent a long career as a professor of Chinese history at UBC. "The wonderful port city of Vancouver became the end destination of a life of wandering from country to country," Goldman writes.
While his life on the move finally ended, he would never find solace. It would take decades for Goldman to piece together what he could of his parents' fates. In 1965, he met a man in whose arms his father had died during a death march from Auschwitz in 1945. He never found any witnesses to his mother's death, but he found a record of the convoy she had been on to Auschwitz-Birkenau: "Of the 407 women who arrived at Birkanau on that train, only 147 were registered and had a number tattooed on their forearm; the others were sent directly to the gas chambers," he writes. "I can only assume that my mother, being small and frail, was among the latter, unless she died because of the atrocious conditions in which the doomed passengers of that train traveled. I never learned for certain what happened to her; there will never be closure for me."
Pat Johnson is a Vancouver writer and principal in PRsuasiveMedia.com.