Jill Newman at Cottage Bistro May 9 singing from her new CD, Lovestruck Blues. (photo by John Endo Greenaway)
Happiness. Perhaps ironically, Jill Newman's performance at the release party for her latest CD, Lovestruck Blues, exuded happiness. The May 9 show at Cottage Bistro featured bright vocals, skilful (and electric) electric-guitar playing, cheerful interactions with the audience and a playlist of well-written, original songs, many about finding love, but also about losing it – even these, though, exhibit optimism, finding the courage and strength to be on one's own and true to one's heart.
Newman's talents as a songwriter and musician were obvious in her debut recording, Fragile Walls, in 2004. The review in the Independent ("A garden of musical delights," April 22, 2005) ended with the comment, "It's been a long road for Newman to reach this creative milestone. Hopefully, it's the first of many." A decade later, Lovestruck Blues is another welcome milestone – and there's nothing fragile about it. It exhibits the confidence and contentment of someone who has, so to speak, come out the other side. As Newman writes in the CD booklet, "It is the story of my journey – of turning my world upside down, taking some risks and being blissfully happy for having done so."
During the period between releases, Newman told the Independent, a lot changed for her personally and musically. "My first CD was the culmination of many years of dreaming of making my own recordings," she explained. "I was going through a difficult time in my life, including a breakup, so the songs were really all about loss and heartbreak. I had a great producer who took care of almost everything for me, from arranging the songs to organizing and directing the entire recording process.
"Today, I'm in a much better place personally, having just gotten married a few years ago and feeling happy. That does present some challenges for writing the blues – as lately I've been writing happy blues songs. I produced Lovestruck Blues myself with support from my engineer, Marc L'Esperance. I made all the final decisions in terms of how I wanted the recording to sound and directed the recording sessions in Seattle and Vancouver. I was not going for a retro sound, but that's really what comes out. I've played in everything from country, punk, blues and even an all-female Led Zeppelin tribute band, so I'm quite eclectic in my approach to music. I'm often told that my music should be in soundtracks for Quentin Tarantino's films, the less happy songs, that is.
"I'm most at home in front of a live audience rather than in the studio, as I really enjoy the energy and the interaction between the audience and the band," she added. "I've been doing lots of performances and my live shows are definitely stronger than they were 10 years ago. I've also been doing quite a bit of vocal work over the past few years. Songwriting is always a challenge, with lots of hours spent struggling with lyrics – I still tend to write the music first or jointly with the words and then fine tune the lyrics."
Lovestruck Blues includes 10 original songs, one of which – "Too Hard to Handle" – was co-written with Vancouver actor, artist, director, playwright and songwriter Lynna Goldhar Smith.
"I'm originally from Wisconsin, but immigrated to Vancouver Island with my family as a teen. I spent about 25 years living in the Vancouver area, with some brief stints in Washington," said Newman about her community connections. "I was raised in a secular Jewish household with no religious upbringing, but I identify culturally as Jewish. My most valued connection to the Jewish community was my past involvement with the Peretz Centre for Secular Jewish Culture. My daughter, Michelle, participated as a young teen in the b'nai mitzvah program, which was a great experience for both of us. I also enjoyed singing in the Jewish Folk Choir and participating in the Peretz programming.
"I've worked for Jewish Family Service Agency in Vancouver and in Seattle and participated in advocacy to address poverty in the Jewish community in Vancouver. I combine my work as a professional guitarist, singer and songwriter with my part-time work as a therapist with teens who are struggling with mental health issues. When I have spare time, I enjoy being in the outdoors kayaking or sailing."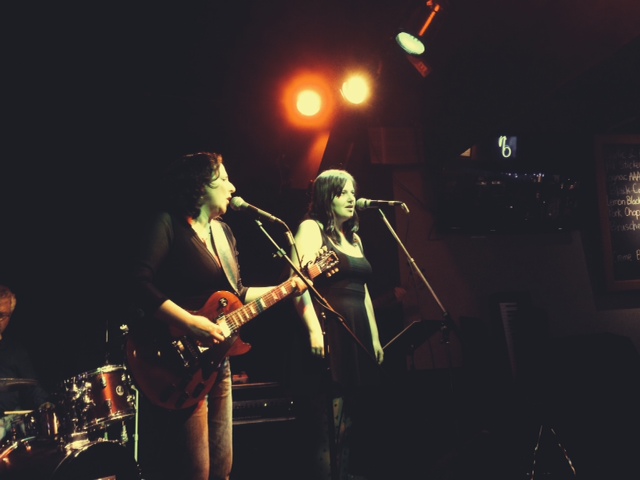 A woman with many abilities and interests, Newman's musical path also started somewhere other than where it led.
"I started in music playing classical flute at age 9 and got involved in community symphony and jazz combos as I got older, with a stint studying jazz in college," she told the Independent. "My first stringed instrument was the banjo, followed by the acoustic guitar and pedal steel [guitar], but when I first plugged in an electric guitar (Stratocaster copy) at age 15, I was totally hooked. I loved the sound and the power of the electric guitar, especially turned up loud with distortion. A friend who'd been in rock bands taught me how to bend the strings properly and I began specializing in playing lead guitar – something very few girls were doing when I was a teen.
"I played constantly and learned everything I could figure out by Heart, Aerosmith, Yes and Led Zeppelin, but I also started writing my own songs and performing in coffeehouses. By my early 20s, I was making a living as a full-time professional guitarist and, other than recovering from a hand injury, I've never stopped playing. I feel strongly that we need more female electric guitarist role models and I volunteered as a guitar instructor for Vancouver Girls Rock Camp in 2012."
And what draws Newman to the blues? "It's the raw emotion and the simplicity of the music that grabs me," she said, reiterating, "I've had a longstanding love of the electric guitar and, when I first began listening to blues players like Freddie King and Eric Clapton, I was blown away by the expressiveness of their playing. In recent years, I've been focusing a lot on slide guitar, which has a range of expression that emulates the human voice and beyond. There's nothing more soulful than Roy Rogers playing slide guitar on Elmore James' song 'The Sky is Crying,' or almost anything by Ry Cooder or Derek Trucks."
Part of the fun of the Cottage Bistro CD release party – in which she was accompanied on stage by Loren Etkin on drums and Brian Scott on bass – was the seemingly spontaneous invitation by
Newman for her daughter, Michelle Baynton, and Cecile Larochelle to join her in a couple of the songs they each performed with Newman on Lovestruck Blues.
"One of the things that was the most special about making this new CD," Newman admitted, "was getting a chance to record with my daughter, Michelle. She's just finishing her opera degree at UBC and, despite my doing a very different style of music, we get a lovely vocal blend together. Michelle sang background vocals on my songs, 'Everything Will Change' and 'Without You.'"
Newman, along with Etkin and Cameron Hood (bass), will perform next on July 14, 9 p.m., at Guilt & Co., 1 Alexander St., in Vancouver. For other upcoming performances, keep an eye on jillnewman.net, sign up to receive email updates or like the Jill Newman Blues Facebook page.