On Nov. 1, about 200 Jewish students and their supporters engaged in a low-key demonstration, with many holding posters of kidnapped Israelis. (photo by Pat Johnson)
When the new president of the University of British Columbia arrived for his first day on the job Nov. 1, he already had a full plate, including a 9 a.m. meeting with Jewish representatives and an urgent letter from community organizations expressing concerns about the safety of Jewish students on campus.
Dr. Benoit-Antoine Bacon starts his tenure at a contentious time, as Jewish, pro-Israel, anti-Israel and other students engage, sometimes constructively but often much less so, with events taking place in the Middle East.
Rob Philipp, executive director of Hillel BC, was joined by his assistant executive director, Ohad Gavrieli, and Nico Slobinsky, Pacific region vice-president for the Centre for Israel and Jewish Affairs, at the meeting with Bacon. Afterward, Philipp told the Independent the university has been on the right track but needs guidance.
"Generally speaking, I would say UBC has been very supportive of us, to the best of their ability," he said, noting that Bacon's welcoming of Jewish representatives is a good sign. "I had one of the very first meetings with him, so that speaks to how important this is on their radar."
The university administration has been "somewhat consistent," said Philipp.
"We are seeing support," he said. "We don't always see the right action, so that's where we have to help and guide them."
The larger issues, he said, are the serious affronts to civility on campus during the weeks since the start of the war between Israel and Hamas.
"There are so many red lines being crossed right now, it's incredible," said Philipp. "It seems OK now to kill civilians, to murder people for the 'just' cause and it keeps spilling over. People aren't always understanding the details behind it all, so it's as difficult a time as I have ever seen in this community – and it's not just UBC, it's all the university campuses all over North America."
Hours after the meeting with the university president, about 200 Jewish students and their supporters engaged in a low-key demonstration, walking from Hillel House to the student union building, with many marchers holding posters of kidnapped Israelis. A student entered the building to deliver a letter to the president of the student government, the Alma Mater Society, expressing the group's collective concerns. An emailed response to the letter from the AMS president was characterized by Hillel officials as positive.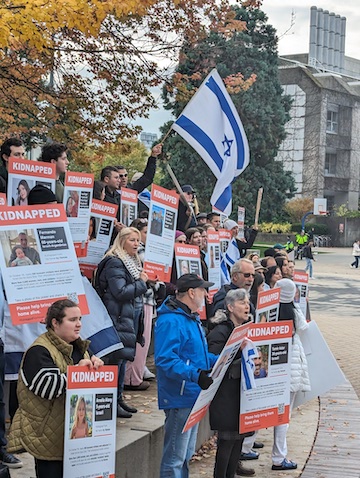 A Jewish student leader from Simon Fraser University who asked that her name not be published said she came to the rally to protest the antisemitism in the world and, specifically, the lack of regard among student bodies to recognize what happened in Israel.
"It's an extremely complex conflict that isn't just black-and-white and I wish people would pay more attention or just seek a more nuanced view on the subject," she said, adding that the climate at Simon Fraser does not seem as negative as at UBC, but that could change. In the last couple of years, the student government at SFU has demonstrated unbalanced, anti-Israel approaches, including adopting a motion on Israel and Palestine for which they consulted what the student called "tokenized [Jewish] fringe groups" while excluding Hillel and other mainstream Jewish voices.
Other participants at the rally said they felt the need to attend to be seen, and to register empathy with Israelis overseas and with Jewish students in Canada.
"We are here today so UBC acknowledges what's going on in Israel – the kidnapped kids, elderly, children, women, Israelis – and what happened on Oct. 7," said a 21-year-old Israeli-born woman who is not a student but came to support her brother, who is.
"I'm feeling very alone and feeling a lack of empathy and sympathy with what's going on in Israel, feeling like people are too quick to comment sometimes," she added.
Several non-Jewish students participated in the rally.
"I'm here because even though I'm not Jewish, I have a lot of Jewish friends and I believe the Hamas attacks against Israel are terrorism," said fourth-year political science student Joe Latam. "The university's attitude towards these literal terrorist organizations has been completely inadequate and they need to take better action.… The Jewish people have been systematically discriminated against for thousands of years and Israel is the one place where they can feel safe."
Zara Nybo, who is also not Jewish, was motivated in part because her partner is Jewish and she sees the impact of events on him and his family.
"It's important for me to stand up against terrorism and help spread the word that there are still innocent hostages who have been taken out of their home country," she said. "We see a lot on the news that is politicized and very emotionally heartbreaking. I'm not here to say that Palestinian citizens have not died in this war, but I am here to say that death is death and we need to be able to recognize that heartbreak is heartbreak, so we are all here together."
A first-year student who is Sikh called statements he has seen from peers and student leaders "frankly shameful."
"I think there are many international students here that have been espousing hate, that have been espousing terrorist beliefs," he said. "They have been saying they are pro-Hamas, they are saying [the Oct. 7 attacks were] a 'beautiful act of resistance.' I think we should double-check whether they deserve to be students at our wonderful university institutions."
Bar Wolpert, an Israeli doing a one-semester landscape architecture exchange at UBC, said he was accosted by someone who tried to "shame" him as an Israeli.
"He just approached me out of the blue," said Wolpert. "He was [aiming] his camera in front of my face."
The person asked Wolpert if he supports "genocide."
"I'm holding a [poster of a] kidnapped woman," he said. "I am Israeli. I have a loss. So, please, first, respect my loss, respect my grief. And we are all standing here with many signs of kidnapped people and dead people, that is what is mattering for us right now, so before you are attacking me, respect my loss."
Also at the rally were two brothers, Israeli high school students, whose parents sent them to stay with Canadian friends and family during the conflict.
A mother, walking with her young adult daughter, teared up when she realized that the poster she was carrying of a 21-year-old French-Israeli hostage could have been her own daughter.
"I can understand the pain," said Evelyn Fichmann. "I think anybody can understand the pain."
As he walked alongside scores of Jewish students and allies, a UBC student said the event gave him much-needed optimism.
"It really gave me some hope about unity," he said.