Left to right: Laureen Harper looks on as her husband receives a ceremonial souvenir key from the Knesset speaker Yuli Edelstein in the Knesset's Chagall Room. (photo by Ashernet)
Prime Minister Binyamin Netanyahu welcomed Canadian Prime Minister Stephen Harper and his wife, Laureen, to Israel earlier this week, acclaiming him as "a great friend of the Jewish state." During his official four-day visit to Israel, Harper addressed the Knesset and also held a meeting with Palestinian leader Mahmoud Abbas. This was Harper's first visit to Israel.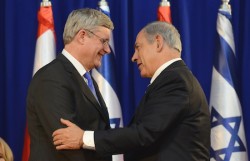 During his speech to the Knesset, Harper spoke out strongly in defence of Israel. "People who would never say they hate and blame the Jews for their own failings or the problems of the world, instead declare their hatred of Israel and blame the only Jewish state for the problems of the Middle East," he said. "This is twisted logic and outright malice. Some civil-society leaders today call for a boycott of Israel – most disgracefully of all, some openly call Israel an apartheid state. Think about that. Think about the twisted logic and outright malice behind that. A state, based on freedom, democracy and the rule of law, that was founded so Jews can flourish as Jews and seek shelter from the shadow of the worst racist experiment in history," he said.
"But what else can we call criticism that selectively condemns only the Jewish state and effectively denies its right to defend itself while systematically ignoring – or excusing – the violence and oppression all around it? This is the face of the new antisemitism. It targets the Jewish people by targeting Israel and attempts to make the old bigotry acceptable for a new generation."
He continued, "Canada will defend Israel's right to exist, because Jewish people deserve their own homeland after generations of persecution. Jewish people deserve to live safely and peacefully in that homeland. And, just as Canada supports Israel's right to self-defence, Canada supports a just and secure future for the Palestinian people." Earlier that day, Harper announced a $66 million aid package for the Palestinians.