(photo from jaegerreidmusic.com)
An unexpected kindness reignites a passion for music, which offers an outlet for grief, as well as a new career path. A chance meeting turns into a mutually supportive, productive and enduring musical collaboration. We often forget how much of a role luck – fate, destiny, whatever we call it – plays in our lives. For Judi Jaeger, two occurrences stand out, with relation to her singing and songwriting.
From Way Up Here is Jaeger's first CD with Bob Reid; she has two prior solo recordings. Released last summer, From Way Up Here features original music by both Jaeger and Reid, as well as covers of some of their favourite songs.
While Reid "is a California native and a fourth-generation Californian on his father's side," Jaeger told the Independent, he lived in "Calgary for awhile in the '70s and also hitchhiked across Canada along the Trans Canada Highway in 1969."
Jaeger, who lives near San Francisco, moved to California more than 20 years ago, after living in Seattle for almost 10 years, she said. "We moved here because of my husband's job. We settled here and this is where we have raised our two children, our son Nick, who is 19 and a freshman in college (first year), and our daughter Emma, who is a junior in high school (Grade 11)."
But Jaeger was born in Ottawa. And she spent her teen years in Vancouver – "I went to Eric Hamber High School … where I sang in the swing chorus, played the flute in band class and was in some of the musicals" – as well as attending University of British Columbia. "I am still Canadian deep in my soul despite living in the States for many years," she said.
Jaeger learned to play guitar when she was 15 – her brother, who is five years older, taught her the basic chords. "I played and sang folk songs for myself, and for friends when I went to Young Judaea summer camps," she said. "When I was 20, and very busy – I was in college (I went to UBC for a few years and Carleton in Ottawa) – I put it away and didn't touch it for 25 years.
"I picked it up again through some serendipity when a woman who was working for us as a nanny took my guitar, unbeknownst to me, to be restrung and presented it to me saying, 'Here it is, now you can play it again,' because I had been making noises about writing a song to deal with the lingering grief over my mother's passing a few years before.
"So, I started playing it again after many years. And then, I wrote a song about my mother, which is called 'Greedy Crime.' I didn't know anything about songwriting," she admitted, "I just wrote a song – sat down and wrote the lyrics in one sitting and then, about a week later, sat down with my guitar and wrote a melody."
One listen to this beautiful and moving song, which was released in 2007, and it's obvious that Jaeger has natural talent. But she wanted more from herself.
"Once I had written a song," she said, "I decided to learn something about songwriting, so I began to take a class at a local guitar shop in Palo Alto, Calif. From there, I began going to open mics to sing and play my original songs."
Jaeger played in a band for a few years and was in another duo for about five years.
"Through my songwriting community, I learned about an acoustic music camp for adults called California Coast Music Camp," she said. "It is a nirvana experience where about 100 adults attend a one- or two-week camp to study and play acoustic music. You can learn a new instrument or work on the one you play already. There are concerts and workshops and classes. It is collaborative, supportive and educational all at once. It was the best experience. I went about five times.
"That is where I met Bob Reid. He was one of the instructors at the music camp one of the years I went. On the last night of camp, they always have an enormous Beatles jam. Imagine 40 or 50 people sitting around in a large circle, playing guitar, ukulele, banjo, mandolin, bass, etc., and singing songs together. So, I was standing on the outside of the circle, singing, and Bob was walking around the circle singing harmony with people (he is particularly talented at harmony singing, and part of what people love about our duo is our blend) and he just happened to stop next to me and we hit a note that made him look at me and say, 'wow.' That was the extent of our meeting at the camp, but we ran into each other a few more times in the Bay Area, always at music camp events and there was always playing and singing at these events, and people kept saying, 'Your voices sound so good together.' So, after awhile, we decided to do something about it, and we formed a duo."
Reid has sung and played guitar and many other instruments for his whole life, said Jaeger. "He grew up in a musical house – his parents owned a record store in Berkeley, Calif., his mother was a singer and songwriter in the '60s and '70s, and his father was a gospel music promoter," she said. "Bob has played music for adults and for children, in schools and in concerts and at festivals all across the United States."
Jaeger also grew up in a "home that was filled with music," as well as "the beautiful cultural aspects of being Jewish, like wonderful food, family gatherings and loving extended family," she said. "I went to Young Judaea summer camps for years, where there was always singing and dancing and plays. My mother played guitar, my brother played guitar, and my father loved music. We had a record player and lots of records. So, while I am not religious, and not even practising any faith, I have very warm feelings about Jewish culture."
Jaeger is the daughter of Max Roytenberg – an occasional contributing writer to the Jewish Independent, and the proud father who alerted the JI to Jaeger's latest CD – and Lorraine Davidson, who died in White Rock, in December 2004, at the age of 71. "And she had been declining for at least 10 years," shared Jaeger. "So the 'loss' began when she was very young. She had a degenerative brain disease like Alzheimer's.
"I felt cheated and thought she was cheated, too, and I felt angry that she didn't get to enjoy her senior years or her children and grandchildren as she might have – my children were 3 and 6 when she passed away. I carried those feelings around for a couple years. One day, I just started thinking about this idea, that I would write a song about how I was feeling, even though I had never written a song before. I thought about this for a few months. I love music and always have, and I've always loved to sing. Then my guitar came back into my life with fresh strings (as I explained) and this gave me my outlet.
"I thought that maybe if I talked about how I was feeling that it might help other people who were dealing with or had dealt with the same problems and feelings," she explained. "I can't tell you how many times after a concert when we have sung 'Greedy Crime' people have come up to me and told me how much it meant to them, how they had experienced something similar and how moved they were. I had previously recorded 'Greedy Crime' and included it on an earlier solo album but that was many years ago and the song was overproduced. Bob is the one who encouraged me to include it, sung our way, on our first album as a duo because he feels it is such a powerful song. And, with his harmony, it is even more powerful."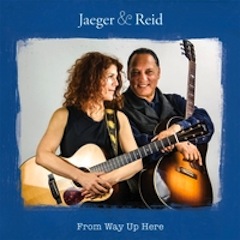 Another powerful song on From Way Up Here is Jaeger's "Love Caught Her," written for the organization Community Overcoming Relationship Abuse (CORA). Jaeger was a lawyer, until she retired from the profession in 1997.
"As a family law attorney," she said, "I saw domestic violence in my practice. It was there. I began to support my local domestic violence prevention organization (CORA) and I became friends with the executive director. Many years later, when she learned about my songwriting, she asked if I would consider writing some songs for them, and coming to perform them at a fundraiser they were having. I agreed and I wrote two songs for them in 2011. One of them, 'Love Caught Her,' is on our Jaeger & Reid album; the other song has never been recorded.
"Then, a couple years ago, the director asked if Bob and I would come to sing at an event they were having to honour people who had died from domestic violence. It was called Voices Not Forgotten. We agreed. When we couldn't find just the right song to sing at this event, we decided to write it instead. Bob and I wrote a song called 'Not Another.' We have played it for CORA two years in a row at the same event. There is a video of this song on our Jaeger & Reid Facebook page, facebook.com/jaegerreidmusic."
Jaeger and Reid play "house concerts and listening rooms in many different cities in the United States." The pair came to Vancouver and Salt Spring Island last August, soon after their CD release, and they are hoping to get back to Canada this year.
From Way Up Here was recorded by multiple-Grammy-nominated producer Cookie Marenco at OTR Studios in Belmont, Calif. The title track, explained Jaeger, "is a song that was written by Malvina Reynolds (who wrote 'Little Boxes' and 'Turn Around' and some hits for the Seekers) and she gave the lyrics to her friend Pete Seeger, who wrote the melody. Bob, who was close friends with Pete and Toshi Seeger for 25 years, had always wanted to hear that song with harmony. It's his arrangement on our album and is a powerful song."
As for the original songs on the CD, Jaeger said, "We picked each for its story and its sound and then we brought in other musicians, all friends of either Bob or me, to add their own touch. We recorded so many songs when we were working in the studio that we have enough extra to almost release our second album. But, we have been writing new songs together for the past couple years now, so we have many new ones to record, as well. It is our goal to get our second album recorded and completed quickly."
If it at all compares to their first recording, it is an album to eagerly anticipate. For more on Jaeger and Reid, visit jaegerreidmusic.com.