Sam Steinfeld works with Royal Winnipeg Ballet apprentice Jesse Petrie. He is traveling with the ballet on their current tour, which arrives in Vancouver April 7. (photo by Amy Simoes)
The Royal Winnipeg Ballet is currently making its way across Western Canada and will present the Vancouver première of Going Home Star – Truth and Reconciliation at Queen Elizabeth Theatre April 7-9.
Commissioned by RWB, with support from the Truth and Reconciliation Commission, Going Home Star was first performed in Winnipeg in 2014, as part of RWB's 75th season. Conceived by RWB artistic director André Lewis and the late Cree elder Mary Richard, the ballet was created by novelist Joseph Boyden, choreographer Mark Godden and composer Christos Hatzis. It features the music of Inuk throat singer Tanya Tagaq, and Steve Wood and the Northern Cree Singers.
Traveling with the ballet is physiotherapist Sam Steinfeld, who spoke to the Independent during the company's bus ride to Brandon, Man., the tour's first stop.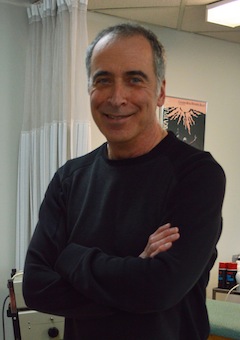 Born and raised in Winnipeg, Steinfeld graduated from the University of Manitoba. He did a science degree and considered doing a master's in physiology but, between the poor job prospects for science grads at the time and a friend who was finishing up his training in physiotherapy, Steinfeld decided to change his path.
After his training, he worked in a hospital setting for several years before going into private practice. He has been a consultant to professional sport teams in Winnipeg, including the Jets and the Fury, and, in 1998, he started working with RWB. He also teaches for the Neuro Orthopedic Institute, which is based in Australia.
Steinfeld has been a physiotherapist for more than 35 years. "Every day's a little different," he said. "There are always new challenges, especially working in an environment like this, with the ballet and going on tour. It's one thing when you're working, say, in your clinic or at home and in the ballet's clinic, things are a little more predictable. But, when you're on the road, you never know what you're going to encounter … that, for me, keeps it interesting. Certainly working with different people, too, the different dancers we've had over the years, different clients. Everybody brings their own way of managing and dealing with their injuries, and you have to be able to adapt and work with those people and find ways to get them going again."
It's never the same, he said. "Treating two ankle sprains doesn't necessarily mean you approach them in the same way, for instance, just because of the individual or what the individual's going to have to do."
There are two physiotherapists who work with RWB – the other is Kevin Dyck – and the two split up the tours, said Steinfeld. When in Winnipeg, Steinfeld is at the ballet's clinic Tuesday and Thursday afternoons and evenings, and Dyck works the other hours Monday to Friday. For shows in the city, they try to divide the time at the concert hall evenly.
"We're looking after not just the company, but we look after the professional division students of the RWB school," explained Steinfeld. "I'm treating the recreational division students, as well, and we look after all the administrative staff, the teachers, the stage crew that works for us. We're responsible for all those people."
Dancers don't generally get injured during a performance, he said. "Most of the injuries we see are overuse things and, usually, with some modification of activity, some treatment, we can keep them going. Our main thing is to make sure they're going to be safe and we work closely with the ballet masters and artistic director. If we feel somebody can still perform but perhaps in a lesser role, or modify their choreography somewhat, they're good at adapting things for the dancer and are able sometimes to keep somebody in. But there are always situations where somebody just can't do it, period, because of the nature of their injury or the severity of it. Then we have to work around that, and that sometimes means somebody else picking up an extra part or, if we're on the road, bringing somebody from Winnipeg out to meet us and take over that part."
Every physical activity stresses the body in a unique way. When he started working with the ballet, he said, "it became quickly apparent that I was working with artistic athletes and I had to learn more about dance and the technique and what's involved and how they work because, in order to make decisions about whether it's safe for someone with an injury to return, I have to understand what it is they're doing."
Compared to hockey or soccer, for example, dancers – and especially those who do pointe work – have more "forefoot and ankle problems that you don't normally see, say, in a hockey player who wears a skate," said Steinfeld. A foot doesn't move much inside of a skate. However, he said, "you look at a dancer in a pointe shoe and the load they're putting on their foot, and the very different way they load their foot, right through their toes, for instance, when they're on pointe, is unique…. So, we'll see more things like stress fractures in the foot, metatarsal stress fractures or mid-foot stress fractures, certainly more mid-foot and forefoot sprains and that sort of thing that you don't often see in something like hockey. You might see them in soccer, though, with the amount of running."
Steinfeld is the son of Holocaust survivors who came to Canada three years after the war. He has two older brothers.
"My parents set an amazing example in terms of their ability to overcome adversities, how they dealt with other people and … how they still had a lot of positive feelings towards other people. I think that helped me in terms of my development as a person and, ultimately, as a caregiver, in … having a little more empathy with people when they're in trouble and understanding that, with hard work and perseverance, you can overcome a lot of adversities…. The courage they showed in starting a life anew after everything they'd been through, I think it all trickled down to myself, my brothers. I'm quite proud of that as far as my Jewish upbringing."
Working with the ballet was never in his career plans, he said. "I actually went in there to replace the therapist who was ill and I was only supposed to work for about four or six weeks there, till this person came back. It turned out, unfortunately, they weren't able to return to work, so the ballet said to me, do you want to carry on with us and I said OK, and here I am, 18 years later."
Steinfeld said he is fortunate to have understanding colleagues and that the other physiotherapists in his practice help absorb his caseload when he travels with the ballet. He also voiced appreciation for his family's tolerance of his absences and their support of his work. "I've been a lucky guy, I think, to have had this opportunity," he said.
Steinfeld's wife, Karen, is also a physiotherapist – she specializes in hands and the upper extremities, and he'll sometimes confer with her. Their two daughters are now adults, the oldest is a cardiac surgery resident in Winnipeg and the youngest is a lawyer in Ottawa.
***
Going Home Star is at Queen E April 7-9, at 8 p.m., with pre-show talks at 7 p.m. Ticket are $29 to $89 and can be purchased from ticketmaster.ca or 1-855-985-ARTS (2787).