After COVID-19 hit, The Eichmann Project – Terminal 1 evolved into a per- formance directed to a camera. (photo from Pathos-Mathos Company)
Art has many facets, forms and reasons for being. As much as it can be an escape from our daily realities, it can help us process and understand them, sometimes in vastly different ways. The Chutzpah! Festival, which opens Nov. 4 with City Opera Vancouver singers performing to the Marx brothers' A Night at the Opera, features many examples of entertainment with multiple purposes.
On the face of it, Project InTandem's dance double bill (Nov. 6-7) might seem to have nothing in common with the theatre work The Eichmann Project – Terminal 1 (Nov. 8). Yet both deal with, among other things, trauma and post-traumatic stress disorder, as well as our ability to change ourselves and even our circumstances.
The Eichmann trial
Lilach Dekel-Avneri and the Pathos-Mathos Company's Terminal 1 examines the 1961 trial, in Israel, of Adolf Eichmann, one of the main perpetrators of the Holocaust. The books of attorney-general Gideon Hausner, political theorist Hannah Arendt and journalist and poet Haim Gouri, "with their testimonies on the trial, were the inspiration for the three main 'characters'" of the theatre work, explained Dekel-Avneri. "My dramaturg, Liat Fassberg, and I, like in a Greek tragedy, positioned the two main characters with opposing worldviews, one against of the other. The words by poet Haim Gouri, who was present at the courtroom and reported daily from there, were composed and treated as a chorus. The chorus tries to advance in telling the tale of the trial while providing a dramatic lament on the happenings.
"It is actually a trial of the trial," said Dekel-Avneri, "dotted with texts from researchers of the Holocaust and post-traumatic stress disorder, poets, philosophers, and performers' live comments between those three main voices. The COVID-19 epidemic presents itself in the team's testimonies and actions, erasing all plans and forcing project evolution into a digital performance to the camera."
Dekel-Avneri refers to the Eichmann trial as "the first reality show in Israel."
"A lot has been said about the connection between trials and performance," she explained. "The Eichmann trial was the first trial-show recorded in front of a live audience, that actually bought tickets, and was projected live on the radio, later on television, with the full documentary show now available on the internet."
Terminal 1 explores the concepts of collaboration and obedience, and asks, "What is our responsibility as citizens, as artists?"
"It's an extension of Arendt's brilliant manifest evoking the citizens to think by themselves and not to obey automatically. Not to automatically be part of horrific systems, just because they say: do this and not that," said Dekel-Avneri. "We are thinking creatures, the least we can do is use our heart and brain, take responsibility for our actions, and not collaborate with demons."
The show initially was created to be interactive with an audience and then remade for film because of COVID.
"During 2020, at the beginning of the outbreak, the Israel Festival, where we premièred, decided to move online, so I made my choice," said Dekel-Avneri. "Since I do not believe in shooting a theatre show and screening it, I had to let go of my vision for the full project I was working on for six years, and re-create it as something new, made especially for the camera.
"The Eichmann Project – Terminal 1 is, for me, the first station, like its name," she continued. "The last station may be completed in the future, or not. It will need to start almost from the beginning. We hope that one day we will find a sponsor or a theatre to collaborate with and fulfil the vision of this Via Dolorosa of 21 live scenes. The trial is not going anywhere and, unfortunately, we, by 'we' I mean humanity, do not learn from our past mistakes, so it looks like it will remain relevant for awhile."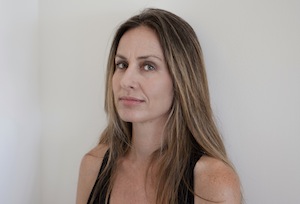 Dekel-Avneri recently premièred Crowned, which she described as "a performative portrait, broken by the encounter with time, shattered in the prism of the plague, emerging through a web of video and audio testimonies by seven women at different decades of their lives, which coalesce into a course of a lifetime. An attempt to leave a monument to the voice of femininity at the current time, femininity striving, despite everything, to see the opportunity for growth within the crisis and wonder about the intersection between life and art at a time of change. These women take responsibility of their actions, future and well-being," she said.
"In a way," she added, "Crowned is a post-traumatic response to what COVID did to The Eichmann Project. After being torn apart from my original vision and separated from the audience, I prepared a show for any situation – we are not afraid from lockdowns or the camera anymore. The camera became a friend, a tool and a partner, to continue creating performative works."
Struggle, empowerment
Project InTandem – which was cofounded by Calgary-based producers and choreographers Sylvie Moquin and Meghann Michalsky in 2017 – brings two works to the Chutzpah! Festival: Deep END by Michalsky and moving through, it all amounts to something by Moquin.
"This double-bill," explains the press material, "explores themes of female struggle and empowerment…. Michalsky investigates how movement can accumulate and evolve through set rounds and repetition. Moquin's work is inspired by the concept of neuroplasticity and the journey of rewiring one's patterning."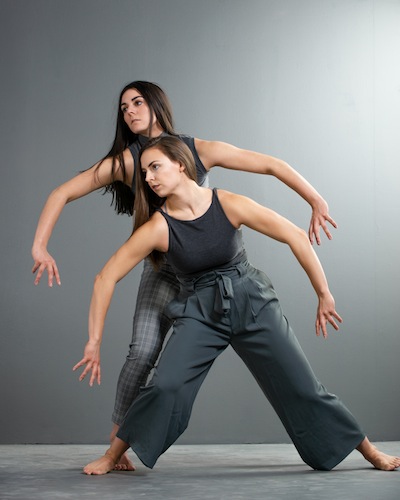 The pair met for the first time when they both created short works for a production at the University of Calgary, eventually forming Project InTandem "to share workload, resources, and to create an opportunity for emerging artists to produce evening length work."
"Having Meghann as a collaborator has always pulled me to a higher standard," Moquin told the Independent. "I think we work together in a way that elevates us to achieve more than what might be possible on our own. It also makes the journey of being an artist less lonely."
"Our approaches to dance can sometimes overlap because we have had similar experiences or opportunities, or trained within similar methods," they said in their email interview with the JI. "All of our accumulated experiences as dancers and movers inform us as creators; those experiences become like an inventory of information."
Moquin has been a dancer within Michalsky's choreographic works since 2018, so that also informs their relationship.
"Some of our shared values include creating work with visceral physicality, creating opportunities within our city, elevating the production value of contemporary dance work, and always prioritizing integrity," they said.
Each has her own interests, though.
"I am really interested in exploring what the body can endure in this work," said Michalsky. "We push and we push again. As performers, we pass through movements and states and eventually surrender to things that are no longer needed. I am interested in seeing the dancer go through something tangible in real time, something that is honest and showcases risk and vulnerability. As a choreographer, I play with conflict from both internally in the body and externally in the space and I desire for both of these things to be felt by the audience."
About her piece, moving through, Moquin said, "When creating this work, I was completely immersed with investigating partner work (the way bodies engage and interact) as well as being upside down. I used these primary desires to dig into the concept of neuroplasticity – the way we adapt, the way we can gain governance over our thinking; sometimes even the feeling of being trapped in our own mind and thoughts.
"I am a big believer that we must fail in order to succeed," she continued. "As a choreographer, I use the sensing body to somatically approach theories I find fascinating in the world. I am especially interested in how bodies interact with one another, how they can support each other to fly, spin, and find themselves upside down effortlessly. I am keenly interested in the effects of the mind, the power of our thoughts, and the ability for change and growth. I would say that my research and choreography seeks to find a sense of hope within a world of chaos."
The initial vision of moving through included the use of "walls."
"I couldn't get the idea out of my mind, and so I finally started looking into building/creating something to fulfil these ideas," said Moquin. "The material used (a form of Plexiglass) was almost a happenstance. I became fascinated by the translucent quality. I had no way of knowing how this material would have such an impact within our world merely months after creating and premièring the work in March 2020. As I watch this work now, two years later, after a global pandemic, it is almost startling to watch the dancers engaging with these Plexiglass structures."
The Chutzpah! Festival runs Nov. 4-24. For tickets and the full lineup, visit chutzpahfestival.com or call 604-257-5145.