Six-year-old Biniyam Tesfahun with his family shortly before being transported to Israel for heart surgery. (photo by Basleel Tadesse)
Last month, while Israel was still in lockdown, an urgent flight from Ethiopia arrived at Ben-Gurion Airport. The airport was closed and incoming commercial flights had been banned in an effort to contain coronavirus infection rates. The privately chartered plane, sponsored by the International Christian Embassy Jerusalem, taxied onto the tarmac in the early hours of Friday, Feb. 12, carrying some 296 Ethiopian Jewish olim and six children in need of heart surgery.
One of those children was Biniyam Tesfahun, a 6-year-old Ethiopian-Jewish descendant who had not been granted aliyah by Israel. Doctors had discovered a rare congenital defect a month earlier that had produced a hole in his heart. The Israeli nonprofit Save a Child's Heart had secured seats on the plane for five Ethiopian children and there was room for one more. But about a week before the flight was to depart, the family received word that the Ministry of the Interior had denied a visa.
Word spread quickly within the Ethiopian community in Israel.
Israelis began posting the news on Facebook sites, anguished that the child could die without treatment. Readers in the United States, Britain and Ethiopia stepped in to write articles and post pictures calling for the government to grant aliyah for the little boy and his family.
In no time, the news reached the office of the minister of immigration and absorption, Pnina Tamano-Shata, who insisted the surgery was an emergency and urged the Ministry of Interior to reconsider its position. A day before the flight was to take off, Biniyam's parents were told the request was approved. The boy and his family would be issued a 10-day permit for medical treatment in Israel.
"It was all very dramatic," said Avi Bram, who works for the Gondar, Ethiopia-based aid organization Meketa and helped coordinate the family's transport to the airport. "None of the family is on the aliyah list, and they have not been given any permission to stay," but the airlift was finally allowed.
Biniyam's story, which has now traveled around the globe and been published in multiple languages, is a testament to the bond between the 150,000 members of Israel's Ethiopian community, the Beta Israel, and the roughly 7,000 descendants still living in Ethiopia. It's a connection, said Uri Perednik, that dominates the consciousness of many Ethiopian-Israelis on a daily basis and impacts their lives. Perednik serves as the chair for the Struggle for Aliyah for Ethiopian Jewry (SAEJ), a nonprofit organization based in Jerusalem that advocates for the repatriation of the Beta Israel to the Jewish homeland.
Perednik said what happens to the family members in Ethiopia economically and socially continues to have a direct impact on the community in Israel. He added that some of the Beta Israel have been waiting decades to be reunited with their family members. "They are torn between Ethiopia and Israel," he said. "They send half of their salaries to Ethiopia for their families there."
The coronavirus pandemic shutdown last year and the growing civil unrest in Ethiopia have only exacerbated concerns. "Now people also have smaller salaries or no salaries because of the COVID economic situation in Israel. So it is very tough on the families," he added.
Ethiopian-Israelis continue to be among the lowest-paid workers in the country. A study by a media outlet (2018) found that almost 70% of Ethiopian-Israelis work junior positions to cover their household expenses, in a country that has the seventh-highest cost of living in the world (2019). For new arrivals from Ethiopia, that economic disparity can be a Catch-22, as they find they are now the major breadwinners for two entirely separate households.
Absorption challenges
Tamano-Shata, who was appointed in 2020 to direct the country's immigration and absorption programs, says improving economic opportunities for immigrants starts with equipping them with better tools. Tamano-Shata, who arrived in Israel at the age of 3 during the 1980s Operation Solomon airlift, is the first Ethiopian-born woman to hold a Knesset seat. She understands well the challenges that Ethiopian Jews face as new citizens.
Over the past year, her ministry has restructured several core services of the country's immigration program. She has expanded Hebrew language study for immigrants from one-and-a-half years to 10 years to help new citizens gain competency in Hebrew. Language barriers, said Tamano-Shata, are "shared [by] all olim from all over the world – those who speak English, Amharic, French, Russian, Portuguese and more." Studies in Israel have shown that language fluency often affects employment opportunities.
Tamano-Shata has also drafted a five-year plan for "optimal integration" of new olim and targeted benefits, tax breaks and housing assistance that can help new immigrants get started when they begin looking for a new home.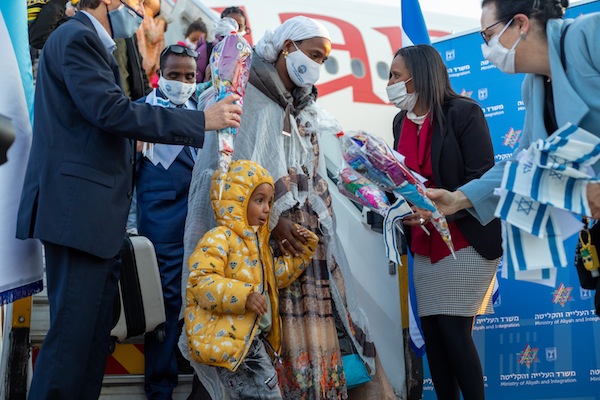 Perednik said the government has been trying for years to address immigrant housing shortages, which are exacerbated by a national housing crisis. "There have been a few housing programs by the government that were supposed to help young Ethiopian families move to better houses," Perednik said, but "nothing has really changed." There is hope that Tamano-Shata's efforts will finally help the situation.
In 2016, Tamano-Shata gained notoriety as a junior Knesset member for calling attention to discrimination against Ethiopian-Israelis. Her calls led to changes to the way racial discrimination is addressed within the halls of the Israeli government. They helped open a national dialogue about racial profiling and discrimination, problems that Perednik said still continue today.
Jewish identity in Israel
Israeli author Rabbi Menachem Waldman agrees that racism is a problem in Israel. In his opinion, the greatest obstacle that the Beta Israel face is how they are perceived by other Israelis. Waldman is the author of 10 books on Ethiopian Jewry. At present, he serves jointly as the manager of Israel's absorption program and rabbi for the Jewish communities in Ethiopia.
Waldman said the main obstacle that Ethiopian-Israelis continue to face is "their Jewish identity and their colour." He said, even though rabbis ruled decades ago that the Beta Israel were Jewish and should be allowed to immigrate as Jews, Ethiopian-Israeli citizens continue to face scrutiny and disbelief that they are "100% Jewish."
The more recent immigrants were required to undergo conversion as a condition of aliyah and are frequently subjected to additional scrutiny when they apply for marriage. Waldman said he believes this type of stereotyping is harmful to new immigrants. "It [leads] to racism," he said.
Ethiopian-Israelis face economic challenges, he added, but, still, in his view, it is the constant questions about the authenticity of their Jewish identity that pose the greatest risk. "If he is a strong Jew, like other Israelis, he can overcome the difficulties," said Waldman. "But, if he [is led to believe] that because he is Black he isn't like other [Israelis] … it [can sow doubt] in his life in Israel."
Tamano-Shata's proposed changes to the immigration and absorption programs take some of these concerns into consideration. She said the government continues to make amendments to the ulpan program, which aids in the successful integration of new immigrants. She also advocates that "education, [innovation] and role models are undoubtedly significant and important tools" when it comes to overcoming prejudice.
There have been recent advances when it comes to a broader acceptance of Beta Israel traditions and customs, which generally date back to pre-talmudic times and are not widely understood by many Israelis. In 2008, the Sigd festival was formally recognized as a national holiday. While the festival has changed dramatically since its early days in Ethiopia, there are signs of a growing appreciation of the holiday in Israel, which occurs 50 days after Yom Kippur. According to Beta Israel beliefs, it is the date when God was first revealed to Moses.
In 2020, then-deputy minister Gadi Yevarkan proposed that Sigd should become an integral part of Israeli Rosh Hashanah celebrations, and celebrated by all Jews. The yearly attendance of the festival by the prime minister and other dignitaries has helped publicize the significance of the holiday and, in turn, encourage better acceptance of the Beta Israel and their traditions in the Jewish homeland.
Jan Lee's articles, op-eds and blog posts have been published in B'nai B'rith Magazine, Voices of Conservative and Masorti Judaism, Times of Israel and Baltimore Jewish Times, as well as a number of business, environmental and travel publications. Her blog can be found at multiculturaljew.polestarpassages.com.