Jessica Kirson and Jon Steinberg (below) launch this year's Chutzpah! Festival on Feb. 18. (photo from Chutzpah!)
Everyone who likes to laugh should attend the opening night of this year's Chutzpah! Festival on Thursday, Feb. 18, at Rothstein Theatre. Watch a few of Jessica Kirson's or Jon Steinberg's routines and you'll see the wisdom in Steinberg's comment to the Independent: "Jessica and I, we have very different styles of comedy but we're both very funny, so there's something for everyone. If you come to the show and you don't enjoy yourself, you may be the problem."
Both seasoned and acclaimed performers, Kirson and Steinberg have long been funny.
"I was always the class clown," Kirson told the Independent. "I had no idea that I wanted to do stand-up comedy. I had no idea I was capable. I never thought I could get on stage in front of people. I ended up taking a class and that's what gave me the strength to actually perform. I was petrified. Once I did it, I fell in love with it."
Whereas Kirson initially considered becoming a therapist, following her mother's example, and went as far as graduate studies in social work, Steinberg's path to stand-up was more direct.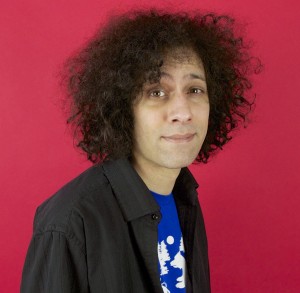 "As a kid, I always enjoyed making people laugh," he said. "In high school, all my friends were into skateboarding but I was really bad at it. So, when my friend Toby made a skateboard video, I did some comedy sketches to go in between the clips of kids skateboarding. It was my way of being included.
"One night, I was out with a friend, walking in the rain with a paper bag full of doughnuts when the bag tore open and all the doughnuts rolled out into the street. I started telling people about it and they found it funny, and then I figured out how to tell it in a way that was funnier and eventually this would come to be known as 'The Doughnut Story.' The humor came from the disproportionate level of build-up to pay-off, and also how sad I was about losing all my doughnuts."
The success of that story led to other stories that Steinberg and a buddy would write for Steinberg's repertoire. Later, this buddy convinced him to run for high school president, "as a joke."
"I had to deliver a speech in front of roughly 800 students," said Steinberg. "That made my first open mic night in front of 35 people seem way less intimidating."
His first time seeing live comedy was in Toronto at Yuk-Yuk's.
"It was one of those nights with 10 comics on the bill, Russell Peters, Shaun Majumder, and many other great comics. Awhile after that, I did my first open mic at the Yuk-Yuk's in Ottawa."
Steinberg's comic style is nerdy and calm, his hair being the most out-of-control aspect of his act. Kirson, on the other hand, exudes energy and her facial expressions are a sight to behold.
"I am very intense like my comic persona," Kirson said. "I am definitely not as loud. I am not 'on' all of the time. A lot of people assume that of comedians and it is so not true. I am very silly and love to laugh at myself and ridiculous situations around me."
She is edgy and pushes boundaries in her performances but is, ultimately, kind-hearted. "I never want to be mean-spirited to anyone," she said. "If I feel like I am hurting someone's feelings, I back off. I do, like most comics, love to get people thinking."
Steinberg, too, steers clear of nastiness. "If I write something and I believe that it's funny, and not mean-spirited, I'll try it," he said. "But if it consistently gets a poor reaction from audiences, I'll drop it from my act. Some audiences are more sensitive than others, but my goal is to make people laugh, not to make them sad, so I won't try to cram something down people's throats and blame them for not liking it. So, if you're at my show and I do a joke that you don't like, just know that I may be in the process of figuring out I shouldn't do that joke. You might only need to hear it once to realize that I shouldn't have said it, but I may need to say it three or four times before I come to the same conclusion, so don't spoil it for me by coming up to me after the show and telling me which jokes I shouldn't do."
Despite his extensive touring, the comedy festivals and television specials, Steinberg admits to still being a little nervous when doing stand-up. However, he said, "I find that helps keep me alert and in the moment. It's like crossing the street – you need to be a little afraid of being hit by a car, just enough that you remember to look both ways, but not so afraid that you can't cross the street."
Kirson, too. "I get nervous at times," she said. "I have done so many kinds of shows for so many years that I know what to expect from certain audiences. If I get fearful, I try to remember that I am seasoned, and most likely it will be fine. I get the most nervous doing television."
And she has done a lot of television – on Comedy Central, Nickelodeon, VH1, Oxygen, Bravo, the Women's Television Network, NBC, Fox, ABC, Showtime … the list goes on. The Jessy K Show YouTube channel has more than 100 videos with more than 2.5 million views in total.
"I started making silly videos with a friend of mine and posting them online. People loved them and it just grew from there," said Kirson of the show's genesis.
Many Canadians will recognize Steinberg from CBC Radio's The Debaters.
"My first debate was in 2010," he said. "That was when they were doing the TV version, which was taping in Vancouver. I came back to do another one of those shortly after. They stopped doing the TV version shortly after that, but the director of that was a guy named Brian Roberts, and after that he cast me in a kids' TV show he was doing, which allowed me to quit my day job at an electronics recycling facility. So, The Debaters has been good for me in a lot of ways. I do around three to five of the tapings a year, it helps fill out my schedule, and it exposes me to a whole different audience. I have one coming up in March in Victoria."
While their comedy isn't Jewish per se, Judaism or Jewish culture are a part of who they are.
"I'm very proud to be Jewish," said Kirson. "I love the traditions, the culture. It means, family, home, it is my rooting in life."
For Steinberg, "the things that are most Jewish are those that secular and Orthodox Jews have in common, like bagels or potato kugel. I know a lot of people think that stuff is trivial, but it's what we have in common."
As to what else he'd like to do career-wise, Steinberg – who has appeared on the sitcom Spun Out and the drama Remedy – said, "I'd love to do more acting. I've done a bit, and it's a lot of fun, but I'm happy just doing stand-up too. My goal isn't to be famous, it's just to make a living doing things I enjoy, so that can include stand-up, acting, writing, or things like The Debaters, which combines all three of those things." In 2014, he released the album Between Me and the Wall.
Kirson also enjoys a breadth of activities. In addition to performing around the world, her TV appearances and her YouTube channel, the award-winning comedian has appeared in film and she recently launched her own podcast. While she would love to have her own television show so she can draw an even bigger audience, she said, "I make a good living at doing something I love. I'm very grateful."
For more on Steinberg, visit jon-steinberg.com; for more on Kirson, jessicakirson.com. The comedians' Feb. 18 Chutzpah! opener starts at 8 p.m. For tickets ($36, $21 for students), call 604-257-5145 or visit chutzpahfestival.com.