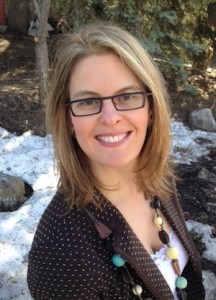 As part of Middle East Week at the University of Winnipeg, Mira Sucharov, associate professor of political science at Carleton University in Ottawa, spoke on the topic of Power and Identity Across the Israeli-Palestinian Divide.
About 60 people came out March 2 to the university's Convocation Hall to hear Sucharov, who is currently the country analyst for Israel and the Palestinian territories for Freedom House, as well as a blogger and writer whose work appears regularly in several publications around the world, including the Jewish Independent.
Sucharov sees relations between Palestinians and Israelis as more polarized now than at any other time since the peace process that began two decades ago. She said she was pleased to be part of U of W's Middle East Week, as it promotes dialogue, in contrast to the situation on many North American campuses, where hardened opposing camps are choosing shouting over listening.
Describing herself as a liberal Zionist, Sucharov explained the term as referring to someone who "believes that there is legitimacy to Israel's existence, and that nations deserve a state." However, "liberal Zionists not only acknowledge the existence of Israel and support its existence, they are deeply troubled by its occupation."
Sucharov said that, while some Israelis and Israel supporters prefer the term "disputed land" to the term "occupation," Sucharov views "occupation" as "an important word." She explained, "We're not just talking about a geographic swap of land. We're talking about a population of Palestinians who are not citizens of any country.
"The IDF, on a macro level and often on a micro level, is in charge of the area and the daily lives of Palestinians who have to pass through checkpoints to get to work, to farm their land…. We know about the Israeli security barrier or separation wall that has served to disrupt daily lives in many ways in the West Bank.
"So, liberal Zionists are troubled by this idea of occupation and seek to do what they can to end it. As a Canadian from Winnipeg, I feel that by engaging in constructive discussion, constantly being educated, I can help people at a global level think more deeply, critically, and in a more engaged way about issues of global concern."
Sucharov said that there are financial incentives, as well as ideological motivations, for living in the West Bank. "There are many who've moved to the West Bank because it's cheaper," she noted. "Part of it, no doubt, was wanting to return to biblical Israel, a sense of having a greater Israel, of being/having religious/national identity fulfilled. There's another important motivating factor, and that was the idea of Israel having a wider girth, more strategic depth."
In Sucharov's view, "the occupation" should not be permanent, and dialogue is needed to get governments together for peace talks. "The only way to end the occupation is if Israelis and Palestinians come together to discuss and negotiate an agreement," she said.
As for what such an agreement may look like, Sucharov imagines "a city with two capitals: Jerusalem, a holy place for all religions to pray at their own places of worship. Refugees will probably be returned, free return to a Palestinian state. There will probably be some compensation package, [on a] humanitarian basis for some refugees … based on historical agreements."
If the Geneva initiative does take place, said Sucharov, "Can Israel feel safe with such an agreement?
"It used to be called, 'give an inch, they'll take a mile,'" she continued. "Now, there is a concern about the fact that Palestinians in a recent poll have indicated that they would want to use a two-state agreement as the beginnings of full takeover.
"Palestinians, no doubt, would want all of Israel … many of them … and Israelis, no doubt, would want all of Palestine … many of them. The question is, even if some Palestinians were desirous of acquiring or launching terrorist missions with or without the consent of its governing authority, could Israel defend itself?"
If/when Israelis and Palestinians reach an agreement, she said, they would have to make sure that there were "security guarantees from the United States … [that] the U.S. will guarantee the security of Israel.
"Palestine would have to agree to be a de-militarized state. So, both sides will not have to necessarily trust each other … [they] would have to understand that there is a security guarantee in the form of a major global superpower.
"That's the two-state solution. But, there certainly are those in the military establishment of any state who could stand to gain from an ongoing conflict…. We have to … make peace seem more attractive."
As things stand, Sucharov said, "Palestinians and Israelis are almost mutually fearful of one another.… I think the biggest obstacle is the culture of mutual fear."
And then there is the question of whether or not Iran, if there is the possibility of peace between Israelis and Palestinians, will "behave in a suicidal fashion," said Sucharov. "That's what, in international relations, [they] call the … idea of nuclear deterrence – the idea that more nukes make the world safer. I'd prefer less nukes, less proliferation, but there is a logic to the idea of stability of nuclear weapons.
"Once peace is achieved by the government, ideally, the next generation grows up in a culture in which the status quo exists.
"Regional threats would be diffused to make peace," she continued. However, "the Israeli-Palestinian conflict is not the only conflict in the region and we're not going to see peace on earth, but Iran and other enemies of Israel … Hamas … would have less wind in their sails. The status quo would be peace, so there would hopefully be less local support for their belligerent postures."
Rebeca Kuropatwa is a Winnipeg freelance writer.