How fast time flies. Passover is almost here again, and it's time to prepare a new tutorial, I said to my 7-year-old daughter while getting out a magic box with colorful modeling clay.
At school, we are reading a lot about Passover right now, she said to me. When the Jewish people crossed the dessert, they had camels with them, who carried people and their belongings. Mom, can you teach me how to model a baby camel? Please, mom, can you?
Of course I can, my dear. Come over here, I said, inviting my daughter to join me at the table to work on the model of a baby camel. For the young readers of Jewish Independent, as always, I have prepared pictures to demonstrate the process. Find yourself a comfortable seat and start working on your creation!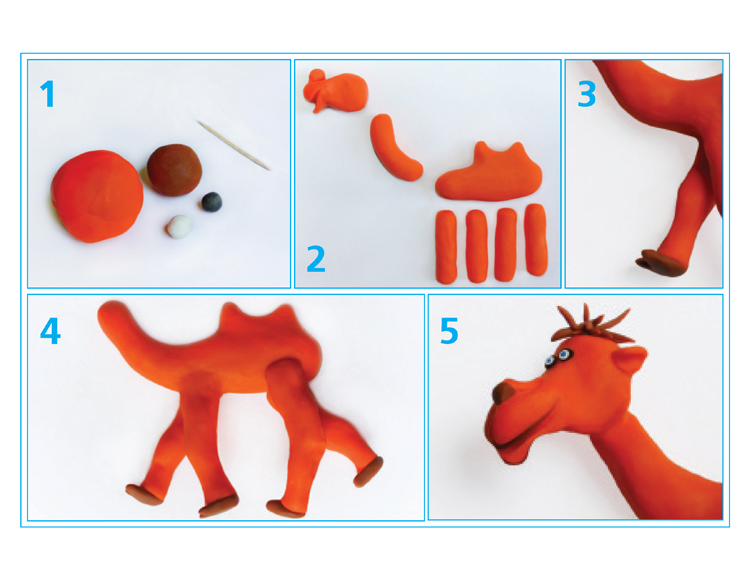 1. Take a few pieces of modeling clay and a toothpick. Mostly we will work with orange color, but we will also use some brown, white and black pieces.
2. Prepare equal amounts of clay to form the baby camel's head, neck, body with two humps and four legs.
3-4. Bend the legs a little in the middle and finish them with brown cushion-like hooves, perhaps parted in the middle front. Connect the neck, body and hooves.
5. For the head, you can use white and black pieces of clay for the eyes. Or blue or green clay, if you have it. Take some brown clay and shape the nose and also give your camel a tuft of hair on top of its head.
6. Cover the tips of the humps and tail with tufts of hair as well. We have made our baby camel! You can now take your new little friend for a walk.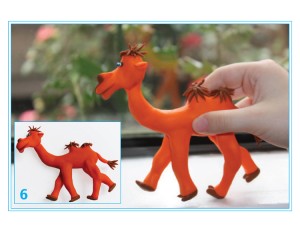 Isn't it great to make toys with your own hands? You will also make your family happy by adding your creation to the Passover seder table. If you take a picture of your baby camel and print it, you will have a real postcard.
Let your imagination guide you and join our art lab! Send photos of your artwork to [email protected], and you may have a chance to win Curly Orli Goes to Vancouver, a book illustrated with clay pictures.
Wishing you a kosher and happy Pesach, dear friends! See you next time.
Lana Lagoonca is a graphic designer, author and illustrator. At curlyorli.com, there are more free lessons, along with information about Curly Orli merchandise.