Perry Ehrlich's ShowStoppers at Jack Poole Plaza (photos by David P. Feng)
Perry Ehrlich's ShowStoppers performed at Jack Poole Plaza on Canada Day – it was Ehrlich's 29th year celebrating Canada Day at Canada Place.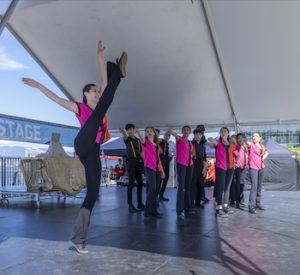 ShowStoppers is a glee troupe that performs in concert, on radio and television, and at galas, awards shows, conventions, corporate and charitable events.  Previous shows include with Barry Manilow and Eric Church at Rogers Arena; with the group Foreigner at various venues; at the Pacific National Exhibition; on the Variety Club Telethon; and singing the national anthems at Vancouver Canucks games. The troupe's repertoire includes everything from Motown and disco medleys to Canadian favourites and pop songs like "Let's Get Loud" and "Shut Up and Dance."
For more information about ShowStoppers, visit theimpresario.ca or contact Ehrlich at [email protected] or 604-315-1850.
– Courtesy Perry Ehrlich